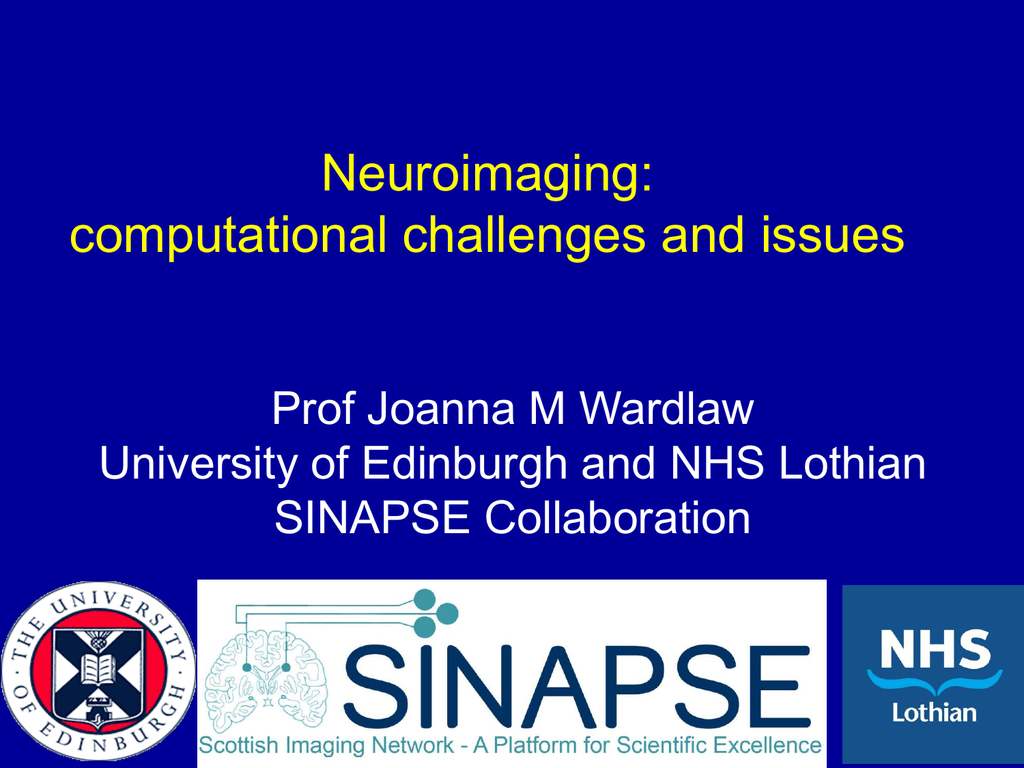 Neuroimaging:
computational challenges and issues
Prof Joanna M Wardlaw
University of Edinburgh and NHS Lothian
SINAPSE Collaboration
Challenges and Issues
•
•
•
•
•
Communication
Expectations
People and Machines
What's useful to me…….
Some specific examples
Communication
What?
Communication
•
•
•
•
•
you
Condor pool
FLOP
GUI
Cluster
Workflow
• "it works"
• "it won't take long"
me
• "6/12 Hx R Hemi, FH
IHD"
• NFR
• O – Q conversion
• Non convulsive status
• R TACS
• "it works"
• "it won't take long"
Communication
In image processing:
• "piecewise affine transformation",
• "constrained opimization problem",
• "variational intersubject registration framework"
• "High dimensional volumetric non-rigid
registration based on continuum mechanics and
cortical surface registration has been utilised in
the construction of these atlases".
Communication – a "scan"
Slice
1-1000s
Gradient
echo (T2*)
medical imaging DICOM format
DWI
ADC map
FLAIR
T2
Sequences
Few to many
One patient, one episode, all components make up the scan.
Never view one slice from one sequence in isolation.
Communication – a "scan"
Treated as individual files; very time consuming to back up and
space occupying – expensive, hard to find, etc. Hang over from
handling other types of images, eg histology.
Communication
Example: collaborative project to land probe on moon of Jupiter
Metric and Imperial
SPLAT
Communication
Large divide:
Medical: scans are people, biology, part of
the person and the complex medical
history and must be handled sensitively
Computing: scans are numbers……
Communication
you
me
1
1
1
11
1
0
1
1
1 0
1
1
0
10
0 1
1 10 0 0
1
0
000
11 0
0
00
00
11
0
1
010 0
0 10
11
00
0
1
0
0
1
0
Expectations
Large divide:
Medical: I want the tool to work NOW, so that I can
use it in the project to solve the medical problem
that the project is addressing
Computing: spend the entire duration of the project
fiddling with prototypes that only begin to work in
the last six months of the project, leaving
insufficient time to perform the scientific medical
work.
Expectations
What do radiologists do?
Why do you need a radiologist?
Put the subject in. Get some pictures out.
That's it isn't it?
Expectations
How to become a radiologist
Medical school: 5+ years, MB ChB (+/-BSc)
Junior doctor – 2-3 years medicine/surgery and
get postgrad medical exams – MRCP/FRCS
Radiology trainee: 5 years, general, FRCR
Neuroradiology trainee: 1-2 years
Consultant Neuroradiologist
[Academic – additional 2-3 years, MD, PhD]
NOT STUPID
People v. Machines
Good at different things
Person with eye
Computer and program
Edge recognition –
subtle
Anatomical recognition
Not bothered by
artefacts and
interference
Edge recognition –
obvious, clear-cut
Anatomy is a problem
Problem with artefacts
and interference
People v. Machines
Good at different things
CT scan in acute stroke
Good quality
Little movement
Pretty obvious lesion
Yikes! I can't do
anything with THAT!!!
There is no contrast,
there is movement
artefact, the
registration will be
poor, yada, yada, yada
Poorer quality scan
Magnetic Resonance Imaging
Normal
Tissue segmentation easier
Various stroke lesions
What's useful to me…
•
•
•
•
•
•
Easy to access (passwords….grrr)
Fast (get interrupted every four minutes)
Accurate and relevant
Secure
Avoids time consuming downloads
Intuitive design – easy to use by the infrequent
user or non-computer scientist
• Speeds up computationally intense analyses
• Takes account of the needs of the user in a
practical and efficient way that does not increase
their workload
Example: scan reading tool for
multicentre clinical trials
• 6000 scans to evaluate from all over the world
• Need several radiologists to do this
• Different types of CT and MR scans from a range
of scanner manufacturers
• There is no computational analysis tool
• Need experienced radiologists
• Shortage specialty
• Little money to pay for scan reading
• Little time for radiologists to do scan reading
Example: Scan reading tool for trials
typical scenario
Trial site
Scan reader
Trial site
Central
scan store
for trial
Trial site
Scan reader
Scan reader
Trial site
DICOM
DICOM
Main trial
database
Review scan
Open another
page to record
findings
Submit findings
Download takes 2 minutes, several windows active, complex,
fixed on one computer so restricts activity
Example: Scan reading tool for trials
www.neuroimage.co.uk/sirs
Trial site
Scan reader
Trial site
Central
scan store
for trial
Trial site
Scan reader
Scan reader
Trial site
DICOM
JPEG
Review scan
Record findings
Main trial
database
Opening the scan takes 2 seconds, single window, simple, completely
anonymous, avoids problem of data transfer between countries, browser
independent, use on any computer with web access and a decent screen,
fastest ever method.
What's useful to me?
Image analysis tools that work
Brain Extraction tools
e.g. FSL software library; or
ANALYZE
Edge detection at set
threshold plus make various
assumptions about shape of
brain
VERY WIDELY USED
Fast, accessible, convenient,
free, etc…
Example: research group server
1. Hosting software that could be
downloaded for image processing
2. Hosting an image analysis portal
where the software sat behind the
portal and people just submitted their
data and got it back analysed
3. Providing access to compute
resources for complex and time
consuming image analysis
4. Providing space for secure storage of
image data off site
5. Hosting specific projects like the
Normative Brain Image Bank
6. Act as a point for submission of image
data from sites outside SINAPSE eg
images for analysis within SINAPSE
from multicentre trials
3
6
4
1
2
5
Example: speeding up image analysis
• Increasingly large datasets with intensive
storage and computationally intensive analysis
algorithms
• Diffusion tensor imaging or fMRI:
– 100 subjects raw (22GB) + processed (65GB) = 87
GB
– Single PC processing tractography 7 years
– Eddie 1-2 weeks
Really clever technology
•
•
•
•
Communicate!!!
Be clear about expectations
Get the best out of people and machines
Tools that work, are accurate,
ergonomically relevant, and useful.