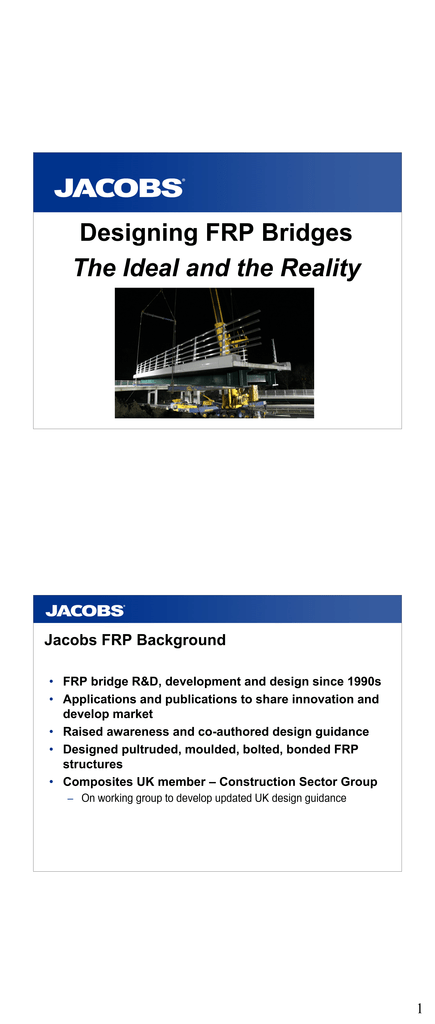 • FRP bridge R&D, development and design since 1990s
• Applications and publications to share innovation and
develop market
• Raised awareness and co-authored design guidance
• Designed pultruded, moulded, bolted, bonded FRP
structures
• Composites UK member – Construction Sector Group
– On working group to develop updated UK design guidance
•
•
•
•
Reliability
Durability
Efficiency
Visually pleasing
• Reliable and consistent material data
– Material and design standards
– Publicly available information
• Effective supply chain
– Multiple suppliers
– Industry awareness (programme/contract etc)
• Design guides
– Concept and preliminary design
Ideal
Reality
Detailed/multiple material and
physical properties
Static in-plane
tension/compression and shear
strength and stiffness
Eurocode 0 statistical basis
Varies (minimum, guaranteed,
average, typical)
Clearly defined design life and
degradation rates
Track record (empirical) on
varying materials
'Model' material/workmanship
specifications
Varying bespoke and
proprietary specifications
Material/product standards
EN 13706 only
• Weak response from FRP supply chain
• IP and proprietary products
• Industry inertia/preference
– All parties
• Projects have been lost due to the above!
• Specialist or major schemes
– 'premium' for testing and development achievable and
provides benefit
– Sydney Harbour Bridge Rail Corridor Re-decking
• 'Normal' schemes ~90% of market
– Programme/cost prevent extended development/testing
– Is there any significant overall project benefit in getting
that extra 10% material performance?
– E.g. work by ORNL and others to develop cheaper
carbon fibre with a small performance sacrifice
• Do we need >10 different FRP laminate types?
• Can we have 'standard' grades of FRP laminate?
– Useful for 'normal' schemes
– Minimise project testing
– Maximise reliability and durability (>100 yrs)
– Limited resin types and formulations
– Reduce cost/risk
• Can we have 'standard' workmanship?
– Specification
– Durability is dependent on quality/workmanship as well
as material types
• The construction industry could change
•
•
•
'One-stop' shop
– Off-site 'products'
The FRP industry could change
– Relationship with specialist and main civils contractors
– Sharing of information
FRP Eurocode?
Learn from other materials?