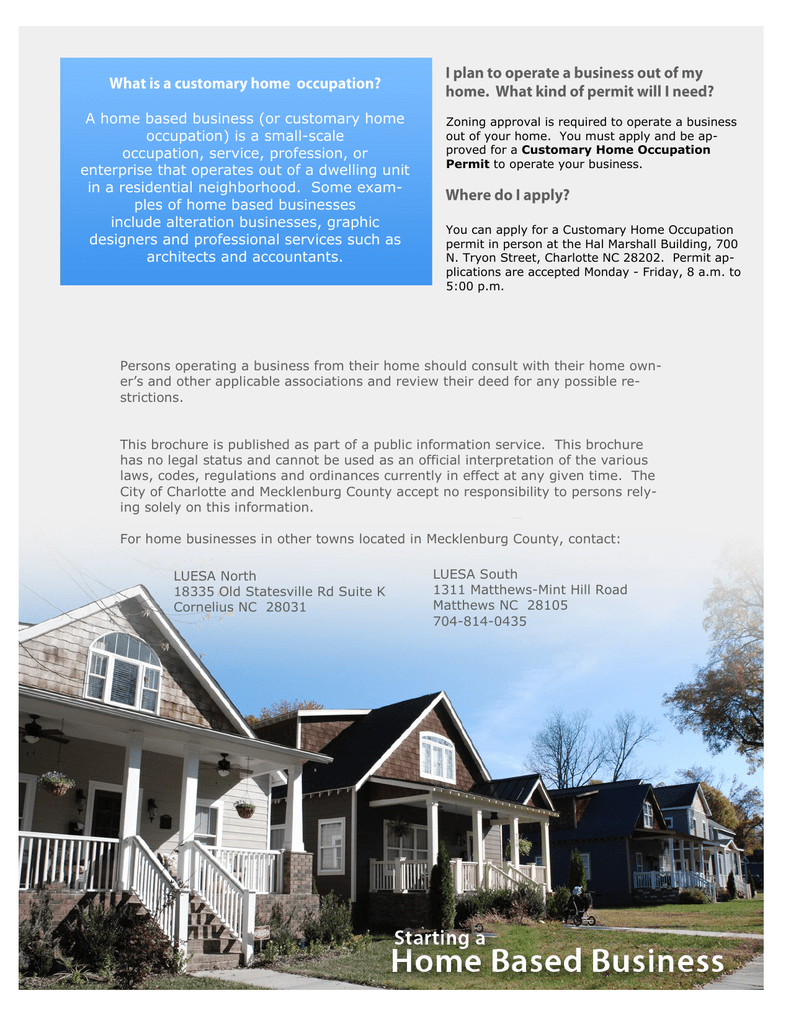 A home based business (or customary home
occupation) is a small-scale
occupation, service, profession, or
enterprise that operates out of a dwelling unit
in a residential neighborhood. Some examples of home based businesses
include alteration businesses, graphic
designers and professional services such as
architects and accountants.
Zoning approval is required to operate a business
out of your home. You must apply and be approved for a Customary Home Occupation
Permit to operate your business.
You can apply for a Customary Home Occupation
permit in person at the Hal Marshall Building, 700
N. Tryon Street, Charlotte NC 28202. Permit applications are accepted Monday - Friday, 8 a.m. to
5:00 p.m.
Persons operating a business from their home should consult with their home owner's and other applicable associations and review their deed for any possible restrictions.
This brochure is published as part of a public information service. This brochure
has no legal status and cannot be used as an official interpretation of the various
laws, codes, regulations and ordinances currently in effect at any given time. The
City of Charlotte and Mecklenburg County accept no responsibility to persons relying solely on this information.
For home businesses in other towns located in Mecklenburg County, contact:
LUESA North
18335 Old Statesville Rd Suite K
Cornelius NC 28031
LUESA South
1311 Matthews-Mint Hill Road
Matthews NC 28105
704-814-0435
The general rules and guidelines for a Customary Home Occupation are set forth below. Citizens should refer to the
City of Charlotte Zoning Ordinance for details. The complete zoning ordinance can be viewed at
www.charlotteplanning.org.

The home occupation must be clearly incidental to the
residential use of the dwelling and must not change
the essential residential character of the dwelling.





The business can occupy no more than 25 percent of
the total floor area of the home, or 500 square feet,
whichever is less.
Only residents of the dwelling may be engaged in
work activities at the residence. Employees may
not come to the residence for work purposes, including pick-up of materials, vehicles, assignments, or similar purposes.

Clients or business related visitors shall be by appointment only.
No accessory building or outside storage may be used
in connection with the business.

The number of vehicles used by clients or business
related visitors to any home business shall be limited to two at any given time.

Vehicles used in connection with the conduct of
the customary home occupation shall comply with
the requirements of Section 12.218, "Commercial
vehicle parking in residential areas".

Hours of operation for deliveries, clients, and operation of mechanical or electrical equipment is
limited to 7:00 am to 8:00 pm.

Prohibited home businesses include, but are not
limited to: caterers, food vendors, equipment and
vehicle repair shops, appliance and small mechanical repair shops, barber and beauty shops, kennels, commercial bakeries, veterinarian clinics,
funeral homes, commercial cabinetry shops, welding, trucking, adult oriented businesses, warehousing, vehicular sales, and other similar uses.
Machinery that causes noise, electrical interference
with radio or television reception, vibration, glare,
fumes, odors, dust, detectable at the property line is
prohibited.
No equipment and materials/supplies that are not
normally a part of domestic or household equipment
may be used or stored on the property. Medical, dental, and office equipment used for professional purposes may be used. A single trailer used for cargo/
storage may be used if it is attached to vehicle at all
times, but no construction or industrial equipment
can be stored on the trailer.

No display of products shall be visible from the street.

No internal or external alterations inconsistent with
the residential use of the building are allowed. There
shall be no evidence on the exterior of the premises
or visible from the exterior of the premises that the
property is used in any way other than for a dwelling.

No form of signage related to the business is allowed.
If applying in person, an application for a Customary
Home Occupation Permit can typically be processed on a
same day basis, provided your application is complete
and complies with all applicable codes and ordinances.
As of July 1, 2013, the fee for a customary home
occupation permit is $145. This fee is subject to
change. For current fees visit the Code Enforcement
Zoning site at http://nbs.charlottenc.gov.
In addition, there are fees related to obtaining a business license.
These business types are subject to additional rules &
regulations. You can learn more by visiting the Hal
Marshall Building at 700 N. Tryon Street, Charlotte NC
28202 and by reviewing the Charlotte Zoning Ordinance
at www.charlotteplanning.org.
To learn more about business license requirements &
fees, visit the Business Tax Collections Office at 700
N. Tryon Street, Charlotte NC 28202 or by phone at
704-336-6315 or visit www.charmeck.org.