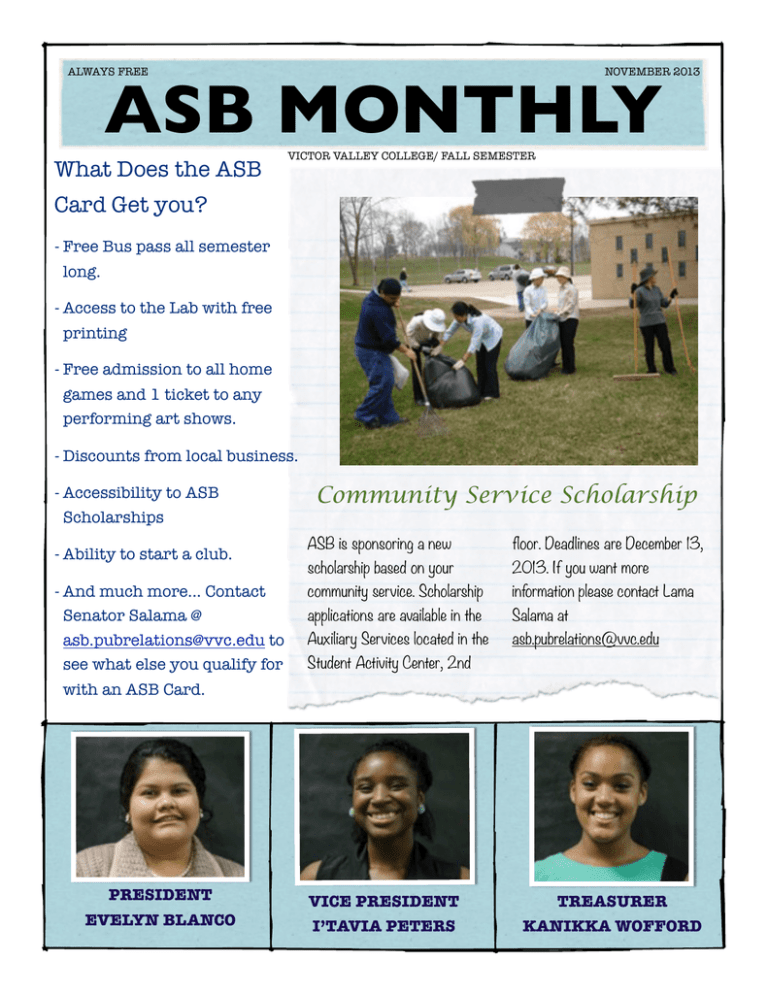 ALWAYS FREE
NOVEMBER 2013
ASB MONTHLY
What Does the ASB
VICTOR VALLEY COLLEGE/ FALL SEMESTER
Card Get you?
- Free Bus pass all semester
long.
- Access to the Lab with free
printing
- Free admission to all home
games and 1 ticket to any
performing art shows.
- Discounts from local business.
- Accessibility to ASB
Scholarships
- Ability to start a club.
- And much more... Contact
Senator Salama @
asb.pubrelations@vvc.edu to
see what else you qualify for
Community Service Scholarship
ASB is sponsoring a new
floor. Deadlines are December 13,
community service. Scholarship
information please contact Lama
scholarship based on your
applications are available in the
Auxiliary Services located in the
Student Activity Center, 2nd
2013. If you want more
Salama at
asb.pubrelations@vvc.edu
with an ASB Card.
PRESIDENT
EVELYN BLANCO
VICE PRESIDENT
TREASURER
I'TAVIA PETERS
KANIKKA WOFFORD
LAST MONTH...
Model United Nations
Victorville, CA-- Victor Valley College's Model United
Nations team participated in the first conference of the
semester at Irvine Valley College. Members of the team
were actively engaged throughout the conference giving
speeches, discussing international matters, and drafting
resolutions. They showed great effort and skills despite a majority of the
team being new to the program. Out of seven awards, Victor
Valley College won three, with Rebecca Parra and Joseph
Agnew winning Distinguished Delegate awards, and Eric Lee
winning an Outstanding Delegate award.
Spirit Week
Victor Valley College- ASB and Clubs
participated in Spirit Week, which
consisted of games, food, and events all
throughout the week leading up to the
football game. Throughout the week of
fun ASB sponsored inflatable games as
well as a dunk tank which student
enjoyed. Clubs also participated
throughout the week, Ready Rams
orchestrated a Tutu dodge ball event
which supported Breast Cancer
Awareness. Model United Nations cooked
up some delicious Hot Dogs as well as
the NP Social Club
LAST MONTH...
ASB SSCCC Conference
On November 1st, 2013- November 3rd, 2013 ASB participated in the SSCCC Conference at
Monterey, CA. ASB submitted a resolution calling for ACCJC Investigation. ACCJC is the
accreditation board that reviews colleges accredit-ability. The resolution was presented to all
California Community College Delegates and was voted on within a minute. For more information
on VVC ASB Resolution or other community colleges resolutions please email you Student
Advocate Amanda Monroy at asb.advocate@vvc.edu
oming
VVC Homec
Game
VVC Football Game played against San Diego in their
Homecoming Came October 26, 2013. The football team
dominated the field leaving no survivors. Which led to
their spectacular win total score of 47-7. Way to go
Rams!!!!
This was also the first game featuring our Pep Band
which played throughout the game showing VVC Spirit.
Students, families as well as ASB senators all showed
support to our Rams.
CLUB CORNER
Chartered Club List:
- Victor Valley College Math Club
- Respiratory Therapy Class of 2014
- Model United Nations
-
CNSA
Victor Valley College Veteran's Club
Native American Student Council
Rams Forward
Ready Rams
-
The Alpha Phi Gamma Club
Black Student Union
Child Development Club
Robotics Electrical Engineering League
Puente
- Rotaract
- Off Broadway
Model United Nations:
Meetings every:
Thursday @ 9pm-11pm-- Communication Center
&
Friday @ 2pm-5pm--Liberal Arts building Rm 17
Math & Physics Club:
Meetings every:
Monday @ 2:15pm & Tuesday 12:45pm--Math
Success Center
Rotaract Club:
Meetings every:
2nd Monday & 4th Thursday of each month @
12:30pm-1:30pm-- Student Activity Center, 2nd
floor, Room B.
ASB CORNER
Cans for Concert is an effort to
raise canned food for local
community members in need
while brining the community
closer together. The effort is being
coordinated by ASB Foundation
Rep Evonne Tirado at
missevonn1991@gmail.com or call
(760) 508-9219.
ASB CALENDAR
3
10
Sun
4
11
25
18
Mon
ASACC Conference Veteran's Day No
School
17
24
5
12
19
26
Tue
Wed
7
~ November 2013 ~
6
Thu
NP Social CLub @
4-5pm--SAC, Quiet
Rm
14
21
28
1
8
Fri
Cans for Concert
Audition 12-2pm;
5-7pm
22
ASB Meeting 7:45
29
2
9
Sat
Thanksgiving Break
30
23
15
16
ASB Meeting 7:45am
Rams Forward
11-11:45am--SAC
Quiet Rm
Campus Crusade
Grand Rams Special ASACC Conference ASACC Conference
General Meeting
Event @ 12-1pm-12-2pm-- SAC, Quiet SAC Rm B
ICC Meeting
Rm
10-11am-- SAC,
Quiet Rm
13
20
27
Thanksgiving Break
Thanksgiving
Break
Words From your ASB Public Relations Senator
REMEMBER:
If you want something in
the Newsletter or
Calendar please email me
two weeks prior to the
next month at
asb.pubrelations@vvc.edu
To contact other Senators
please go onto VVC.edu-Associated Student Body-Meet the Council
Hi everyone,
Hope you are having a productive semester and don't
worry winter break is only a month and a half away.
Yay!! Which reminds me, Spring Schedule is up on web
advisor so you can plan your next semester. If you are
having any problems or need help don't be shy and come
on up to the ASB Office, which in on the second floor of
the Student Activity Center, where we will be more than
happy to help.
Also if you want daily information or updates, you can
follow me on
Instagram: @senatorlama
Facebook: Lama Salama
Twitter: @VVCnewsroom
Auxiliary Services/ ASB Office
Victor Valley College Student Activity Building
2nd Floor.
Victorville, California 92395.