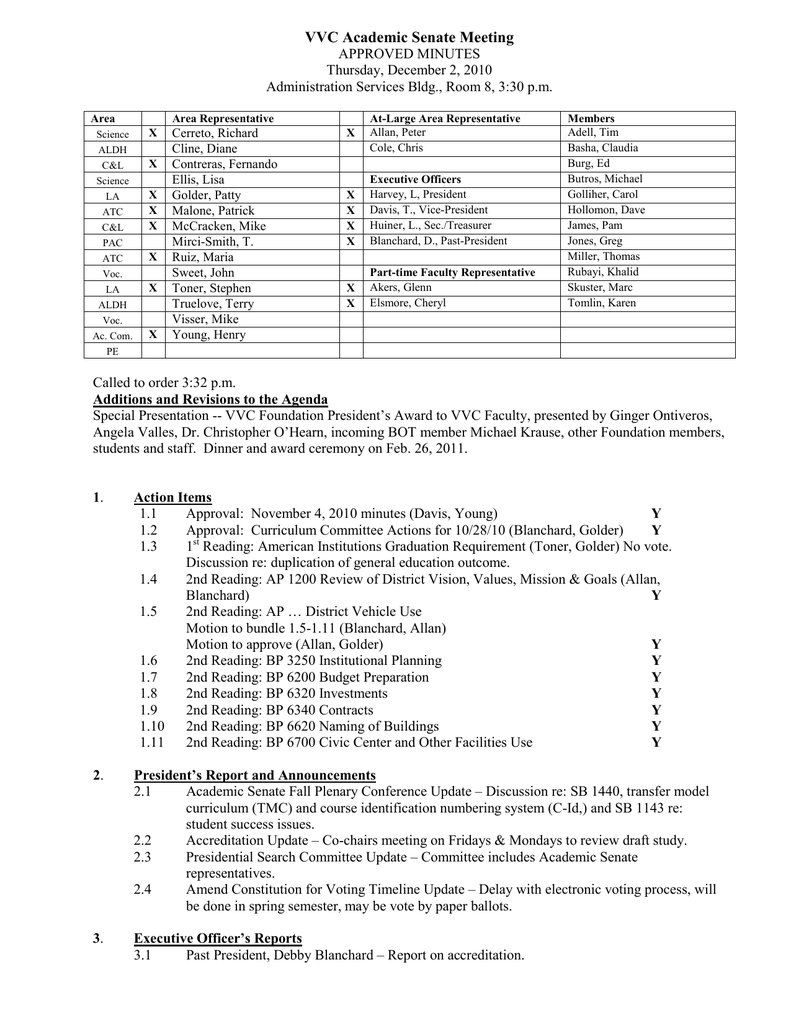 VVC Academic Senate Meeting
APPROVED MINUTES
Thursday, December 2, 2010
Administration Services Bldg., Room 8, 3:30 p.m.
Area
Science
ALDH
C&L
Science
LA
ATC
C&L
PAC
ATC
Voc.
LA
ALDH
Voc.
Ac. Com.
PE
Area Representative
X
X
X
X
X
X
X
X
Cerreto, Richard
Cline, Diane
Contreras, Fernando
Ellis, Lisa
Golder, Patty
Malone, Patrick
McCracken, Mike
Mirci-Smith, T.
Ruiz, Maria
Sweet, John
Toner, Stephen
Truelove, Terry
Visser, Mike
Young, Henry
X
At-Large Area Representative
Allan, Peter
Cole, Chris
X
X
X
X
Executive Officers
Harvey, L, President
Davis, T., Vice-President
Huiner, L., Sec./Treasurer
Blanchard, D., Past-President
X
X
Part-time Faculty Representative
Akers, Glenn
Elsmore, Cheryl
Members
Adell, Tim
Basha, Claudia
Burg, Ed
Butros, Michael
Golliher, Carol
Hollomon, Dave
James, Pam
Jones, Greg
Miller, Thomas
Rubayi, Khalid
Skuster, Marc
Tomlin, Karen
Called to order 3:32 p.m.
Additions and Revisions to the Agenda
Special Presentation -- VVC Foundation President's Award to VVC Faculty, presented by Ginger Ontiveros,
Angela Valles, Dr. Christopher O'Hearn, incoming BOT member Michael Krause, other Foundation members,
students and staff. Dinner and award ceremony on Feb. 26, 2011.
1.
Action Items
1.1
Approval: November 4, 2010 minutes (Davis, Young)
Y
1.2
Approval: Curriculum Committee Actions for 10/28/10 (Blanchard, Golder)
Y
1.3
1st Reading: American Institutions Graduation Requirement (Toner, Golder) No vote.
Discussion re: duplication of general education outcome.
1.4
2nd Reading: AP 1200 Review of District Vision, Values, Mission & Goals (Allan,
Blanchard)
Y
1.5
2nd Reading: AP … District Vehicle Use
Motion to bundle 1.5-1.11 (Blanchard, Allan)
Motion to approve (Allan, Golder)
Y
1.6
2nd Reading: BP 3250 Institutional Planning
Y
1.7
2nd Reading: BP 6200 Budget Preparation
Y
1.8
2nd Reading: BP 6320 Investments
Y
1.9
2nd Reading: BP 6340 Contracts
Y
1.10
2nd Reading: BP 6620 Naming of Buildings
Y
1.11
2nd Reading: BP 6700 Civic Center and Other Facilities Use
Y
2.
President's Report and Announcements
2.1
Academic Senate Fall Plenary Conference Update – Discussion re: SB 1440, transfer model
curriculum (TMC) and course identification numbering system (C-Id,) and SB 1143 re:
student success issues.
2.2
Accreditation Update – Co-chairs meeting on Fridays & Mondays to review draft study.
2.3
Presidential Search Committee Update – Committee includes Academic Senate
representatives.
2.4
Amend Constitution for Voting Timeline Update – Delay with electronic voting process, will
be done in spring semester, may be vote by paper ballots.
3.
Executive Officer's Reports
3.1
Past President, Debby Blanchard – Report on accreditation.
3.2
3.3
3.4
Vice President, Tracy Davis – Thanks to faculty who volunteered for committees.
Spreadsheets for committee membership and purpose are being compiled.
Secretary / Treasurer, Leslie Huiner – Attended Senate plenary workshops on
transfer/articulation and Brown Act. Collection for food money $76.
Part-time Representative Report – Akers - Adjuncts have volunteered for committees.
4.
Senate Representative Reports
Henry Young – Update on Online Program Committee and its goals. Discussion on online proctoring
policy and good syllabus samples/template.
5.
Committee Reports or Special Reports
5.1
Program Review Committee – Looking for committee members. PRAISE will be due on
March 21, 2011. Important to drive department finances, facilities & staffing. Strongly
encourage all departments to complete program review.
5.2
Graduation Requirements Committee – Pam James – American Institution graduation
requirement will be on next Curriculum Committee agenda.
5.3
Basic Skills Committee – Carol Golliher – Senate President will be reviewing the BSI grant
budget. Basic Skills facilitator has an office. BS expanding into a night-time program for 16weeks in spring.
5.4
Honors Program – Tim Adell - Night-time honors classes will be offered in spring, students
will present at UCI conference.
5.5
SLO Coordinator Report – Lisa Harvey – No report.
5.6
Curriculum Committee – Debby Blanchard – Problem with support. Double check course
prerequisites in schedule and catalog. Discussion on noting courses which require use of
computers in the schedule.
5.7
Study Abroad Committee – Dino Bozonelos – No report.
5.8
Online Program Committee – Henry Young – Reforming committee & establishing goals.
5.9
Academic Senate Allocations Committee – Peter Allan – No extra funds for allocation.
5.10
Foundation Report – Peter Allan – Very happy that Foundation will honor faculty, encourage
faculty to attend award dinner in February, would like more faculty involvement.
6.
Shared Governance Reports
6.1
Technology Committee – Khalid Rubayi -- Outlook training Friday, 8am-4:30pm.
Consultants to be paid about $180,000 for migrating all data from Novell to Microsoft.
6.2
Institutional Effectiveness Committee – Marc Skuster -- Campus Climate Survey results will
be out next week, delayed so BOT could review prior to campus community.
6.3
Facilities Committee – Dave Hollomon – Planning for use of Academic Commons, sending
questionnaire to requestors. Need more faculty members on committee, meets Friday
afternoons. Committee against building new One Stop Shop, would rather use existing
structures.
6.4
Safety & Security Committee – Dave Oleson – No report.
6.5
Finance & Budget Committee – Peter Allan -- Committee purpose is to recommend regarding
budget. Concern about One Stop Shop, $21 million project. Committee feels this is not
appropriate use of college funds, could use existing facilities rather than new building for
significant savings. Mid-year cut should not affect current budgets, would use reserve funds.
6.6
College Council – Debby Blanchard – AP/BPs will go to College Council for approval.
Nothing gets approved in Council without constituent (including Senate) approval.
6.7
Diversity Committee – Sherri Pierce – No report.
6.8
Staff Development Committee – Greg Jones – Restructuring the limit on travel funds.
Facilitator being advertised, their job will be to find money through grants or community to
meet faculty/staff needs for training.
7.
Adjournment
Meeting adjourned at 4:51 p.m.