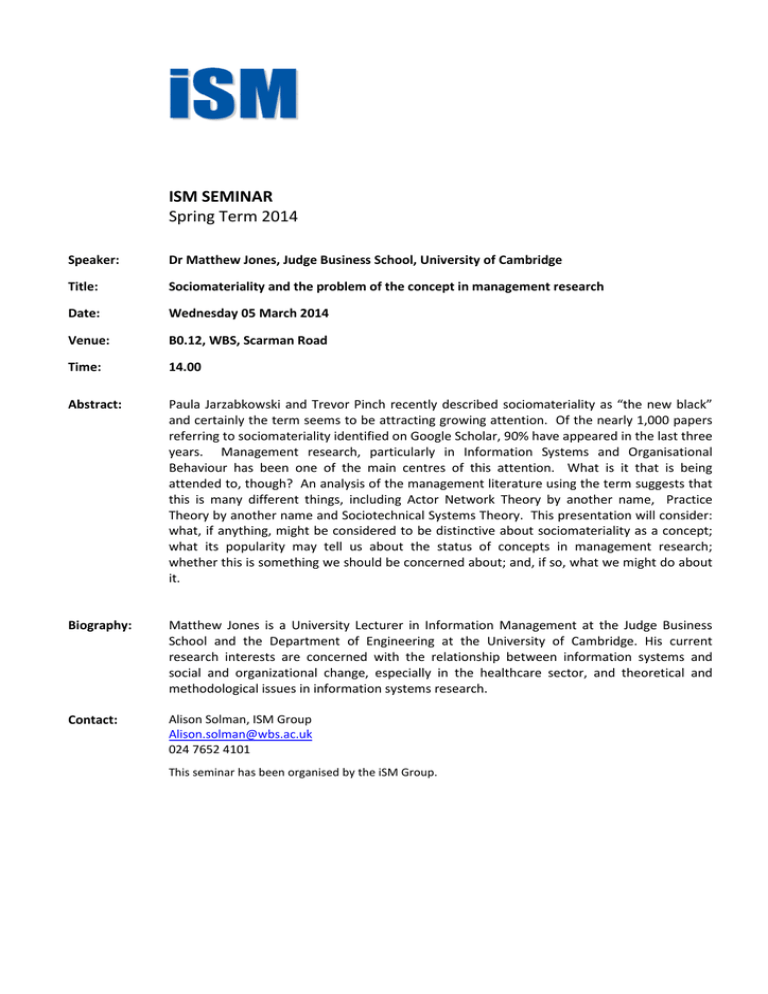 ISM SEMINAR
Spring Term 2014
Speaker:
Dr Matthew Jones, Judge Business School, University of Cambridge
Title:
Sociomateriality and the problem of the concept in management research
Date:
Wednesday 05 March 2014
Venue:
B0.12, WBS, Scarman Road
Time:
14.00
Abstract:
Paula Jarzabkowski and Trevor Pinch recently described sociomateriality as "the new black"
and certainly the term seems to be attracting growing attention. Of the nearly 1,000 papers
referring to sociomateriality identified on Google Scholar, 90% have appeared in the last three
years. Management research, particularly in Information Systems and Organisational
Behaviour has been one of the main centres of this attention. What is it that is being
attended to, though? An analysis of the management literature using the term suggests that
this is many different things, including Actor Network Theory by another name, Practice
Theory by another name and Sociotechnical Systems Theory. This presentation will consider:
what, if anything, might be considered to be distinctive about sociomateriality as a concept;
what its popularity may tell us about the status of concepts in management research;
whether this is something we should be concerned about; and, if so, what we might do about
it.
Biography:
Matthew Jones is a University Lecturer in Information Management at the Judge Business
School and the Department of Engineering at the University of Cambridge. His current
research interests are concerned with the relationship between information systems and
social and organizational change, especially in the healthcare sector, and theoretical and
methodological issues in information systems research.
Contact:
Alison Solman, ISM Group
Alison.solman@wbs.ac.uk
024 7652 4101
This seminar has been organised by the iSM Group.