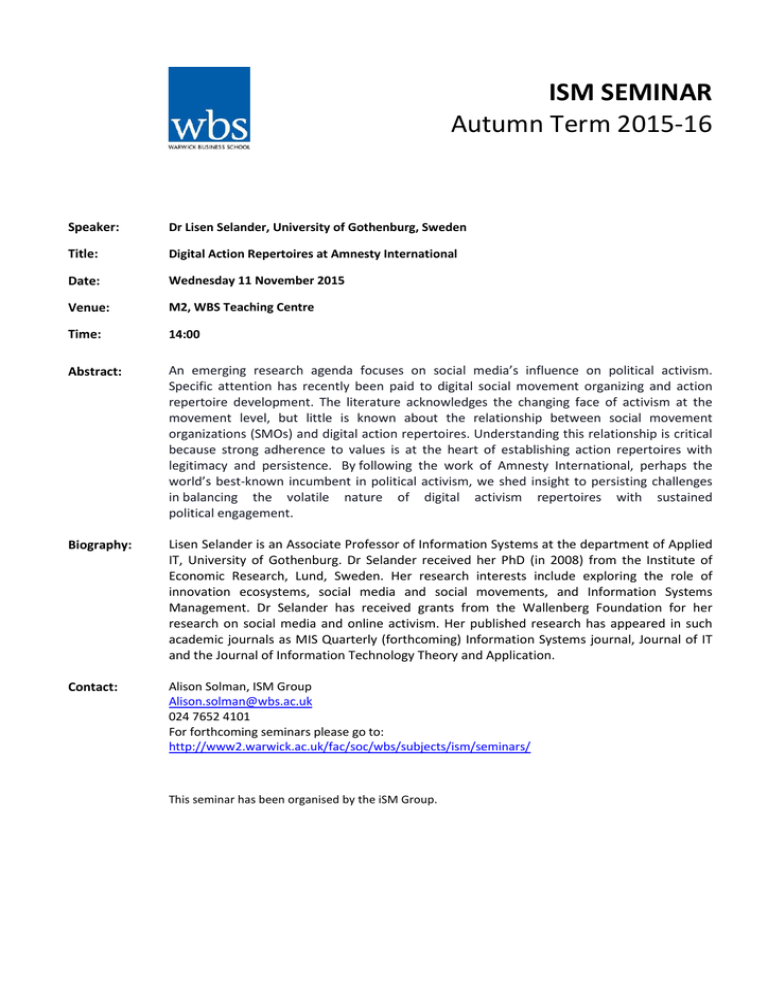 ISM SEMINAR
Autumn Term 2015-16
Speaker:
Dr Lisen Selander, University of Gothenburg, Sweden
Title:
Digital Action Repertoires at Amnesty International
Date:
Wednesday 11 November 2015
Venue:
M2, WBS Teaching Centre
Time:
14:00
Abstract:
An emerging research agenda focuses on social media's influence on political activism.
Specific attention has recently been paid to digital social movement organizing and action
repertoire development. The literature acknowledges the changing face of activism at the
movement level, but little is known about the relationship between social movement
organizations (SMOs) and digital action repertoires. Understanding this relationship is critical
because strong adherence to values is at the heart of establishing action repertoires with
legitimacy and persistence. By following the work of Amnesty International, perhaps the
world's best-known incumbent in political activism, we shed insight to persisting challenges
in balancing the volatile nature of digital activism repertoires with sustained
political engagement.
Biography:
Lisen Selander is an Associate Professor of Information Systems at the department of Applied
IT, University of Gothenburg. Dr Selander received her PhD (in 2008) from the Institute of
Economic Research, Lund, Sweden. Her research interests include exploring the role of
innovation ecosystems, social media and social movements, and Information Systems
Management. Dr Selander has received grants from the Wallenberg Foundation for her
research on social media and online activism. Her published research has appeared in such
academic journals as MIS Quarterly (forthcoming) Information Systems journal, Journal of IT
and the Journal of Information Technology Theory and Application.
Contact:
Alison Solman, ISM Group
Alison.solman@wbs.ac.uk
024 7652 4101
For forthcoming seminars please go to:
http://www2.warwick.ac.uk/fac/soc/wbs/subjects/ism/seminars/
This seminar has been organised by the iSM Group.