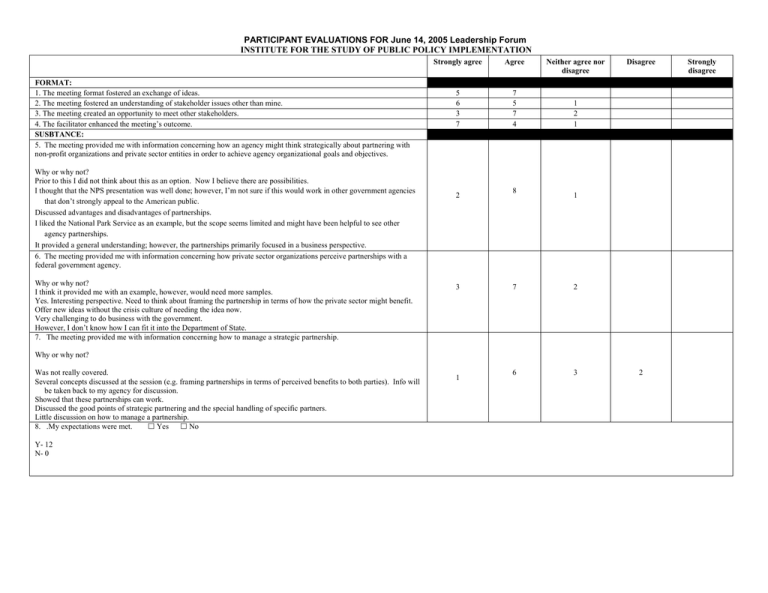 PARTICIPANT EVALUATIONS FOR June 14, 2005 Leadership Forum
INSTITUTE FOR THE STUDY OF PUBLIC POLICY IMPLEMENTATION
FORMAT:
1. The meeting format fostered an exchange of ideas.
2. The meeting fostered an understanding of stakeholder issues other than mine.
3. The meeting created an opportunity to meet other stakeholders.
4. The facilitator enhanced the meeting's outcome.
SUSBTANCE:
5. The meeting provided me with information concerning how an agency might think strategically about partnering with
non-profit organizations and private sector entities in order to achieve agency organizational goals and objectives.
Why or why not?
Prior to this I did not think about this as an option. Now I believe there are possibilities.
I thought that the NPS presentation was well done; however, I'm not sure if this would work in other government agencies
that don't strongly appeal to the American public.
Discussed advantages and disadvantages of partnerships.
I liked the National Park Service as an example, but the scope seems limited and might have been helpful to see other
agency partnerships.
It provided a general understanding; however, the partnerships primarily focused in a business perspective.
6. The meeting provided me with information concerning how private sector organizations perceive partnerships with a
federal government agency.
Why or why not?
I think it provided me with an example, however, would need more samples.
Yes. Interesting perspective. Need to think about framing the partnership in terms of how the private sector might benefit.
Offer new ideas without the crisis culture of needing the idea now.
Very challenging to do business with the government.
However, I don't know how I can fit it into the Department of State.
7. The meeting provided me with information concerning how to manage a strategic partnership.
Strongly agree
Agree
5
6
3
7
7
5
7
4
2
3
8
Neither agree nor
disagree
Disagree
1
2
1
1
7
2
6
3
Why or why not?
Was not really covered.
Several concepts discussed at the session (e.g. framing partnerships in terms of perceived benefits to both parties). Info will
be taken back to my agency for discussion.
Showed that these partnerships can work.
Discussed the good points of strategic partnering and the special handling of specific partners.
Little discussion on how to manage a partnership.
8. .My expectations were met.
… Yes … No
Y- 12
N- 0
1
2
Strongly
disagree
9. I liked most:
Guest speakers.
Discussion at table.
Enjoyed and benefited from the entire program.
Perspectives from various agencies.
Opportunities to question speakers and understand how other agencies are approaching this issue.
Don Murphy's presentation NPS.
Good facilitation.
The informal time for questions.
The NPS discussion on the various partnerships.
Both speakers.
10. I liked least:
The American Recreation Association presentation would have been better if structure of presentation was organized.
The coldness of the room.
11. Suggestions for future meetings:
More interaction with speakers.
Ask more than two members of a partnership to participate to represent the entire web.