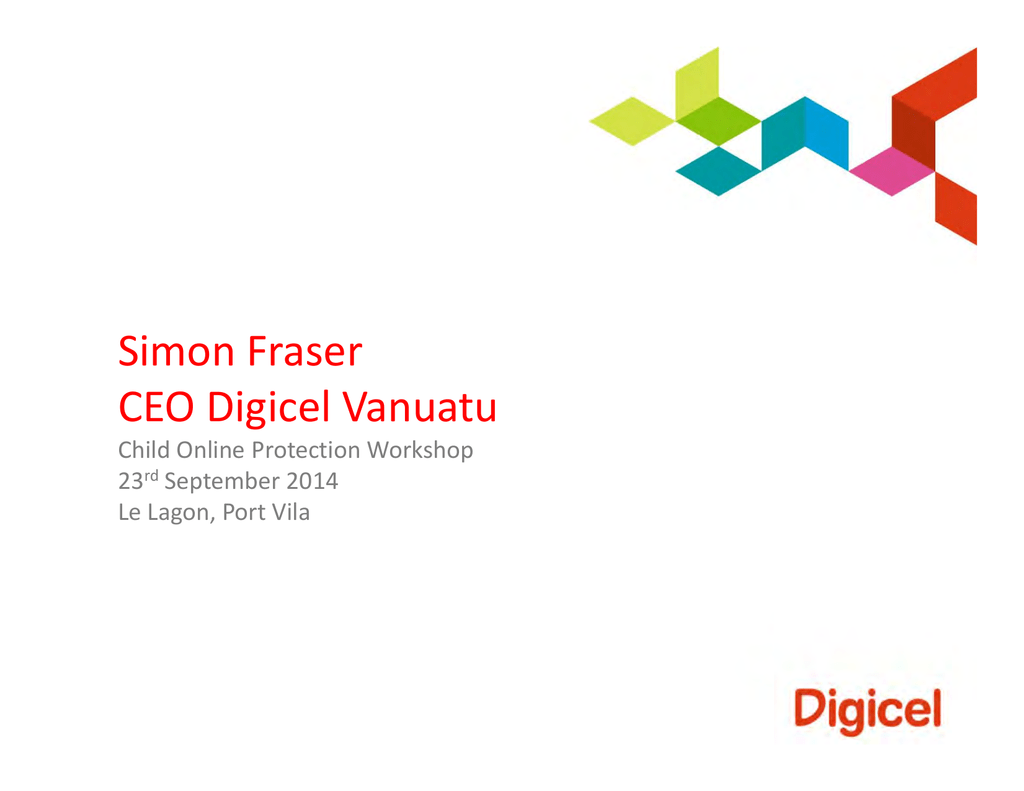 Simon Fraser
CEO Digicel Vanuatu
Child Online Protection Workshop
23rd September 2014
Le Lagon, Port Vila
COP: The Role of Industry
Collaboration
 Work closely with Govt. to implement national & international COP objectives
 Provide industry views as part of consultative process
 Work with Law Enforcement to provide Data requests for investigation or flag inappropriate content
Education
 Educate parents/guardians – best placed to protect children
 Parents often require additional ICT education to help protect their children from harmful content
 Operators can provide opportunities for new users to educate themselves, existing users to up‐skill
 Operator buy‐in to Govt. led ICT education initiatives Promotion
 Industry lead promotion of safe, responsible internet & mobile usage
 Point of Sale information to parents on parental control software & Apps
Collaboration: Working with Government
1. Defining Objectives
 ITU & UNICEF Guidelines for Industry on COP:
1. Integrate child rights considerations into all appropriate corporate policies and management processes
2. Develop processes for handling child sexual abuse content 3. Develop a safer and age appropriate online environment
4. Educate children, parents, and teachers about children's safety and responsible use of ICTs 5. Promote digital technology as a mode to further positive civic engagement
2. Implementing Objectives
 Governmental & Social COP initiatives & Industry support:
 UK, Dept. of Culture Media & Sport push for parental filters, automatically installed by Dec 2013 and decision request for all existing customers ‐ Sky, BT, Virgin, TalkTalk (9/10 home ISP connections)
 Japan, Internet Content Safety Association (ICSA) is an NGO 'clearinghouse' which filters & deletes child pornography with buy‐in from industry, eg. Yahoo! Japan & Mitsubishi
 Australia, proposed Children's e‐Safety Commissioner – a government appointee rather than NGO position
 European Internet Services Providers Association (EuroISPA) – mandatory filtering ineffective as it
leaves content available online, target should be the removal of offending material
Education: Children & Guardians
1. Understanding Mobile & Internet Child Safety
 ICT Literacy is a critical factor in ensuring children are safe online and on their mobile phones
 Online resources to train parents in COP such as www.insafehands.net.au , www.childcareqld.org.au – localised versions of these free training resources potential to greatly increase parental awareness of COP issues and ability to effectively tackle them
 Child ICT literacy, tripartite approach: schools, parents, industry
 Blocking & Monitoring, safety software or mobile apps parents can use to ensure harmful content kept away from children
2. Mobile Apps to improve Child Safety
 Content Blocking Apps, eg. K9, Net Nanny, AVG – blocks content unsuitable for children
 GPS apps, eg. Footprints, Family Tracker – using GPS to accurately keep track of childrens location at all times
 Geo‐fencing Apps, eg. Securafone – provides an alert when children go outside of a set of boundaries marked on a map and tracked via GPS
 Integrated social media apps, eg. MamaBear – linked to facebook page so parents receive alert when child tagged in picture, posts comment, adds new friend, etc.