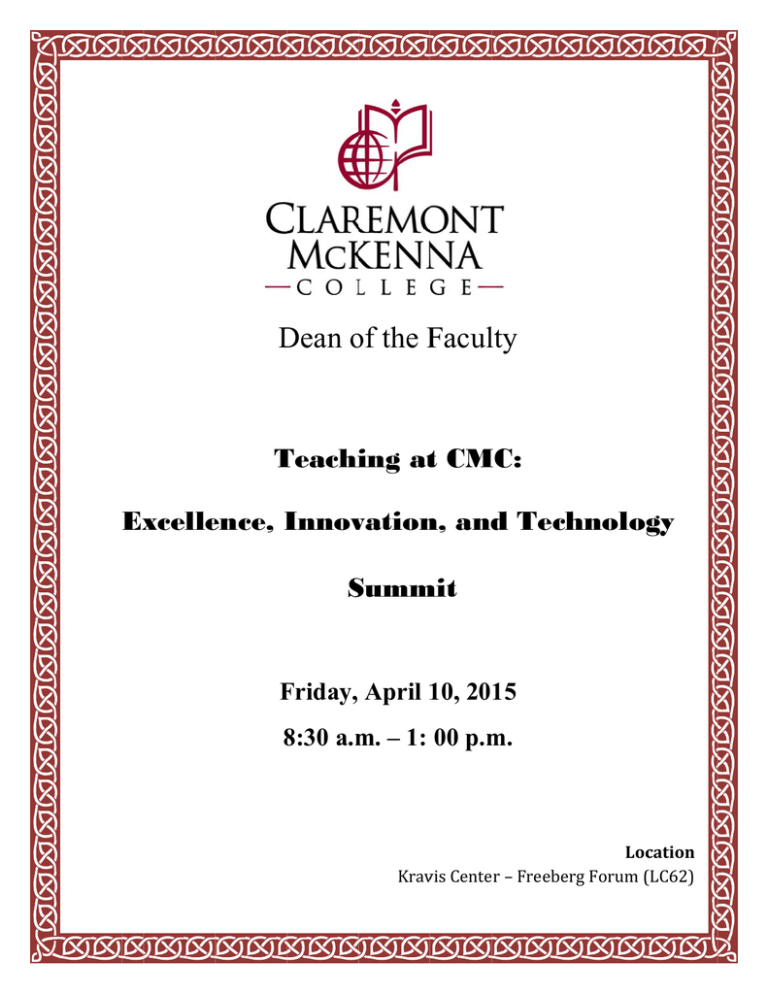 Dean
D
of
o the F
Facultty
Teachi
T
ing att CMC
C:
Ex
xcelle
ence, Innov
I
vation
n, and
d Tech
hnology
Summ
S
mit
Friday,
F
April 110, 2015
8:30
8
a.m
m. – 1: 00 p.m
m.
Loccation
KravvisCenter–FreeberrgForum((LC62)
TeacchingatC
CMC:Exce
ellence,In
nnovation
n,andTecchnologySummit
Friday,A
April10,201
15
8:30a.m
m.–1:00p.m
m.
KravissCenter–FrreebergForrum(LC62)
_________________________________________________________________________________________________________________________________________
8:30
0–9:00
ContinentalB
Breakfast
9:00
0–9:10
Su
ummitOpen
ningSession
n
In
ntroductoryW
Words:Dean
nWarner
9:15
5–10:15 Panel1.Exce
ellenceinTe
eachingatCMC
Moderator:De
M
eanWarner
CMCFacultyP
Panelists:Pro
of.AndrewSchroder,Proof.Cameron,Shelton,Prof.DanKrauss,Prof.
DianaSelig,Pr
D
rof.EmilyWiley,Prof.KrristenFabbe
Whatmakesf
W
forexcellenceeinteachingg?AnumberrofoutstandiingCMCfacu
ultymembersshare
th
heirperspecttivesandexp
perienceaboutwhathas worked,and
dwhathasn'tt,intheirow
wn
teeaching.Pan
nelistscomefromawiderangeofdis ciplines,and
dwilladdresssvarioustop
pics
reelevanttoteaaching,e.g.,cclassformat(lecture,disccussion,thefflippedclassroom),thein
ntegration
oftechnologyinteaching,gradingpracctices,syllab i,etc.Weloo
okforwardaswelltohavvinga
uesinattend
danceonthesseandotherteaching‐rellatedmatterss.
dialoguewithourcolleagu
10:1
15–10:30Refreshment
R
tBreak
10:3
30–11:10Panel2.Crea
ative Teaching: Incorporating Inn
novative Ideeas in the Cllassroom
Moderator:De
M
eanSkinner
CMCFacultyP
Panelists:Pro
of.AmyKind
d,Prof.RaqueelVega‐Duraan,Prof.Serk
kanOzbeklik In
n this session
n, panelists will
w discuss different tecchniques for enhancing sstudent learnning,
in
ncluding creaative ways to
o spark stud
dent engagem
ment, innovaative class asssignments thhat spur
sttudents to ex
xcel, ways to
o create a dyn
namic and ccollaborationn classroom eenvironmentt, and
efffective evalluation strateegies that tak
ke into accouunt non-tradditional instruuctional
methodologie
m
es.
11:2
20–12:00Panel3.Tech
hnologyAcrosstheLibe
eralArts
Moderator:Pr
M
rof.CynthiaH
Humes
CMCFacultyP
Panelists:Pro
of.AsumanA
Aksoy,Prof.J onathanPetrropolous,Prof.ManfredK
Keil,Prof.
hanaLevin
Sh
Howdoestech
H
hnologyaffectthewayw
weteachinou
urspecificdiisciplines?W
Whataresomeeofthe
trrendsinvariousfields,an
ndwhattoolssusedbothiinsideandou
utsidetheclaassroomhavehelped
makeourteac
m
chingmoreeeffective?Join
nusaswew elcomeapan
neltodiscusshowtechno
ologyhas
ch
hangedthep
practiceofteaachingatCM
MC.
12:0
00–1:00Lu
unchThoug
ghtExerciseandSummiitClosing
12:00–12:30LuncheonBufffetandOpen
nDiscussion
Moderator:LeeeSkinner–Participanteexerciseandnextsteps
12:30–1:00M
Teaching at CMC: Excellence, Innovation, and Technology Summit
April 10, 2015
Asuman Aksoy, Ph.D.
Professor of Mathematics
Asuman Aksoy is a Crown Professor of Mathematics and Roberts Fellow at Claremont
McKenna College, where she has taught since 1987 and served as the chair of the Mathematics
department several times. She received her Ph.D. from the University of Michigan in 1984 and
her M.A. from Ankara's Middle East Technical University. Aksoy's central research interests
include Banach space theory, operator theory, fixed point theory, interpolation spaces, Orlicz and
modular spaces, hyperconvex spaces and metric geometry; fields in which she has published
several peer reviewed articles and books, some recent papers are: Some Results Bernstein's
Lethargy Theorem in Frechet Spaces, Characterization Conditions and the Numerical Index,
Minimal Projections With Respect to Various Norms, and the recent book A Problem Book In
Real Analysis.
Professionally, Aksoy splits her time between work on research and teaching a wide array of
mathematics courses for Claremont McKenna College and working for the Claremont Center for
Mathematical Sciences. She has been recognized by Claremont McKenna College and the
Mathematical Association of America for her superior teaching, is a member of the American
Mathematical Society and Phi Beta Kappa and internationally collaborates with mathematicians
from Japan, Spain, Poland, Finland, Sweden and Morocco.
Teaching at CMC: Excellence, Innovation, and Technology Summit
April 10, 2015
Kristin Fabbe, Ph.D.
Professor of Government
Dr. Kristin Fabbe is an Assistant Professor of Government at Claremont McKenna College,
where she teaches courses on International Relations, the Comparative Politics of the Middle
East, and Leadership. Her research focuses on religion-state relations, identity politics, and the
political economy of development. Dr. Fabbe received her PhD in Political Science from the
Massachusetts Institute of Technology in 2012, with subfield specializations in Comparative
Politics and Social Science Research Methods. She also holds an MSc (with Distinction) in
International Relations from the London School of Economics and a BA in History from Lewis
and Clark College. Dr. Fabbe will be speaking about "Inspiration vs. Instruction in the Liberal
Arts Classroom"
Teaching at CMC: Excellence, Innovation, and Technology Summit
April 10, 2015
Dr. Cynthia Ann Humes
Associate Vice President, CTO, and Associate Professor of Religious Studies
As Associate Vice President for Information Technology and Chief Technology Officer, Humes oversees
management of all aspects of technology at Claremont McKenna College. Humes has worked to champion innovation
in pedagogy locally and nationally, making presentations and writing on the subject of technology and higher
education. Humes strives to remain an active contributor to the field of Religious Studies as well; her research
revolves around the history of Hinduism with specific interests in models of religious leadership, Hinduism in
America, Religion and Politics, goddess worship, and gender. Outside of her work in technology and Religious
Studies at Claremont McKenna College, Humes is a Planning Commissioner for the city of Claremont, California.
Selected Research and Publications:
 "The Ivory Tower and the Cloud. Understanding Cloud Computing," (Thomson Reuters/Aspatore: 2010 edition,
Inside the Minds series), Cynthia Ann Humes with Jeremy Whaley.
 "Staying in the IT Game on Campus. Updating Your Company's Technology Strategy: Leading CTOs and CIOs
on Working with the Executive Team," Managing Budget Constraints, and Delivering Business Value (Thomson
Reuters/Aspatore: 2010 edition, Inside the Minds series.
 The Sweet Teachings of the Blessed Śaṅkarācārya: Swami Brahmananda Saraswati. Introduction by LB Shriver
and translation from Hindi and Sanskrit by Cynthia Ann Humes. Fairfield, Iowa: LBS Imprints, 2013.
 Breaking Boundaries with the Goddess: New Directions in the Study of Śāktism. By Cynthia Ann Humes and
Rachel Fell McDermott. Delhi: Manohar Publishers & Distributors, 2009.
 Gurus in America. By Thomas Forsthoefel and Cynthia Ann Humes. Albany: SUNY Press, 2005.
 Living Banaras: Hindu Religion in Cultural Context. By Bradley R. Hertel and Cynthia Ann Humes. Albany:
SUNY Press, 1993.
Selected Awards and Affiliations:
 South Asian Visual Culture and Expressions of Religious Identity, Social Construction, and Nation, Mellon
Foundation Grant
 Fellow, Frye Institute
 American Institute of Indian Studies Research Fellowship
 Charlotte W. Newcombe Fellowship
 Fulbright-Hays Grant
Teaching at CMC: Excellence, Innovation, and Technology Summit
April 10, 2015
Manfred Keil, Ph.D.
Associate Professor of The Robert Day School of Economics and Finance
Professor Keil's research focuses on aggregate labor market outcomes, comparative economic
performance of countries and regions, issues in finance, politico-economic interaction, and the
study of business cycles. His publications have appeared in the Journal of Applied Econometrics,
Journal of Development Economics, Journal of Macroeconomics, Oxford Economic Papers, and
Weltwirtschaftliches Archiv among others. Most recently he has started work with students at the
Lowe Institute on economic issues facing the Southern California economy and the Inland
Empire in particular.
Manfred Keil received his Ph.D. from the London School of Economics. He joined the faculty of
Claremont McKenna College in 1995. He has taught in the Robert Day School of Economics and
Finance (formerly the Department of Economics) since then, primarily in the fields of
macroeconomics, econometrics, and statistics. In the summer of 2009, he completed his three
year term as the Chairman of the Faculty of the RDS. Before coming to CMC, he held
appointments in Boston, Montreal, and England. In addition to being a faculty member at the
RDS, he is a research fellow of both the Lowe and the Rose Institute.
Teaching at CMC: Excellence, Innovation, and Technology Summit
April 10, 2015
Amy Kind, Ph.D.
Professor of Philosophy
Amy Kind joined the CMC faculty in 1997. Currently Professor of Philosophy, she has
previously served as Chair of the Department of Philosophy (2009 - 2012) and Associate Dean
of the Faculty (2005 - 2008). At CMC, she teaches classes in philosophy of mind, metaphysics,
and logic. She also regularly teaches a Freshman Humanities Seminar on "Life, Death, and
Meaning." Her research interests lie broadly in the philosophy of mind, though most of her
published work has concerned issues relating either to the imagination or to phenomenal
consciousness.
Teaching at CMC: Excellence, Innovation, and Technology Summit
April 10, 2015
Dan Krauss, J.D., Ph.D., ABPP (Forensic Psychology)
Professor of Psychology
Professor Daniel Krauss completed a joint degree program in psychology and law at the
University of Arizona, receiving his J.D. and then his Ph.D. in clinical psychology and
psychology, policy, and law. He is a full professor and chair of the Department of Psychology,
and has published over 50 research articles, books, and book chapters (with 9 CMC
undergraduate co-authors) relating to clinical psychological evaluations for the courts, legal and
psychological expertise, evidentiary admissibility standards, and juries' ability to process
complex expert testimony in their decision-making. He is the co-author of The psychology of law:
Human behavior, legal institutions, and law (APA Publishing, 2015), and the textbook Forensic and
legal psychology (Worth, 2012; 2nd edition, 2015; Canadian edition, 2014), which he uses in his
popular forensic psychology class. He has also co-edited 3 books (Jury Psychology: Social
Aspects of the Trial Process. Vol I.; Psychological Expertise in Court. Vol II. (Ashgate, 2009);
Expert Testimony for the Courts (Lawrence Erlbaum, 2007)), and is the co-editor of the Law and
Public Policy: Psychology and the Social Sciences, a book series published by the American
Psychological Association (APA Publishing). Professor Krauss is licensed to practice law in
Arizona, is a member of the United States Supreme Court Bar, and has served as the United
States Supreme Court Fellow to the U.S. Sentencing Commission. He is a licensed clinical
psychologist in the state of California, and a diplomate in forensic psychology, board certified by
the American Board of Professional Psychology. He was awarded the Early Career Research
Award by the Western Psychological Association.
Teaching at CMC: Excellence, Innovation, and Technology Summit
April 10, 2015
Shana Levin, Ph.D.
Professor of Psychology
Shana Levin is Crown Professor of Psychology and George R. Roberts Fellow at Claremont
McKenna College. She has been on the faculty at CMC since 1998 and received the G. David
Huntoon Senior Teaching Award in 2012. She teaches Psychological Statistics, Social
Psychology, Psychology Senior Research Seminar, and Seminar in Prejudice and Intergroup
Relations. Her research examines ethnic identification, group dominance motives, ideologies of
group inequality, perceived discrimination, and intergroup attitudes in the United States and
Middle East. She received the Early Career Research Award from the Western Psychological
Association and is a Fellow of the Western Psychological Association, Society of Experimental
Social Psychology, and Society for the Psychological Study of Social Issues.
Teaching at CMC: Excellence, Innovation, and Technology Summit
April 10, 2015
Serkan Ozbeklik, Ph.D.
Professor of Economics
Serkan Ozbeklik is an associate professor of economics at the Robert Day School of Economics
and Finance at Claremont McKenna College. He received his Ph.D. in Economics from the Ohio
State University, his M.A. in Economics from University of Guelph, and his B.A. from Marmara
University. Professor Ozbeklik's primary research and teaching interests lie in the fields of
labor economics and the economics of education. His most recent research examines how peers
affect student achievement in disadvantaged schools, the impact of teacher gender on student
achievement, and the effectiveness of Teach for America and Job Corps programs. Since arriving
at Claremont McKenna College he has taught Principles of Economics, Intermediate
Microeconomic Theory and Econometrics. Currently, Professor Ozbeklik is in the process of
designing a course in the economics of education.
Teaching at CMC: Excellence, Innovation, and Technology Summit
April 10, 2015
Jonathan Petropoulos, Ph.D.
Professor of History
Jonathan Petropoulos is the John V. Croul Professor of European History at Claremont McKenna College
in Southern California. Previously, he received his Ph.D. from Harvard University (1990), where he
began working on the subject of Nazi art looting and restitution in 1983. He is the author of Art as
Politics in the Third Reich (University of North Carolina Press, 1996); The Faustian Bargain: The Art
World in Nazi Germany (Oxford University Press, 2000); and Royals and the Reich: The Princes von
Hessen in Nazi Germany (Oxford University Press, 2006); and Artists Under Hitler: Collaboration and
Survival in Nazi Germany (Yale University Press, 2014). He has also co-edited a number of volumes,
including The Spoils of War (Harry Abrams, 1997) and Gray Zones: Ambiguity and Compromise in the
Holocaust and its Aftermath (Berghahn, 2005). He has also appeared in more than a dozen documentary
films, including Rape of Europa (Actual Films, 2007) and helped organize art exhibitions, including
Degenerate Art: The Fate of the Avant-Garde in Nazi Germany, which opened at the Los Angeles County
Museum of Art in 1991.
From 1998 to 2000, he served as Research Director for Art and Cultural Property on the Presidential
Commission on Holocaust Assets in the United States, where he helped draft the report, Restitution and
Plunder: The U.S. and Holocaust Victims' Assets (2001). In his capacity as Research Director,
Petropoulos testified before the U.S. House of Representatives' Committee on Banking and Financial
Services and the U.K. Houses of Commons' Select Committee on Culture, Media, and Sport. He has also
served as an expert witness in over a dozen cases where Holocaust victims have tried to recover lost
artworks. This includes Altmann v. Austria, which involved five paintings by Gustav Klimt claimed by
Maria Altmann and other family members (including the "Golden Adele," which is exhibited in New
York's Neue Galerie).
Teaching at CMC: Excellence, Innovation, and Technology Summit
April 10, 2015
Andrew Schroeder, Ph.D.
Professor of Philosophy
Andrew Schroeder is an assistant professor in the philosophy department. His research focuses
on both abstract questions in normative theory, and practical questions in bioethics. He has
taught courses in both areas, as well as courses trying to tie the two together, to varying degrees
of success.
Teaching at CMC: Excellence, Innovation, and Technology Summit
April 10, 2015
Diana Selig, Ph.D.
Professor of History
Diana Selig is the Kingsley Croul Associate Professor of History and a George R. Roberts
Fellow. She is author of Americans All: The Cultural Gifts Movement, which tells the story of
early efforts at multicultural education. At CMC, her teaching includes courses on Women and
Politics in America, America in Depression and War, Gender and Society, and U.S. Gay and
Lesbian History. She served on the Campus Climate Task Force and is currently co-chair of the
PSR Committee on Campus Climate. In 2014 she was the recipient of the Faculty Award from
the Queer Resource Center for her support of LGBTQ students at the five colleges.
Teaching at CMC: Excellence, Innovation, and Technology Summit
April 10, 2015
Cameron Shelton, Ph.D.
Professor of Economics
Cameron Shelton is an Associate Professor of Economics in the Robert Day School. He received
his PhD in Political Economy from the Stanford Graduate School of Business in 2005. Professor
Shelton's first teaching experience was as a post-doc teaching masters students in the Freeman
Spogli Institute for International Studies at Stanford University. He then taught for two years at
Wesleyan University before coming to CMC in 2008. At CMC he has taught mostly
macroeconomics at the intermediate and advanced levels, but elsewhere he has taught courses in
economic growth, game theory, social choice, and public economics.
Teaching at CMC: Excellence, Innovation, and Technology Summit
April 10, 2015
Lee Skinner, Ph.D.
Professor of Modern Languages
Lee Skinner is Associate Professor of Spanish and Associate Dean of the Faculty with
responsibility for curriculum, academic advising, the Freshman Humanities Seminar program,
and global programming. She also chairs the Presidential Mellon Roundtable on Creativity. Her
research focuses on nineteenth-century Spanish American literature with an emphasis on identity
and national consolidation. She has published a book on the historical novel in nineteenthcentury Spanish America and is completing another work on gender and modernity in Spanish
America from 1850 to 1910. Lee teaches language, culture and literature in Spanish, including a
survey of early Spanish American literature from pre-Encounter indigenous civilizations to 1900;
gender in nineteenth-century Spanish American writing and culture; and revolutionary thinking
in Spanish America. She also teaches an FHS on Identity in Latin America. Before coming to
CMC she was an assistant and associate professor in the Department of Spanish and Portuguese
at the University of Kansas, where she won a Kemper Award for Excellence in Teaching.
Teaching at CMC: Excellence, Innovation, and Technology Summit
April 10, 2015
Raquel Vega-Duran, Ph.D.
Professor of Modern Languages
Raquel Vega-Durán is an Assistant Professor in the Department of Modern Languages and
Literatures, where she teaches courses on Peninsular Spanish literature, film, and history. Her
diverse scholarly interests have informed her current book project, Emigrant Dreams, Immigrant
Borders: Migrants, Transnational Encounters, and the Question of Identity in Spain, where she
introduces readers to a wide range of films, journals, novels, photography, paintings, and music
to offer a new perspective for understanding contemporary Spain through its varied encounters
with African and Latin American migrants. This variety of interests and an interdisciplinary
approach are also present in her teaching at CMC, where her courses cover Peninsular literature
and film; trans-Atlantic and trans-Mediterranean cultural relations connecting Africa, Europe,
and Latin America; the evolution of Spanish cultural history; immigration and identity; and the
concepts of memory, forgetting, and exile in post-Civil War Spain. Her courses have been crosslisted with intercollegiate programs such as Women's Studies and Film Studies. She is currently
interested in the connection between humanities and technology; with the generous support of a
course development grant from the Claremont College Consortium Digital Humanities Planning
Project, she is creating an interactive website for her course Encounters in the Atlantic:
Transnational Relations Between Spain and Hispanic America (1491-2015) to help students
visually contextualize and map over five hundred years of transatlantic relations.
Teaching at CMC: Excellence, Innovation, and Technology Summit
April 10, 2015
Nick Warner, Ph.D.
Professor of Literature
Nicholas Warner received his B.A. in English from Stanford University, and the M.A. and Ph.D.
in English from UC Berkeley. He has taught at Oberlin College and Claremont McKenna, where
he is Professor of Literature and Interim Vice President for Academic Affairs and Dean of
Faculty. His research interests include 19th-century English, American, and Russian literature,
especially during the Romantic period, and he is the author of numerous articles in these fields,
as well as of Spirits of America: Intoxication in Nineteenth-Century American Literature
(CHOICE Outstanding Book Award, 1999). His edited volume, In Vino Veritas: An Anthology
of Drinking in Literature, was published in 2012. Warner's teaching at Claremont has been
recognized by eight Huntoon teaching awards, the first in 1983, and the most recent in 2013. His
most recent research interests center on the depiction of leadership and of leader-follower
relations in literature, art, and film.
Teaching at CMC: Excellence, Innovation, and Technology Summit
April 10, 2015
Emily Wiley, Ph.D.
Associate Professor of Biology
Emily Wiley received her PhD in molecular genetics from the University of
Washington. Funded by several grants from the National Science Foundation, her research
explores how genome structure controls the processing of DNA information. Grants have also
funded her interest in teaching science by doing science – how to broaden access and engage
larger numbers of students in authentic research experiences. With a recent CAREER Award,
she developed an international genomics consortium of colleges and universities for students to
research and publish discoveries on gene function. This work has been shared in research articles
and a book chapter, and served to engage LA city high school students in genome research. A
recent NSF IUSE (Improving Undergraduate Science Education) award will support broad
dissemination of her model for research-education integration through the genomics consortium.
A techniques book that she co-edited to support student research, "Current Protocols – Essential
Laboratory Techniques" (Wiley & Sons, Inc.), won the 2009 American Publishers PROSE award
for Excellence in Biology and Life Sciences. She has led college biology education reform
through the American Association for the Advancement of Science Vision and Change initiative,
where she helped shape new national recommendations. Most recently she has explored science
teaching that integrates concepts across traditional discipline boundaries, and has shared these
discoveries in teacher education programs.