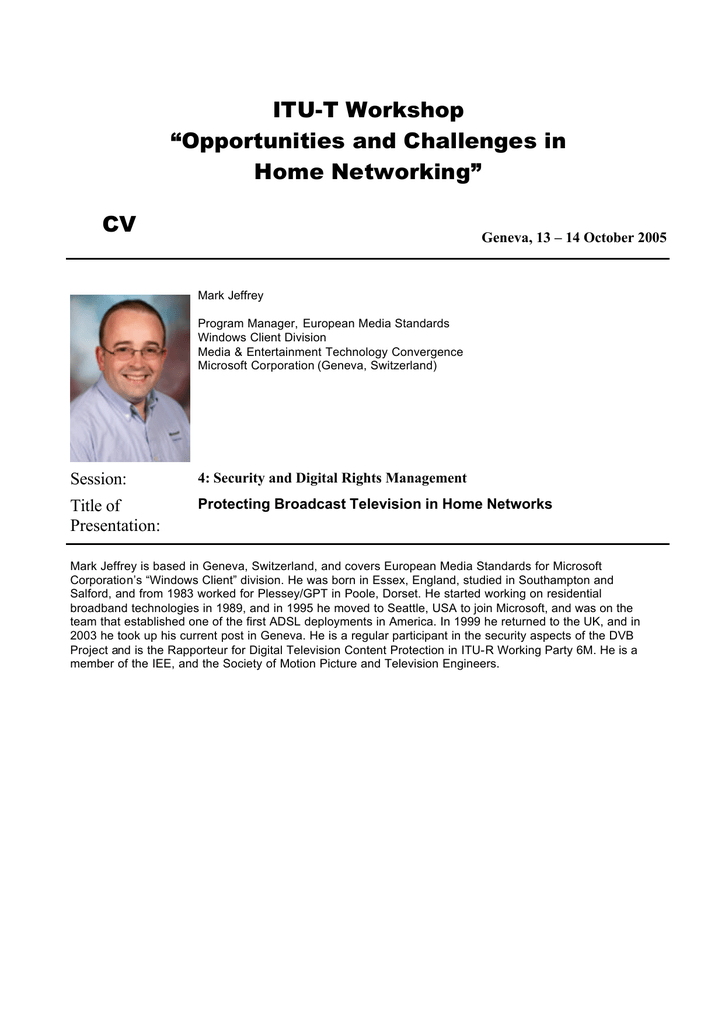 ITU-T Workshop
"Opportunities and Challenges in
Home Networking"
CV
Geneva, 13 – 14 October 2005
Mark Jeffrey
Program Manager, European Media Standards
Windows Client Division
Media & Entertainment Technology Convergence
Microsoft Corporation (Geneva, Switzerland)
Session:
4: Security and Digital Rights Management
Title of
Presentation:
Protecting Broadcast Television in Home Networks
Mark Jeffrey is based in Geneva, Switzerland, and covers European Media Standards for Microsoft
Corporation's "Windows Client" division. He was born in Essex, England, studied in Southampton and
Salford, and from 1983 worked for Plessey/GPT in Poole, Dorset. He started working on residential
broadband technologies in 1989, and in 1995 he moved to Seattle, USA to join Microsoft, and was on the
team that established one of the first ADSL deployments in America. In 1999 he returned to the UK, and in
2003 he took up his current post in Geneva. He is a regular participant in the security aspects of the DVB
Project and is the Rapporteur for Digital Television Content Protection in ITU-R Working Party 6M. He is a
member of the IEE, and the Society of Motion Picture and Television Engineers.