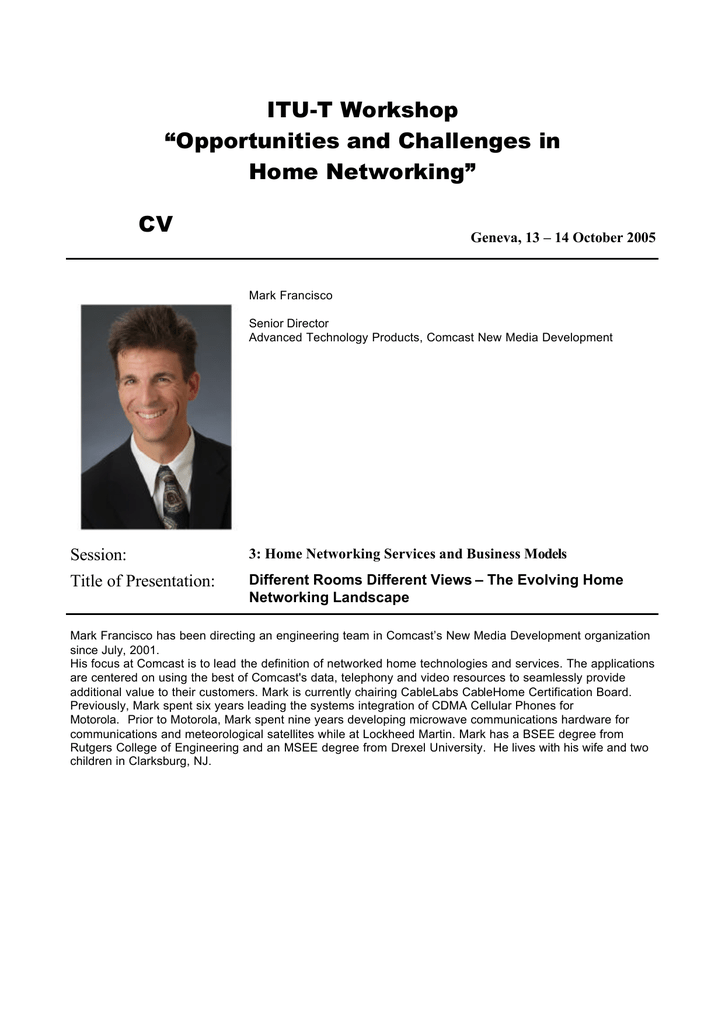 ITU-T Workshop
"Opportunities and Challenges in
Home Networking"
CV
Geneva, 13 – 14 October 2005
Mark Francisco
Senior Director
Advanced Technology Products, Comcast New Media Development
Session:
3: Home Networking Services and Business Models
Title of Presentation:
Different Rooms Different Views – The Evolving Home
Networking Landscape
Mark Francisco has been directing an engineering team in Comcast's New Media Development organization
since July, 2001.
His focus at Comcast is to lead the definition of networked home technologies and services. The applications
are centered on using the best of Comcast's data, telephony and video resources to seamlessly provide
additional value to their customers. Mark is currently chairing CableLabs CableHome Certification Board.
Previously, Mark spent six years leading the systems integration of CDMA Cellular Phones for
Motorola. Prior to Motorola, Mark spent nine years developing microwave communications hardware for
communications and meteorological satellites while at Lockheed Martin. Mark has a BSEE degree from
Rutgers College of Engineering and an MSEE degree from Drexel University. He lives with his wife and two
children in Clarksburg, NJ.