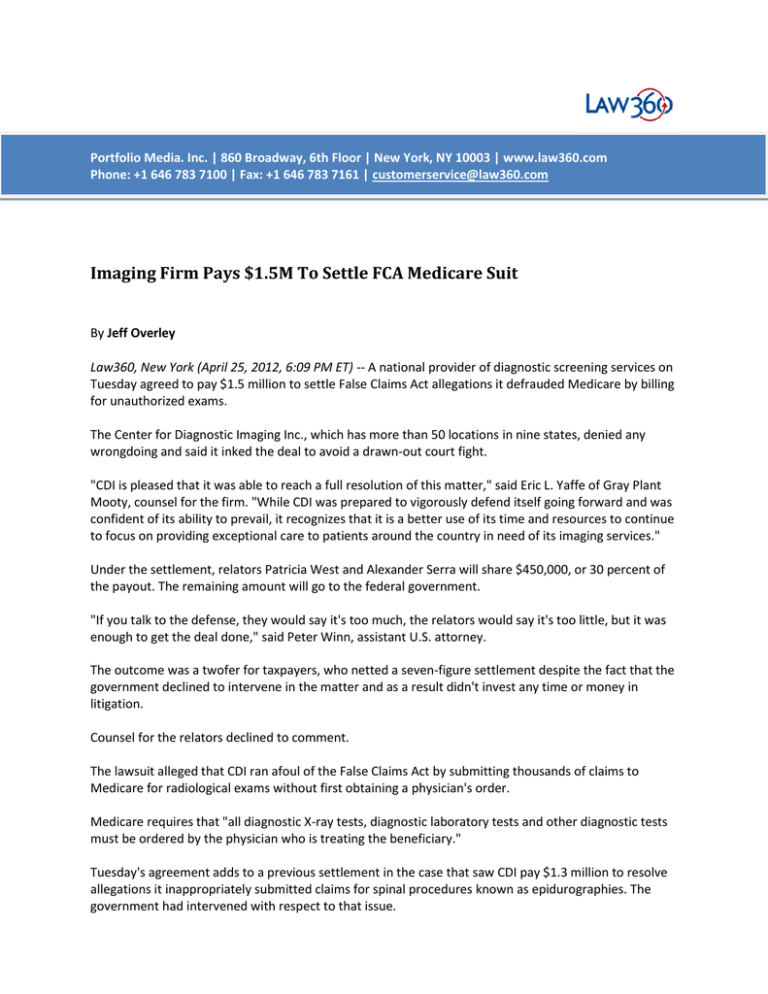 Portfolio Media. Inc. | 860 Broadway, 6th Floor | New York, NY 10003 | www.law360.com
Phone: +1 646 783 7100 | Fax: +1 646 783 7161 | customerservice@law360.com
Imaging Firm Pays $1.5M To Settle FCA Medicare Suit
By Jeff Overley
Law360, New York (April 25, 2012, 6:09 PM ET) -- A national provider of diagnostic screening services on
Tuesday agreed to pay $1.5 million to settle False Claims Act allegations it defrauded Medicare by billing
for unauthorized exams.
The Center for Diagnostic Imaging Inc., which has more than 50 locations in nine states, denied any
wrongdoing and said it inked the deal to avoid a drawn-out court fight.
"CDI is pleased that it was able to reach a full resolution of this matter," said Eric L. Yaffe of Gray Plant
Mooty, counsel for the firm. "While CDI was prepared to vigorously defend itself going forward and was
confident of its ability to prevail, it recognizes that it is a better use of its time and resources to continue
to focus on providing exceptional care to patients around the country in need of its imaging services."
Under the settlement, relators Patricia West and Alexander Serra will share $450,000, or 30 percent of
the payout. The remaining amount will go to the federal government.
"If you talk to the defense, they would say it's too much, the relators would say it's too little, but it was
enough to get the deal done," said Peter Winn, assistant U.S. attorney.
The outcome was a twofer for taxpayers, who netted a seven-figure settlement despite the fact that the
government declined to intervene in the matter and as a result didn't invest any time or money in
litigation.
Counsel for the relators declined to comment.
The lawsuit alleged that CDI ran afoul of the False Claims Act by submitting thousands of claims to
Medicare for radiological exams without first obtaining a physician's order.
Medicare requires that "all diagnostic X-ray tests, diagnostic laboratory tests and other diagnostic tests
must be ordered by the physician who is treating the beneficiary."
Tuesday's agreement adds to a previous settlement in the case that saw CDI pay $1.3 million to resolve
allegations it inappropriately submitted claims for spinal procedures known as epidurographies. The
government had intervened with respect to that issue.
CDI was launched in 1981 as "one of the first freestanding outpatient imaging providers in the country,"
according to the company's website.
The founder's "passion for quality, cost-effectiveness and exceptional patient care were contagious and
continue to be our core principles today," the website says.
CDI is owned by a subsidiary of Toronto-based Onex Corp. as well as CDI physicians and shareholders. It
operates in South Dakota, Missouri, Florida, Minnesota, Wisconsin, Indiana, Illinois, Ohio and
Washington state.
The plaintiffs are represented by Steve W. Berman and Thomas E. Loeser of Hagens Berman Sobol
Shapiro LLP, Marc S. Raspanti and Michael A. Morse of Pietragallo Gordon Alfano Bosick & Raspanti LLP
and Marlan B. Wilbanks and Tyrone M. Bridges of Wilbanks & Bridges LLP.
CDI is represented by Eric L. Yaffe and Stephen J. Vaughan of Gray Plant Mooty and Barbara J. Duffy and
Ryan P. McBride of Lane Powell PC.
The case is U.S. et al. v. Center For Diagnostic Imaging Inc. et al., case number 2:05-cv-00058, in the U.S.
District Court for the Western District of Washington.
--Additional reporting by Megan Stride, Bibeka Shrestha and Rachel Slajda. Editing by Katherine
Rautenberg.
All Content © 2003-2012, Portfolio Media, Inc.