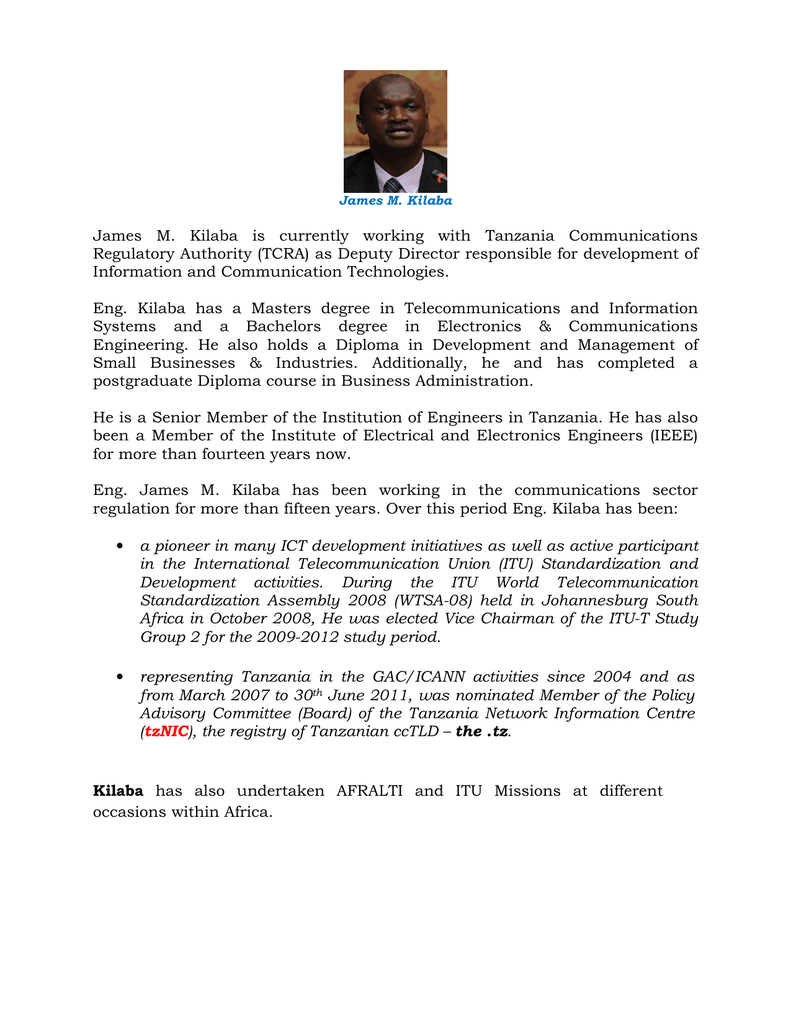 James M. Kilaba
James M. Kilaba is currently working with Tanzania Communications
Regulatory Authority (TCRA) as Deputy Director responsible for development of
Information and Communication Technologies.
Eng. Kilaba has a Masters degree in Telecommunications and Information
Systems and a Bachelors degree in Electronics & Communications
Engineering. He also holds a Diploma in Development and Management of
Small Businesses & Industries. Additionally, he and has completed a
postgraduate Diploma course in Business Administration.
He is a Senior Member of the Institution of Engineers in Tanzania. He has also
been a Member of the Institute of Electrical and Electronics Engineers (IEEE)
for more than fourteen years now.
Eng. James M. Kilaba has been working in the communications sector
regulation for more than fifteen years. Over this period Eng. Kilaba has been:
•
a pioneer in many ICT development initiatives as well as active participant
in the International Telecommunication Union (ITU) Standardization and
Development activities. During the ITU World Telecommunication
Standardization Assembly 2008 (WTSA-08) held in Johannesburg South
Africa in October 2008, He was elected Vice Chairman of the ITU-T Study
Group 2 for the 2009-2012 study period.
•
representing Tanzania in the GAC/ICANN activities since 2004 and as
from March 2007 to 30th June 2011, was nominated Member of the Policy
Advisory Committee (Board) of the Tanzania Network Information Centre
(tzNIC), the registry of Tanzanian ccTLD – the .tz.
Kilaba has also undertaken AFRALTI and ITU Missions at different
occasions within Africa.