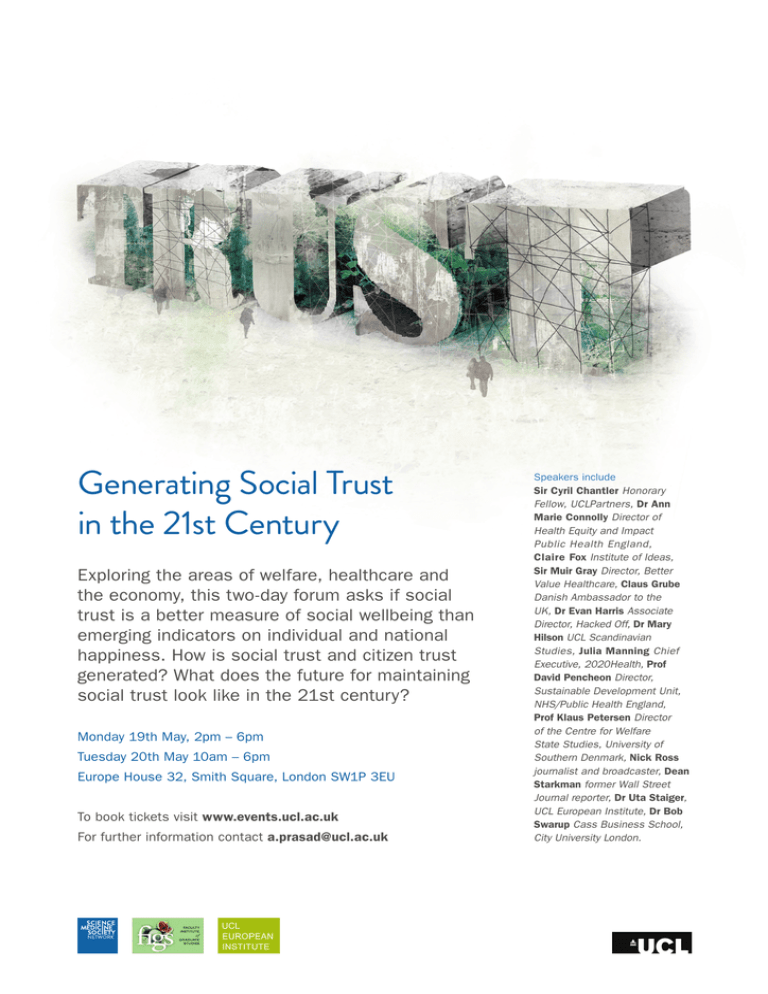 Generating Social Trust
in the 21st Century
Exploring the areas of welfare, healthcare and
the economy, this two-day forum asks if social
trust is a better measure of social wellbeing than
emerging indicators on individual and national
happiness. How is social trust and citizen trust
generated? What does the future for maintaining
social trust look like in the 21st century?
Monday 19th May, 2pm – 6pm
Tuesday 20th May 10am – 6pm
Europe House 32, Smith Square, London SW1P 3EU
To book tickets visit www.events.ucl.ac.uk
For further information contact a.prasad@ucl.ac.uk
Speakers include
Sir Cyril Chantler Honorary
Fellow, UCLPartners, Dr Ann
Marie Connolly Director of
Health Equity and Impact
Public Health England,
Claire Fox Institute of Ideas,
Sir Muir Gray Director, Better
Value Healthcare, Claus Grube
Danish Ambassador to the
UK, Dr Evan Harris Associate
Director, Hacked Off, Dr Mary
Hilson UCL Scandinavian
Studies, Julia Manning Chief
Executive, 2020Health, Prof
David Pencheon Director,
Sustainable Development Unit,
NHS/Public Health England,
Prof Klaus Petersen Director
of the Centre for Welfare
State Studies, University of
Southern Denmark, Nick Ross
journalist and broadcaster, Dean
Starkman former Wall Street
Journal reporter, Dr Uta Staiger,
UCL European Institute, Dr Bob
Swarup Cass Business School,
City University London.