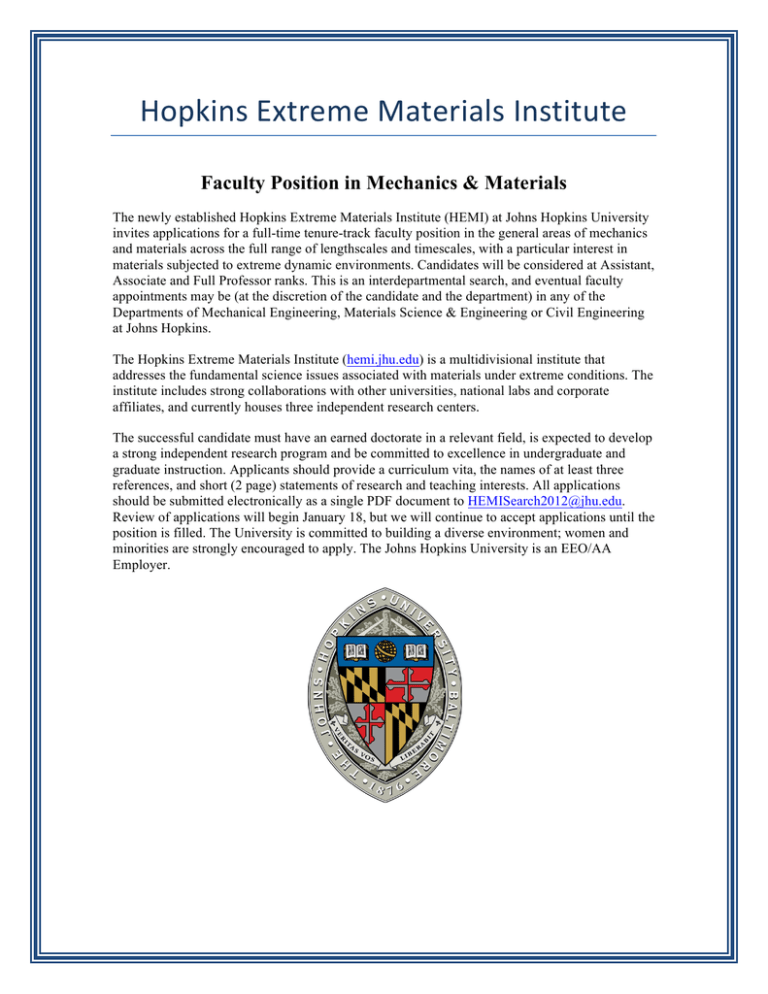 Hopkins Extreme Materials Institute Faculty Position in Mechanics & Materials
The newly established Hopkins Extreme Materials Institute (HEMI) at Johns Hopkins University
invites applications for a full-time tenure-track faculty position in the general areas of mechanics
and materials across the full range of lengthscales and timescales, with a particular interest in
materials subjected to extreme dynamic environments. Candidates will be considered at Assistant,
Associate and Full Professor ranks. This is an interdepartmental search, and eventual faculty
appointments may be (at the discretion of the candidate and the department) in any of the
Departments of Mechanical Engineering, Materials Science & Engineering or Civil Engineering
at Johns Hopkins.
The Hopkins Extreme Materials Institute (hemi.jhu.edu) is a multidivisional institute that
addresses the fundamental science issues associated with materials under extreme conditions. The
institute includes strong collaborations with other universities, national labs and corporate
affiliates, and currently houses three independent research centers.
The successful candidate must have an earned doctorate in a relevant field, is expected to develop
a strong independent research program and be committed to excellence in undergraduate and
graduate instruction. Applicants should provide a curriculum vita, the names of at least three
references, and short (2 page) statements of research and teaching interests. All applications
should be submitted electronically as a single PDF document to HEMISearch2012@jhu.edu.
Review of applications will begin January 18, but we will continue to accept applications until the
position is filled. The University is committed to building a diverse environment; women and
minorities are strongly encouraged to apply. The Johns Hopkins University is an EEO/AA
Employer.