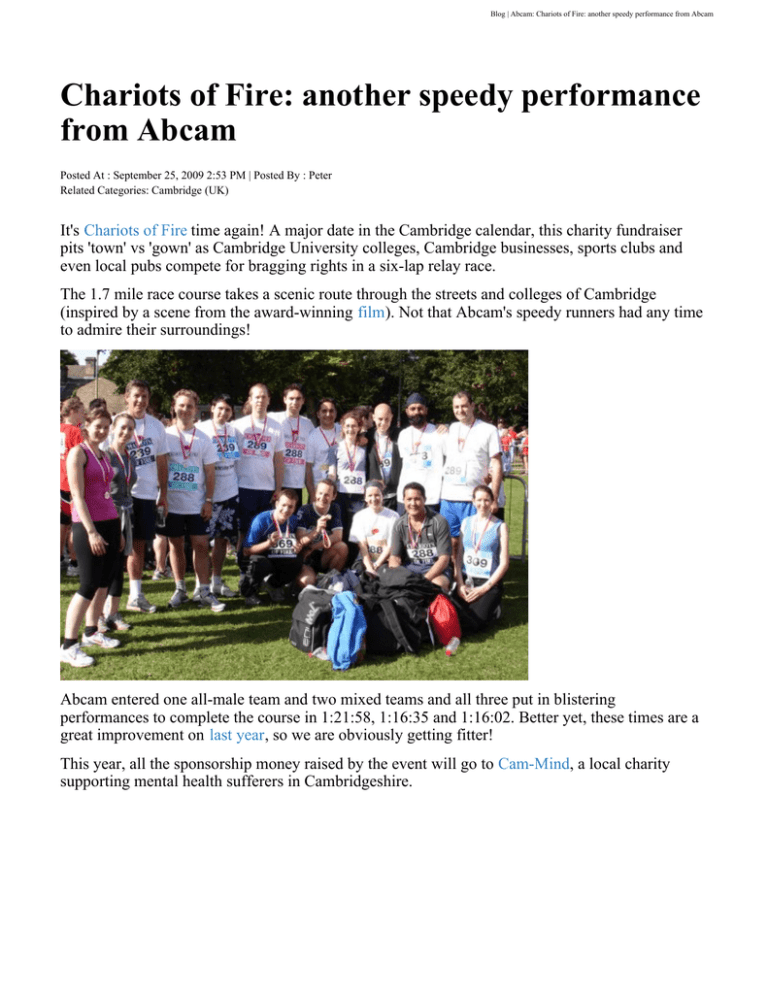 Blog | Abcam: Chariots of Fire: another speedy performance from Abcam
Chariots of Fire: another speedy performance
from Abcam
Posted At : September 25, 2009 2:53 PM | Posted By : Peter
Related Categories: Cambridge (UK)
It's Chariots of Fire time again! A major date in the Cambridge calendar, this charity fundraiser
pits 'town' vs 'gown' as Cambridge University colleges, Cambridge businesses, sports clubs and
even local pubs compete for bragging rights in a six-lap relay race.
The 1.7 mile race course takes a scenic route through the streets and colleges of Cambridge
(inspired by a scene from the award-winning film). Not that Abcam's speedy runners had any time
to admire their surroundings!
Abcam entered one all-male team and two mixed teams and all three put in blistering
performances to complete the course in 1:21:58, 1:16:35 and 1:16:02. Better yet, these times are a
great improvement on last year, so we are obviously getting fitter!
This year, all the sponsorship money raised by the event will go to Cam-Mind, a local charity
supporting mental health sufferers in Cambridgeshire.