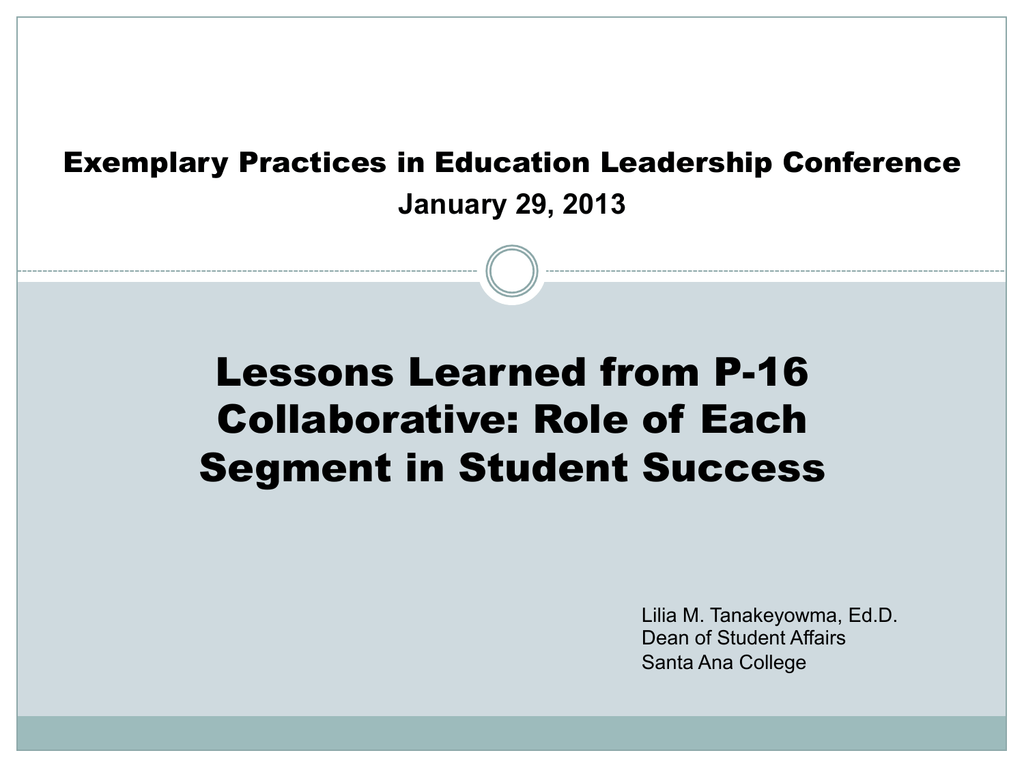 Exemplary Practices in Education Leadership Conference
January 29, 2013
Lessons Learned from P-16
Collaborative: Role of Each
Segment in Student Success
Lilia M. Tanakeyowma, Ed.D.
Dean of Student Affairs
Santa Ana College
Purpose of the Session
1.  To provide an overview of our partnership's
history and goals.
2.  To highlight the goals of our partnership and the
context for the work in Santa Ana.
3.  To frame our operating structures.
4.  To identify highlights of impact we have achieved
to date.
5.  To share lessons learned that may be applicable to
other collaboratives.
History of the
Santa Ana Partnership
The Santa Ana Partnership has been
collaborating for student success by addressing
barriers to student success systemically ,
engaging stakeholders, and documenting results
in student terms since 1983.
—  K-16 Partnership
centered on educational
achievement, college
access and completion
—  Connects students,
parents and community
to education locally
—  Works simultaneously at
the program, school/
college, and system
levels to seed innovation
and measure progress
along the way
A Profile of Our Historic
Community
Community Context:
•  Santa Ana is the County Seat, located in Central Orange
County
•  Population: 350,977
•  The nation's most Latino, most Spanish-speaking, and
youngest city (Census 2010)
•  Median age of residents: 26.5 years with 46% under 19
•  60% of residents age 25 or older do not have a high
school diploma
Community Challenges
Comparison of Challenge Indicators in Santa Ana, Orange County, and California
Families below poverty level
Unemployment
College graduate
Not a high school graduate
Home Language - not English
0
10
20
California
30
40
Orange County
50
60
70
80
Santa Ana
U. S. Census. American Factfinder. Web. Retrieved 4 April 2012. from Social, Economic and Racial Characteristics in the
United States: 2010 American Community Survey 1-Year Estimates.
90
Santa Ana Unified School District
u 
36 Elementary Schools
u 
9 Intermediate Schools
u 
7 Comprehensive High Schools
u 
u 
u 
Student Population: 56,000
(Oct. 2011 CBEDS)
6th Largest School District in
California
95% Latino Student Population
(2011)
u 
82% English learners
u 
87% Free/Reduced Lunch
The Santa Ana Partnership Structure
Cabinet: The Partnership's Leadership Team and Professional learning Community Evalua&on Team Evaluators -­‐ SAC, SAUSD, & UCI Padres Promotores Promotores & Partnership Staff MEETS MONTHLY Administrators from SAC, SAUSD, CSUF, & UCI Achieving College SAUSD, SAC, CSUF & UCI The Santa Ana Partnership
Santa Ana Unified School District, Santa Ana College, California State
University, Fullerton, the University of California at Irvine, CBO's and
Business Partners
City of Santa Ana Student Promotores & Academic Tutors SAC, CSUF, UCI Feeder PaFern School Site & Administra&ve Team Mee&ngs School Site Team & Staff Higher Educa&on Centers (HEC) HEC Counselors and Partnership Staff Strategic Ini&a&ves • Middle College High School • Santa Ana ¡Adelante! • The Career Academy Scholars Program • GEAR UP Santa Ana • Upward Bound and Talent Search/TRIO The Five Conditions of Collective Impact
1.  Common Agenda
2.  Shared Measurement
3.  Mutually Reinforcing
Activities
4.  Continuous Communication
5.  Backbone Support
Partnership Work is Organized Around the 5 Domains that we Believe
Have the Power to Advance or Restrain Student Upward Academic
Mobility
1.  Secondary Academic
Preparation
2.  College Knowledge,
Access and Completion
3.  Financial Resources
4.  Policy
5.  Parent Empowerment
& Engagement
Alignment for Collective Impact
Synergy
→→→→
Alignment
Accountability ↗ ↘ →
← ↓ ↗ ←↗
← ↓ →
The Santa Ana Partnership
Policy Results
Policy
Ø 
The A-G College Prep Curriculum has been adopted for high school
graduation in SAUSD.
Ø 
One-stop Higher Education Centers have been established and staffed
at each high school to promote a college-going culture and coordinate
college-going activities.
Ø 
All students take the EAP and results used in placing students at the Santa
Ana College.
Ø 
Padres Promotores de la Educación is supported by the partnership
as key leaders in parent engagement in early college preparation.
Ø 
A focus on "graduating students ready for college and career
without the need for remediation" is now guiding the strategic
planning for the school district.
K
3
6
9
12
College and Career Planning
K-3
3-5
Learn to Read
Read to Learn
CollegeEd curriculum embeds lessons about
college preparation in relevant and
developmentally appropriate dosages, 6th
through 12th grades.
Achieving College Network
Collaboration between SAUSD, SAC,
CSUF, and UCI which provides timely,
relevant, and appropriate college
readiness activities for staff, students,
and parents.
The Achieving College Network
PURPOSE:
To coordinate and collaborate in activities aimed at preparing high school
students and their families for college.
MEMBERS:
HS Principals, Higher Education Center Coordinators and/or counselor
representative, AP of Guidance, Outreach staff from SAC, CSUF, and UCI
CORE ACTIVITIES:
Focus on addressing barriers known to keep students from thinking
beyond high school, such as:
•  Lack of understanding and navigating the college/university
admissions process
•  Lack of financial resources
•  Limited parental guidance due to lack of knowledge of the
system of higher education
SAT Test Taking Trend
2002
134
---183
145
-165
627
Century
Godinez
Lorin Griset
Middle College
Saddleback
Santa Ana
Segerstrom
Valley
District
Santa Ana Unified School District
Number of SAT I Test Takers: 2002-2011
2004
2005
2006
2007
2008
137
152
147
144
118
----7
----4
20
15
22
23
34
176
155
294
218
171
188
187
229
211
241
---4
194
124
137
167
160
125
625
631
859
760
894
2003
179
--20
186
193
-140
698
Source: College Board
Santa Ana Unified School District
Number of SAT I Test Takers: 2002-2011
Number o f Stud en ts
1500
1300
1100
1,231
900
859
700
500
627 698
625
894
1,003
920
760
631
300
100
2002
2003
2004
2005
2006
2007
2008
2009
2010
2011
2009
123
5
1
32
144
225
329
144
1,003
2010
128
86
-48
110
167
288
93
920
2011
156
249
-50
103
198
331
144
1,231
SAUSD to Postsecondary
2011
Total Postsec.
Postsecondary Institution in 2012
Graduates Enrollment*
Public Private 2-Yr
4-Yr in State out of State
Century
428
239
226
13
202
37
235
4
Cesar Chavez
150
31
28
3
29
2
29
2
Comm Day
1
-------Godinez
511
333
304
29
206
127
319
14
Lorin Griset
228
57
53
4
55
2
54
3
Middle College
70
62
58
4
38
24
61
1
Saddleback
355
173
165
8
138
35
171
2
Santa Ana
552
305
288
17
237
68
283
22
Segerstrom
539
434
415
19
299
135
428
6
Valley
398
206
202
4
165
41
199
7
SAUSD
3,232
1,840
1,739
101
1,369 471
1,779
61
School
NOTE: Reflects time of data
submission to National
Clearinghouse and does not
include corrections submitted to
CALPADS
* Within First Year after High
School graduation
College Level Skill Attainment in MATH: SAUSD
Entering Freshman 2000-2011
40%
35%
30%
25%
20%
2000
34%
15%
10%
5%
0%
2011
29%
25%
25%
20%
20%
11%
N05-­‐N06-­‐Basic Math
15%
N48-­‐PreAlgebra
12%
60-­‐Ele Algebra
70/80 Geo+Int Algebra
9%
Transfer Math
College Level Skill Attainment in ENGLISH:
SAUSD Entering Freshman 2000-2011
*)#$
%)#$
")#$
()#$
%"#$
!)))$
!)#$
&)#$
)#$
!"#$
&'#$
!%#$
&'#$
(!#$
!%#$
%#$
+,-./01$2%)34,567$ +,-./01$2*)3A?0/>0$ +,-./01$*&34,567$57$ +,-./01$&)&3$F6:01$
7B$+C:>@D:$86/@,-$
;7<E$
;7<E$
57$86/9:,$
;7<<=,/>[email protected],$
!)&&$
80%
SAUSD Seniors :College Ready Without
the Need for Remediation (2000-2012)
70%
68%
60%
50%
49%
40%
2000
2012
30%
20%
21%
22%
10%
0%
Math
English
Padres
Promotores de la
Educación
2012-2013 Academic Year
Santa Ana High School
Mendez Fundamental Intermediate
Willard Intermediate
Maria Tapia
Ramona Alvarez
Maria de J. Soto Aguilar
Laura Medina
Maria C. Rangel
Carmen Rodriguez
Reyna Salinas
Susana Barba
Rosalía Quintero
Alejandro Hernández
Lidia Diezmo
Minerva Vega
Saddleback High School
MacArthur Fundamental Intermediate
Lathrop Intermediate
Parent volunteers who serve as ambassadors of higher educa&on and reach the community with the message of early college prepara&on using non-­‐tradi&onal approaches. This year marks the 11th anniversary of this excep&onal program. Century High School
Villa Fundamental Intermediate
Sierra Intermediate
Segerstrom High School
Middle College High School
McFadden Intermediate
Gabriela Regalado
Gloria Iwaki
María Reza
Nelly Verastegui
Gabriela Lemus Voluntaria
Elizabeth Garcia
Patricia Cervantes
Celina Still
Aida Alvarado
Celia Monroy
Eusebia Robles
Eva Estrada
Petra Ayala
Valley High School
Lorin Griset Academy
Carr Intermediate School
Godinez Fundamental High School
Spurgeon Intermediate
César E. Chávez High School
Silvia Acevedo
Pedro Ortiz
Claudia Navarrete
Elizabeth Martinez
Graciela Ronquillo
Maricela Reyes
Yadira Silva
Olga Méndez
Socorro Amaral
Ma. Guadalupe Pérez
Marisol Hernandez
Silvia Q. Rodriguez
Elsa Saldaña
Program Structure §  Teams of five to seven Promotores are organized per school groups (intermediate and high schools). §  Coordinated by Promotor Leaders – 1 Líder per group §  All trainings/workshops are designated college non-­‐credit courses through our School of Con:nuing Educa:on. §  Promotores and Promotores Líderes receive a modest s:pend. Training Ini:al 4-­‐day intensive training and on-­‐going monthly sessions following a formal curriculum focused on early college prepara:on. Accomplishments to date § 
§ 
§ 
§ 
§ 
Over 500 parents trained as Promotores to date. The message of higher educa:on is reaching a greater number of families, over 30,000 personal home visits have been facilitated since 2001. Padre a Padre curriculum developed & published (8 lessons). Program is seen as a model being replicated in other communi:es. "Universidad Para Padres" residen:al experience at UCI. Home Visits & Plá&cas § 
§ 
§ 
§ 
Parent-­‐to-­‐parent personal touch Parents share similar background – helps build trust Provide informa:on about higher educa:on in a relevant manner Responsive to need -­‐ link families to school and community resources Dual Enrollment Program: Career Academy
Scholars Program
§  Two year program starting in the junior year with the goal that a student may
earn a career certificate as well as a high school diploma
§  Students enroll at SAC for one of 6 career pathways:
§ 
Art / Digital Media
§ 
Auto / Diesel
§ 
International Business
Welding
§ 
§ 
§ 
Manufacturing/Engineering
Criminal Justice
The Career Academy Scholars
Program (CASP) Model
Phase I
For the 1st College
Class
Phase II
For the 2nd College
Class
Phase III
For the 3rd College
Class
Phase IV
HS Graduation
Dedicated Support
Student is
concurrently in high
school
Continued Support
Student continues to
be enrolled in high
school
Immersion
Student continues to be
enrolled in high school
College
Matriculation
Enrollment achieved
Registration
support
} 
} 
Sheltered class
} 
Sheltered class
} 
Program
counselor
} 
Program
counselor
} 
Textbook support
} 
Textbook support
} 
Limited bus
passes
} 
Registration
support
} 
Registration support
} 
Open class
} 
Program counselor
} 
Textbook support if
possible
} 
Registration
support
} 
Open class
} 
Program
counselor
} 
Textbook support
via financial aid
CASP Participation To Date
—  Began in fall 2009 (cohort 1):
3 high schools / 82 students
—  Spring 2012 (cohort 4): 9 high
schools / 109 students
—  Participation since inception: 635
CASP Expands to the High School Site
1.  Business:
÷ 
÷ 
Fall 2012
Spring 2013
2.  Assistant Teaching
Certificate courses
beginning in
Summer 2013 with
seniors.
A college degree in every home CSU Fullerton and UC Irvine will provide
guaranteed college admission to all
SAUSD students who successfully meet
CSUF and/or UCI admissions standards
and complete all transfer requirements
on time at Santa Ana College.
College & career planning
begins in 6th grade
Students sign "My Collegegoing Pledge" in 6th grade
Dedicated scholarships by
city of Santa Ana
Coordinated college-bound
activities for students and
parents, 9th – 12th grades
Guaranteed
admission to CSUF
or UCI
The Senior Letter
The 9th Grade
Pledge
The 6th Grade
Pledge
The Santa Ana ¡Adelante! High School Senior Letter
SAC Strategies
—  Seniors receive priority registration
—  Students attend a transfer orientation
course prior to fall semester
—  Students learn about college
resources, financial aid and
scholarships
—  Students complete a two semester educational plan
—  Students participate in experiential university field trips
—  Students are mentored by SAC alumni attending partnering
institutions
Financial Support
—  FAFSA
—  Santa Ana FUTURES
—  CalGrant
—  Santa Ana Public
—  BOGW
—  AB 131
School Foundation
—  AB 130
—  Others
Working Collaboratively in Your Community
1. 
Common Agenda
2. 
Shared Measurement
3. 
Mutually Reinforcing Activities
4. 
Continuous Communication
5. 
Backbone Support
Issues Relevant to Your Own Collaborative
1. 
Improving student academic achievement
2. 
Increasing college-going
3. 
Improving college-going culture: in schools and in the
home
4. 
Increasing college-knowledge of students and parents
5. 
Others?
Guiding Questions for Each Group
1.  What is an ambitious but attainable 5 year goal?
2.  What are the annual benchmarks that will lead to
the 5-year goal attainment?
3.  What strategies will you need to implement to
attain the indicators of progress (benchmarks)
identified?
4.  Who needs to be engaged to meet these
benchmarks?