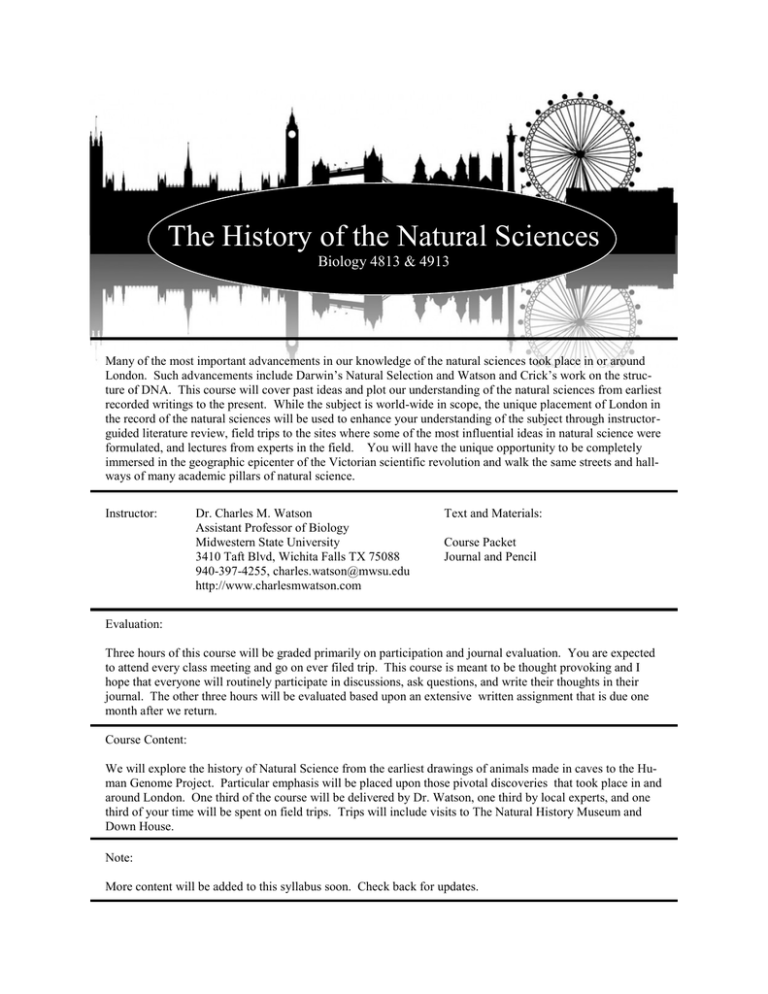 The History of the Natural Sciences
Biology 4813 & 4913
Many of the most important advancements in our knowledge of the natural sciences took place in or around
London. Such advancements include Darwin's Natural Selection and Watson and Crick's work on the structure of DNA. This course will cover past ideas and plot our understanding of the natural sciences from earliest
recorded writings to the present. While the subject is world-wide in scope, the unique placement of London in
the record of the natural sciences will be used to enhance your understanding of the subject through instructorguided literature review, field trips to the sites where some of the most influential ideas in natural science were
formulated, and lectures from experts in the field. You will have the unique opportunity to be completely
immersed in the geographic epicenter of the Victorian scientific revolution and walk the same streets and hallways of many academic pillars of natural science.
Instructor:
Dr. Charles M. Watson
Assistant Professor of Biology
Midwestern State University
3410 Taft Blvd, Wichita Falls TX 75088
940-397-4255, [email protected]
http://www.charlesmwatson.com
Text and Materials:
Course Packet
Journal and Pencil
Evaluation:
Three hours of this course will be graded primarily on participation and journal evaluation. You are expected
to attend every class meeting and go on ever filed trip. This course is meant to be thought provoking and I
hope that everyone will routinely participate in discussions, ask questions, and write their thoughts in their
journal. The other three hours will be evaluated based upon an extensive written assignment that is due one
month after we return.
Course Content:
We will explore the history of Natural Science from the earliest drawings of animals made in caves to the Human Genome Project. Particular emphasis will be placed upon those pivotal discoveries that took place in and
around London. One third of the course will be delivered by Dr. Watson, one third by local experts, and one
third of your time will be spent on field trips. Trips will include visits to The Natural History Museum and
Down House.
Note:
More content will be added to this syllabus soon. Check back for updates.