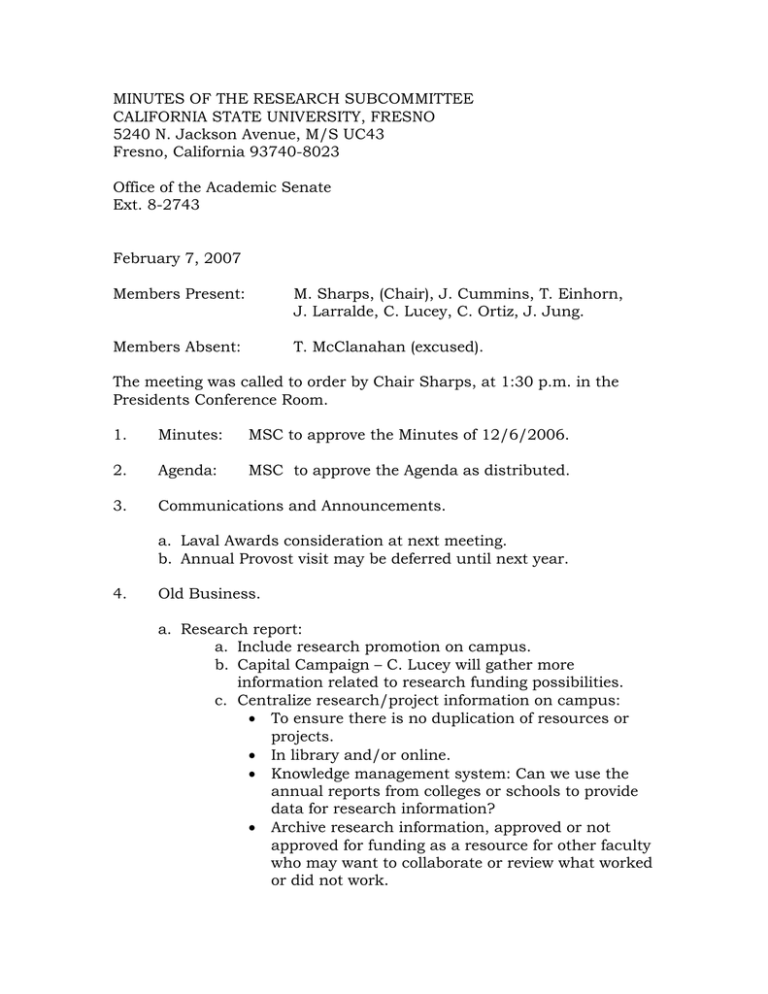 MINUTES OF THE RESEARCH SUBCOMMITTEE
CALIFORNIA STATE UNIVERSITY, FRESNO
5240 N. Jackson Avenue, M/S UC43
Fresno, California 93740­8023
Office of the Academic Senate
Ext. 8­2743
February 7, 2007
Members Present:
M. Sharps, (Chair), J. Cummins, T. Einhorn,
J. Larralde, C. Lucey, C. Ortiz, J. Jung.
Members Absent:
T. McClanahan (excused).
The meeting was called to order by Chair Sharps, at 1:30 p.m. in the
Presidents Conference Room.
1.
Minutes:
MSC to approve the Minutes of 12/6/2006.
2.
Agenda:
MSC to approve the Agenda as distributed.
3.
Communications and Announcements.
a. Laval Awards consideration at next meeting.
b. Annual Provost visit may be deferred until next year.
4.
Old Business.
a. Research report:
a. Include research promotion on campus.
b. Capital Campaign – C. Lucey will gather more
information related to research funding possibilities.
c. Centralize research/project information on campus:
· To ensure there is no duplication of resources or
projects.
· In library and/or online.
· Knowledge management system: Can we use the
annual reports from colleges or schools to provide
data for research information?
· Archive research information, approved or not
approved for funding as a resource for other faculty
who may want to collaborate or review what worked
or did not work.
5.
New Business.
T.Einhorn appointed secretary.
MSC to adjourn (2:30 p.m.)
The next scheduled meeting of the Research Subcommittee will be on
Wednesday, March 7, 2007 from 1:30 – 2:30 p.m., in the President's
Conference Room. An Agenda will be distributed prior to the next
meeting.