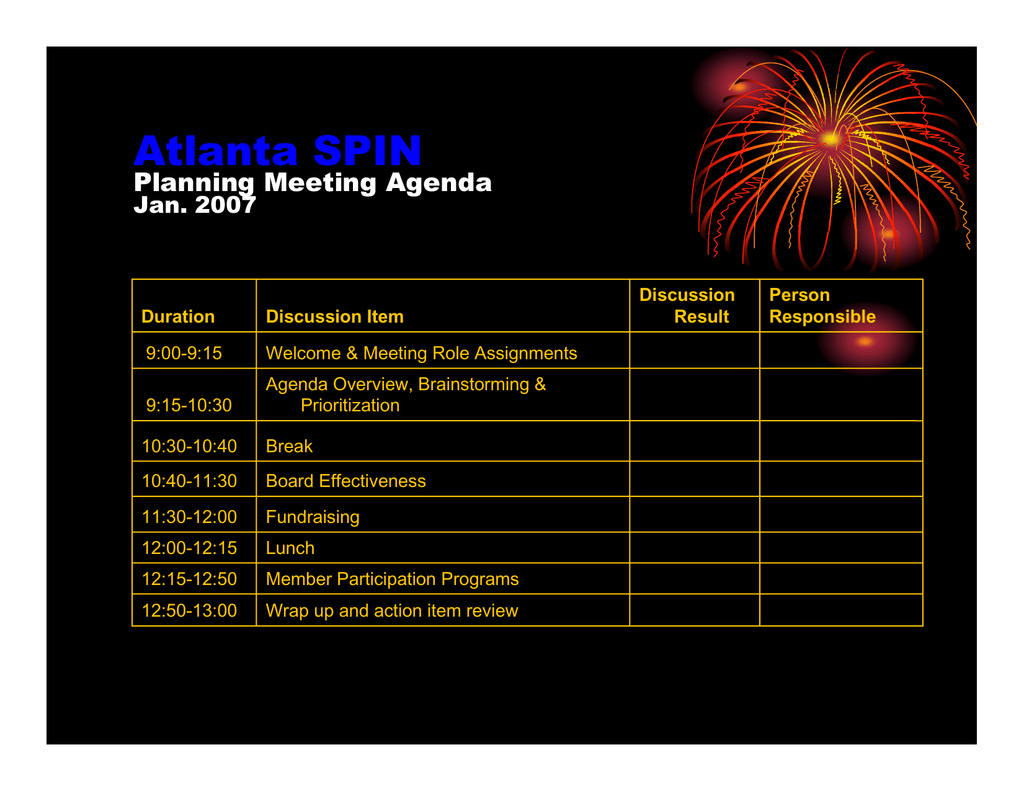 Atlanta SPIN
Planning Meeting Agenda
Jan. 2007
Duration
Discussion Item
9:00-9:15
Welcome & Meeting Role Assignments
9:15-10:30
Agenda Overview, Brainstorming &
Prioritization
10:30-10:40
Break
10:40-11:30
Board Effectiveness
11:30-12:00
Fundraising
12:00-12:15
Lunch
12:15-12:50
Member Participation Programs
12:50-13:00
Wrap up and action item review
Discussion
Result
Person
Responsible
Brainstorming Fuel
•
Board effectiveness:
•
•
•
•
Standing Committees (Membership, Fundraising, Programs, ….)
Empowered committee chairs/owners eliminate design/approve by all
Executive BOD (officers) & BOD (Officers and Directors (committee chairs))
Fundraising:
•
•
•
•
•
Sponsorship - how to drive/find/close sponsors - actions to give to each board
member to find leads
Sponsored Training
Vendor event
Signature events
Tiered memberships
•
Basic: Free
•
Premium: Dues and benefits (discounts for (or free) for events, training,
books; recognition, PDU's, job board, special meetings (possibly more that 1
level premium membership in future)
Brainstorming Fuel
•
Membership/Participation:
•
•
•
•
•
•
•
Need Membership Chair volunteer
Need assistance for Education Chair while Bill R is on assignment
Affiliations
•
Set a goal of creating an active relationship with at least one other
professional group in 2007
Meetings:
•
Speakers, Panels, Education, Training, Programs, Signature
Events & Planning
•
printing the presentation - what are we willing to pay if anything or
do we just provide scratch paper and tell members to go to website
to get?
•
how to drive speakers - actions to give to each board member to
find leads
PR
PDU, Accreditations: who can own the process?
Benefits
Brainstorming Fuel
•
Organizational
•
•
•
•
•
•
•
•
•
Committees
Operational Plans
Document the team agreements and decisions
Create an overarching mechanism/flow/plan to cover all SPIN
activities. That is, create a single point of reference which spans out
to the details.
Embellish our document repository structure, and naming and
versioning standard
Meeting Responsibility - confirm/make updates on who is primary,
backup, etc; Assign owner for Meeting/Checklist
Committees - Education, Membership, Sponsorship, other? Who is
chair and agrees to time commitment? special emphasis on
Membership.
Newsletter - continue in what form?
LinkedIn or Hidden Markets or both or neither and why?