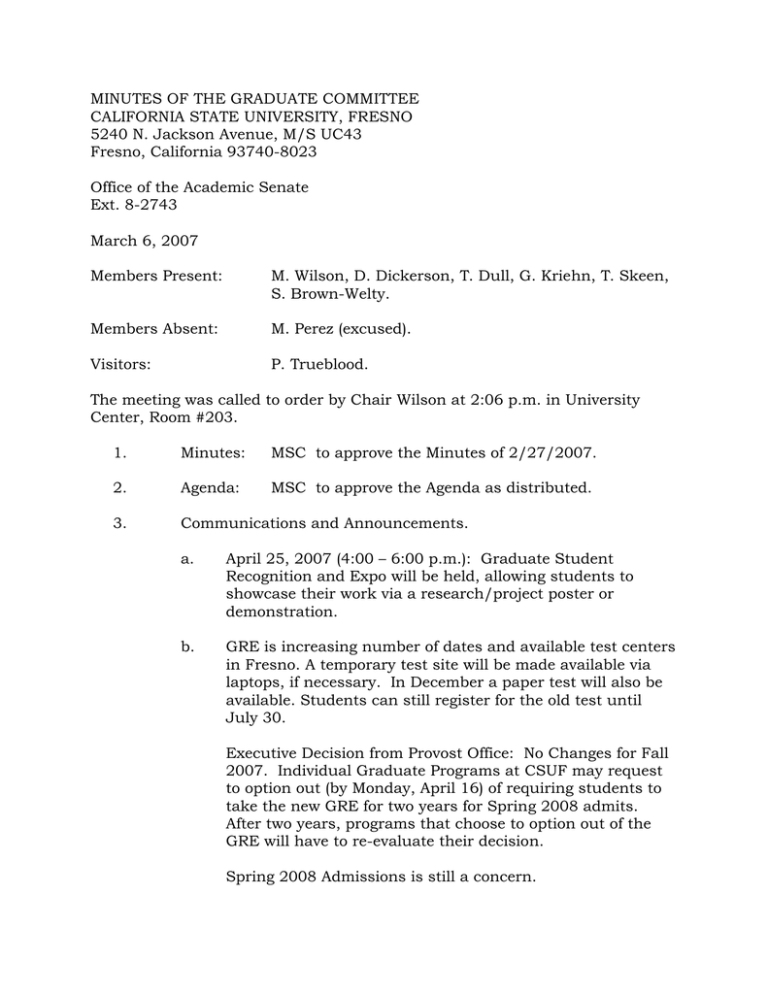 MINUTES OF THE GRADUATE COMMITTEE
CALIFORNIA STATE UNIVERSITY, FRESNO
5240 N. Jackson Avenue, M/S UC43
Fresno, California 93740­8023
Office of the Academic Senate
Ext. 8­2743
March 6, 2007
Members Present:
M. Wilson, D. Dickerson, T. Dull, G. Kriehn, T. Skeen,
S. Brown­Welty.
Members Absent:
M. Perez (excused).
Visitors:
P. Trueblood.
The meeting was called to order by Chair Wilson at 2:06 p.m. in University
Center, Room #203.
1.
Minutes:
MSC to approve the Minutes of 2/27/2007.
2.
Agenda:
MSC to approve the Agenda as distributed.
3.
Communications and Announcements.
a.
April 25, 2007 (4:00 – 6:00 p.m.): Graduate Student
Recognition and Expo will be held, allowing students to
showcase their work via a research/project poster or
demonstration.
b.
GRE is increasing number of dates and available test centers
in Fresno. A temporary test site will be made available via
laptops, if necessary. In December a paper test will also be
available. Students can still register for the old test until
July 30.
Executive Decision from Provost Office: No Changes for Fall
2007. Individual Graduate Programs at CSUF may request
to option out (by Monday, April 16) of requiring students to
take the new GRE for two years for Spring 2008 admits.
After two years, programs that choose to option out of the
GRE will have to re­evaluate their decision.
Spring 2008 Admissions is still a concern.
4.
Discussion of Catalog Changes for Physical Therapy.
a.
Current Proposed Changes: 2 Year Masters.
·
·
·
1 Year Pre­Admission
2 Year Masters Program
1 Year DPT
b.
Twelve units of a postgraduate internship are required to
seek a license to practice physical therapy in California.
c.
Future Proposed Changes: Three year entry level DPT will be
required due to California State requirements to be
implemented by 2010.
MSC to Approve Catalog Changes for Physical Therapy.
5.
Graduate Communications Program Review Recommendations.
The department must implement the Student Outcome
Assessment Program (SOAP) plan as quickly as possible. The
committee encourages the department to continue to develop
Teaching Assistantships for incoming students.
MSC to recommend approval of Communications as a Program of
Quality and Promise.
The meeting was adjourned at 2:55 p.m.
The next scheduled meeting of the Graduate Committee will be at 2:00 on
March 20, 2007 in the University Center # 203.
Agenda.
1.
2.
3.
4.
Approval of Minutes of 3/6//07.
Approval of Agenda.
Communications and Announcements.
Program Reviews for Master of Public Health Program: 2:20.