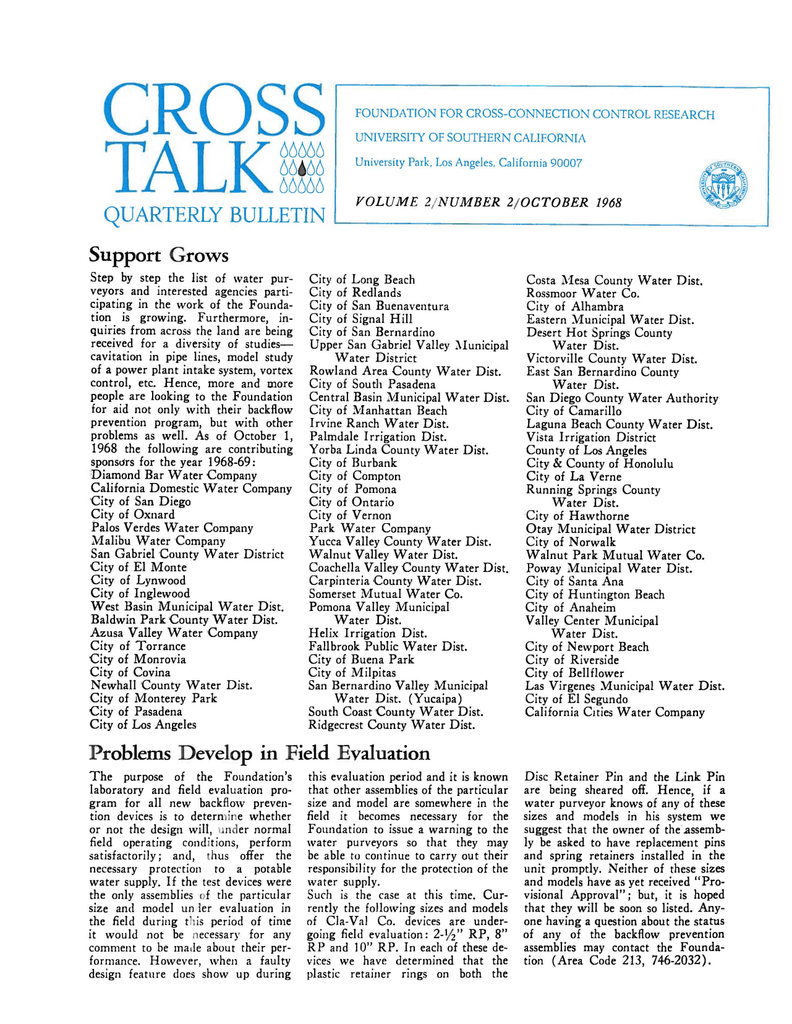 CROSS
~~~~~
TALK 66666
QUARTERLY BULLETIN
FOUNDATION FOR CROSS-CONNECTION CONTROL RESEARCH
UNIVERSITY OF SOUTHERN CALIFORNIA
University Park, Los Angeles, California 90007
VOLUME 2/ NUMBER 2/ 0CTOBER 1968
Support Grows
Step by step the list of water purveyors and interested agencies participating in the work of the Foundation is growing. Furthermore, inquiries from across the land are being
received for a diversity of studiescavitation in pipe lines, model study
of a power plant intake system, vortex
control, etc. Hence, more and more
people are looking to the Foundation
for aid not only with their backflow
prevention program, but with other
problems as well. As of October 1,
1968 the following are contributing
sponsdrs for the year 1968-69:
Diamond Bar Water Company
California Domestic Water Company
City of San Diego
City of Oxnard
Palos Verdes Water Company
Malibu Water Company
San Gabriel County Water District
City of El Monte
City of Lynwood
City of Inglewood
West Basin Municipal Water Dist.
Baldwin Park County Water Dist.
Azusa Valley Water Company
City of Torrance
City of Monrovia
City of Covina
Newhall County Water Dist.
City of Monterey Park
City of Pasadena
City of Los Angeles
City of Long Beach
City of Redlands
City of San Buenaventura
City of Signal Hill
City of San Bernardino
Upper San Gabriel Valley :\Iunicipal
Water District
Rowland Area County Water Dist.
City of South Pasadena
Central Basin Municipal Water Dist.
City of Manhattan Beach
Irvine Ranch Water Dist.
Palmdale Irrigation Dist.
Yorba Linda County Water Dist.
City of Burbank
City of Compton
City of Pomona
City of Ontario
City of Vernon
Park Water Company
Yucca Valley County Water Dist.
Walnut Valley Water Dist.
Coachella Valley County Water Dist.
Carpinteria County Water Dist.
Somerset Mutual Water Co.
Pomona Valley Municipal
Water Dist.
Helix Irrigation Dist.
Fallbrook Public Water Dist.
City of Buena Park
City of Milpitas
San Bernardino Valley Municipal
Water Dist. (Yucaipa)
South Coast County Water Dist.
Ridgecrest County Water Dist.
Costa l\1esa County Water Dist.
Rossmoor Water Co.
City of Alhambra
Eastern Municipal Water Dist.
Desert Hot Springs County
Water Dist.
Victorville County Water Dist.
East San Bernardino County
Water Dist.
San Diego County Water Authority
City of Camarillo
Laguna Beach County Water Dist.
Vista Irrigation District
County of Los Angeles
City & County of Honolulu
City of La Verne
Running Springs County
Water Dist.
City of Hawthorne
Otay Municipal Water District
City of Norwalk
Walnut Park Mutual Water Co.
Poway Municipal Water Dist.
City of Santa Ana
City of Huntington Beach
City of Anaheim
Valley Center Municipal
Water Dist.
City of Newport Beach
City of Riverside
City of Bellflower
Las Virgenes Municipal Water Dist.
City of El Segundo
California Cities Water Company
Problems Develop in Field Evaluation
The purpose of the Foundation's
laboratory and field evaluation program for all new backflow prevention devices is to determ ine whether
or not the design will, under normal
field operating conditions, perform
satisfactorily; and, thus offer the
necessary protection to a potable
water supply. If the test devices were
the only assemblies f the particular
size and model un !er evaluation in
the field during t 1is period of time
it would not be necessary for any
comment to be made about their performance. However, when a faulty
design feature does show up during
this evaluation period and it is known
that other assemblies of the particular
size and model are somewhere in the
field it becomes necessary for the
Foundation to issue a warning to the
water purveyors so that they may
be able to continue to carry out their
responsibility for the protection of the
water supply.
Such is the case at this time. Currently the following sizes and models
of Cia-Val Co. devices are undergoing field evaluation: 2-Y2" RP, 8"
RP and 10" RP. In each of these devices we have determined that the
plastic retainer rings on both the
Disc Retainer Pin and the Link Pin
are being sheared off. Hence, if a
water purveyor knows of any of these
sizes and models in his system we
suggest that the owner of the·.assembly be asked to have replacement pins
and spring retainers installed in the
unit promptly. Neither of these sizes
and models have as yet received "Provisional Approval"; but, it is hoped
that they will be soon so listed. Anyone having a question about the status
of any of the backflow prevention
assemblies may contact the Foundation (Area Code 213, 746-2032).
Foundation Support Expanded
•At their September 19th meeting at
the Redlands Country Club the
Board of Directors of the Southern
California Water Utilities A ssociation, Inc. adopted in principle a
motion establishing two grades of
membership for the support of the
activities of the Foundation for Cross
Connection Control Research. These
are a) Purveyor and b) Associate.
The Purveyor Member is obviously
any water purveyor-public or private-having a system and providing
services. The Associate Member is
any city, county, state or private
company or corporation having respons"ibilities or interests in the areas
of water production, processing and/
or distribution-either direct or indirect-but not having water system
services. The purveyor membership
is based upon the number of meters
or individual services supplied; i.e.
a) purveyors with fewer than 2,500
services-$50.00/ yr.
b) purveyors with between 2,500
and 25,000 services-$0.02/
service/ yr.
c) purveyors with over 25,000
serv ices-$500.00/ yr.
Also, it is considered that the purveyor membership is the prime membership of any city or county. That
is, other departments of a city or
county are welcome to become affiliated with the Foundation as Associate
Members; but, that the prime membership from that political jurisdiction is that of the water purveyor.
The associate membership is also subdivided into three groups according
to the general responsibilities of the
agencies involved. These are:
a) Village, town or city-$50.00/
yr.
b) County agency-such as the
Health Dept.-$100.00/ yr.
c) State agency-such as the Board
of Water Resources, Health
Dept., etc.-$250.00/ yr.
The associate membership grades
were based upon the general geo-
graphic responsibility of these groups
which in themselves do not have
any direct customer services as a
source of income.
Each Purveyor Member and each
Associate Member will receive a copy
of the current Manual of CrossConnection Control as it is issued by
the Foundation; and, will be placed
on the mailing list to receive the
quarterly news bulletin Cross Talk
as well as any other mailing from the
Foundation. In addition both members may avail themselves of a review
of perplexing problems that they have
in their systems which hopefully will
result in suggestions for possible solution. The Foundation is not in the
business of being a consulting engineer; but, we will offer suggestions of
where possible solutions may be gained or of what research may be undertaken in our Laboratory. Some of the
members have already found benefit
from a telephone call or a short visit
to our office.
CONNECTION CONTROL. The
4th Edition, now in preparation, has
recently been reviewed by a committee of the water utilities representing
the Channel, Los Angeles, Orange
Co., Inland, and San Diego water
utilities associations. This committee
is as follows:
Ernest J. Havlina, Los Angeles, Chm.
Frank T. Higgins, Long Beach
Emmett F. Lowry, Redlands
Gus F. Lenain, Anaheim
Richard E. Pence, Santa Barbara
Jack H. Kuhns, San Diego
E. Kent Springer, Director, Foundation for Cross Connection Control
Research.
Manual is Reviewed
After many weeks of consideration
by the L A County Health Department sub-committee on backflow prevention specifications recommendations of the users and manufacturers
are now being incorporated in the
revision of the specifications for backflow prevention devices as set forth
in the MANUAL OF CROSS
666666666666666
666666666666666
666666666666666
UNIVERSITY OF SOUTHERN CALIFORNIA
SCHOOL OP ENGINEI!RING
UNIVl!RSITY PARK
LOS ANGELES. CALIPORNA 90007
Non-p rofit Org.
U. S . Po s tage
PAID
Permi t No. 2075
Los Angeles, Calif.