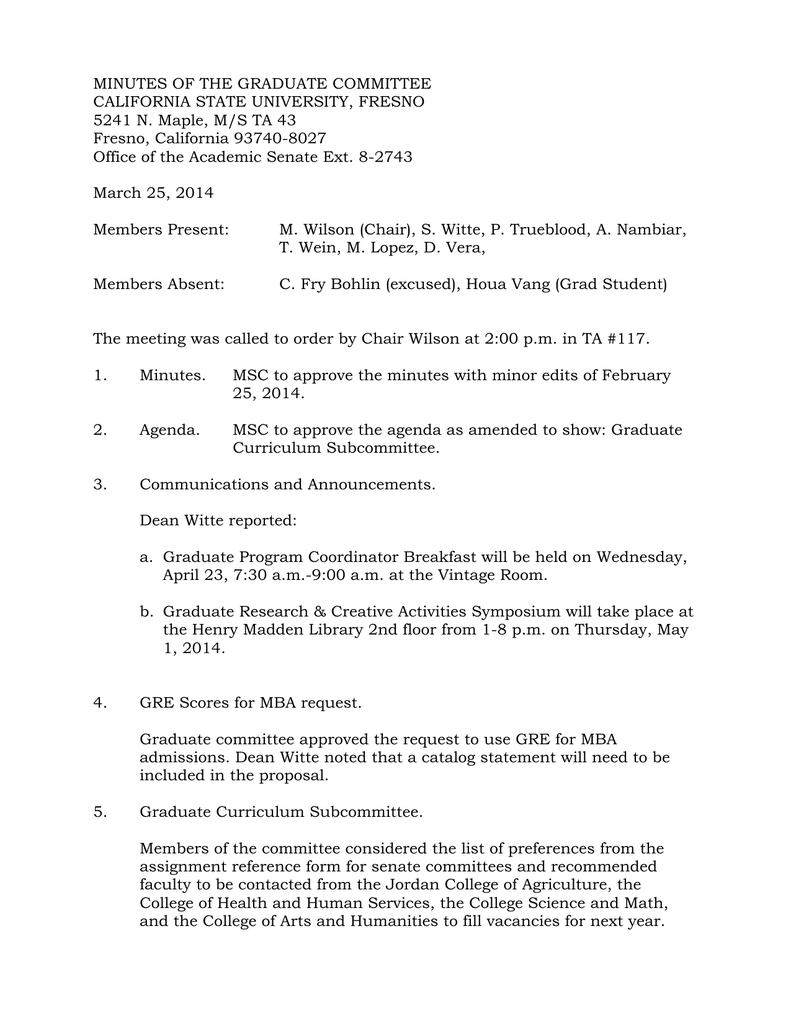 MINUTES OF THE GRADUATE COMMITTEE
CALIFORNIA STATE UNIVERSITY, FRESNO
5241 N. Maple, M/S TA 43
Fresno, California 93740-8027
Office of the Academic Senate Ext. 8-2743
March 25, 2014
Members Present:
M. Wilson (Chair), S. Witte, P. Trueblood, A. Nambiar,
T. Wein, M. Lopez, D. Vera,
Members Absent:
C. Fry Bohlin (excused), Houa Vang (Grad Student)
The meeting was called to order by Chair Wilson at 2:00 p.m. in TA #117.
1.
Minutes.
MSC to approve the minutes with minor edits of February
25, 2014.
2.
Agenda.
MSC to approve the agenda as amended to show: Graduate
Curriculum Subcommittee.
3.
Communications and Announcements.
Dean Witte reported:
a. Graduate Program Coordinator Breakfast will be held on Wednesday,
April 23, 7:30 a.m.-9:00 a.m. at the Vintage Room.
b. Graduate Research & Creative Activities Symposium will take place at
the Henry Madden Library 2nd floor from 1-8 p.m. on Thursday, May
1, 2014.
4.
GRE Scores for MBA request.
Graduate committee approved the request to use GRE for MBA
admissions. Dean Witte noted that a catalog statement will need to be
included in the proposal.
5.
Graduate Curriculum Subcommittee.
Members of the committee considered the list of preferences from the
assignment reference form for senate committees and recommended
faculty to be contacted from the Jordan College of Agriculture, the
College of Health and Human Services, the College Science and Math,
and the College of Arts and Humanities to fill vacancies for next year.
University Graduate Committee Meeting
March 25, 2014
Page 2
6.
MSC: to adjourn at 2:40 pm
The next scheduled meeting of the Graduate Committee is Tuesday, April 22,
2014 at 2:00 pm in Thomas 117.
Agenda:
1.
2.
3.
4.
5.
Approval of the minutes of 3/25/14.
Approval of the agenda for 4/22/14.
Communications and announcements.
a. Approval of the request from M.A. in Art to utilize criteria other than
the GRE for applicants.
b. Appointments to the Graduate Curriculum Subcommittee.
c. Election of new and returning members to the UGC .
d. Graduate Coordinators breakfast 4/23/2014.
Appointments to the Graduate Awards Subcommittee.
Discussion on zero units policy and alternatives for students.