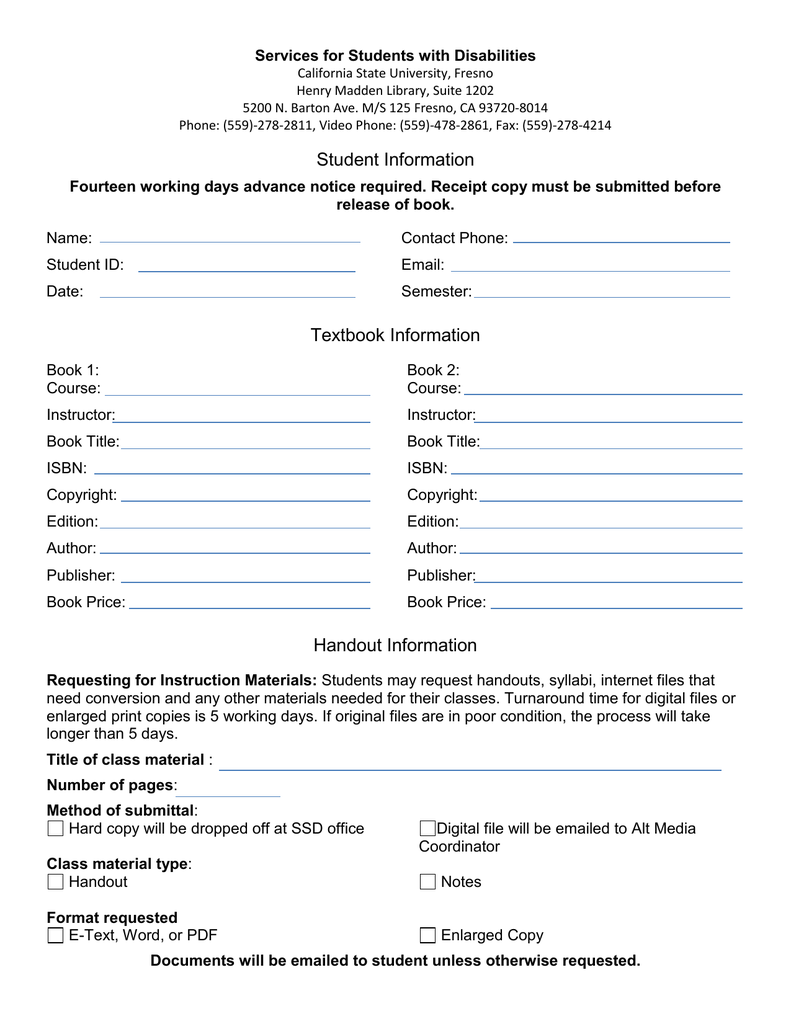 Services for Students with Disabilities
California State University, Fresno
Henry Madden Library, Suite 1202
5200 N. Barton Ave. M/S 125 Fresno, CA 93720-8014
Phone: (559)-278-2811, Video Phone: (559)-478-2861, Fax: (559)-278-4214
Student Information
Fourteen working days advance notice required. Receipt copy must be submitted before
release of book.
Name:
Contact Phone:
Student ID:
Email:
Date:
Semester:
Textbook Information
Book 1:
Course:
Book 2:
Course:
Instructor:
Instructor:
Book Title:
Book Title:
ISBN:
ISBN:
Copyright:
Copyright:
Edition:
Edition:
Author:
Author:
Publisher:
Publisher:
Book Price:
Book Price:
Handout Information
Requesting for Instruction Materials: Students may request handouts, syllabi, internet files that
need conversion and any other materials needed for their classes. Turnaround time for digital files or
enlarged print copies is 5 working days. If original files are in poor condition, the process will take
longer than 5 days.
Title of class material :
Number of pages:
Method of submittal:
Hard copy will be dropped off at SSD office
Digital file will be emailed to Alt Media
Coordinator
Class material type:
Handout
Notes
Format requested
E-Text, Word, or PDF
Enlarged Copy
Documents will be emailed to student unless otherwise requested.