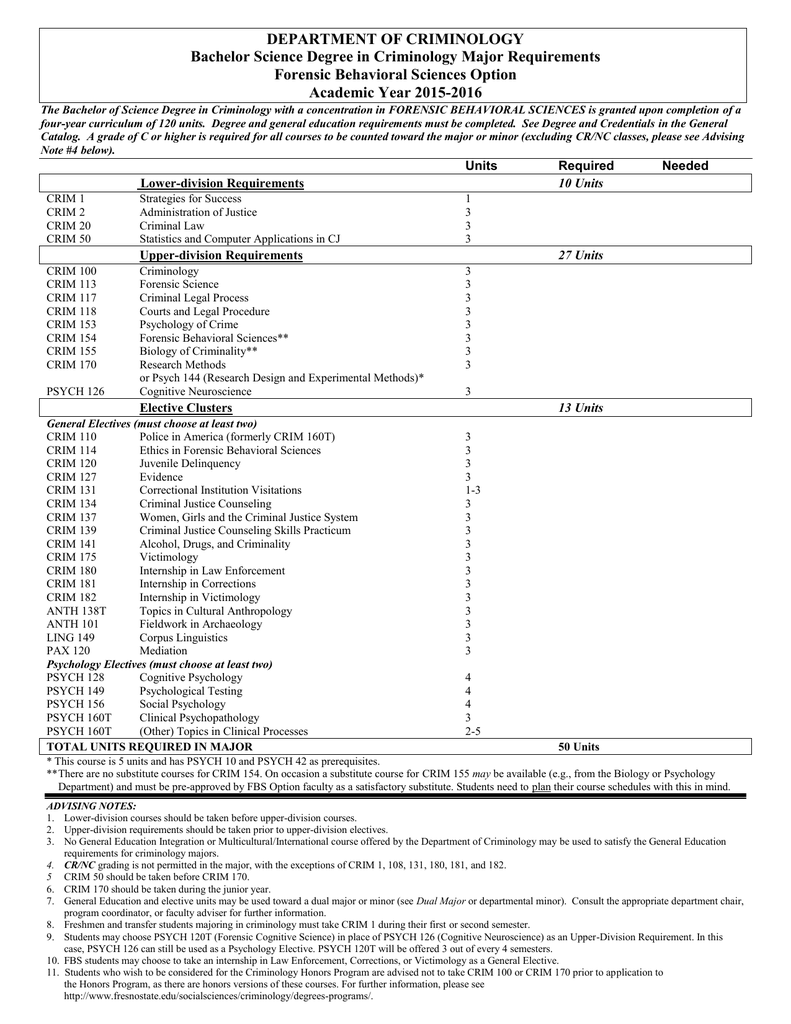 DEPARTMENT OF CRIMINOLOGY
Bachelor Science Degree in Criminology Major Requirements
Forensic Behavioral Sciences Option
Academic Year 2015-2016
The Bachelor of Science Degree in Criminology with a concentration in FORENSIC BEHAVIORAL SCIENCES is granted upon completion of a
four-year curriculum of 120 units. Degree and general education requirements must be completed. See Degree and Credentials in the General
Catalog. A grade of C or higher is required for all courses to be counted toward the major or minor (excluding CR/NC classes, please see Advising
Note #4 below).
Units
Lower-division Requirements
CRIM 1
CRIM 2
CRIM 20
CRIM 50
Strategies for Success
Administration of Justice
Criminal Law
Statistics and Computer Applications in CJ
PSYCH 126
Criminology
Forensic Science
Criminal Legal Process
Courts and Legal Procedure
Psychology of Crime
Forensic Behavioral Sciences**
Biology of Criminality**
Research Methods
or Psych 144 (Research Design and Experimental Methods)*
Cognitive Neuroscience
27 Units
3
3
3
3
3
3
3
3
3
Elective Clusters
General Electives (must choose at least two)
CRIM 110
Police in America (formerly CRIM 160T)
CRIM 114
Ethics in Forensic Behavioral Sciences
CRIM 120
Juvenile Delinquency
CRIM 127
Evidence
CRIM 131
Correctional Institution Visitations
CRIM 134
Criminal Justice Counseling
CRIM 137
Women, Girls and the Criminal Justice System
CRIM 139
Criminal Justice Counseling Skills Practicum
CRIM 141
Alcohol, Drugs, and Criminality
CRIM 175
Victimology
CRIM 180
Internship in Law Enforcement
CRIM 181
Internship in Corrections
CRIM 182
Internship in Victimology
ANTH 138T
Topics in Cultural Anthropology
ANTH 101
Fieldwork in Archaeology
LING 149
Corpus Linguistics
PAX 120
Mediation
Psychology Electives (must choose at least two)
PSYCH 128
Cognitive Psychology
PSYCH 149
Psychological Testing
PSYCH 156
Social Psychology
PSYCH 160T
Clinical Psychopathology
PSYCH 160T
(Other) Topics in Clinical Processes
TOTAL UNITS REQUIRED IN MAJOR
Needed
1
3
3
3
Upper-division Requirements
CRIM 100
CRIM 113
CRIM 117
CRIM 118
CRIM 153
CRIM 154
CRIM 155
CRIM 170
Required
10 Units
13 Units
3
3
3
3
1-3
3
3
3
3
3
3
3
3
3
3
3
3
4
4
4
3
2-5
50 Units
* This course is 5 units and has PSYCH 10 and PSYCH 42 as prerequisites.
** There are no substitute courses for CRIM 154. On occasion a substitute course for CRIM 155 may be available (e.g., from the Biology or Psychology
Department) and must be pre-approved by FBS Option faculty as a satisfactory substitute. Students need to plan their course schedules with this in mind.
ADVISING NOTES:
1. Lower-division courses should be taken before upper-division courses.
2. Upper-division requirements should be taken prior to upper-division electives.
3. No General Education Integration or Multicultural/International course offered by the Department of Criminology may be used to satisfy the General Education
requirements for criminology majors.
4. CR/NC grading is not permitted in the major, with the exceptions of CRIM 1, 108, 131, 180, 181, and 182.
5 CRIM 50 should be taken before CRIM 170.
6. CRIM 170 should be taken during the junior year.
7. General Education and elective units may be used toward a dual major or minor (see Dual Major or departmental minor). Consult the appropriate department chair,
program coordinator, or faculty adviser for further information.
8. Freshmen and transfer students majoring in criminology must take CRIM 1 during their first or second semester.
9. Students may choose PSYCH 120T (Forensic Cognitive Science) in place of PSYCH 126 (Cognitive Neuroscience) as an Upper-Division Requirement. In this
case, PSYCH 126 can still be used as a Psychology Elective. PSYCH 120T will be offered 3 out of every 4 semesters.
10. FBS students may choose to take an internship in Law Enforcement, Corrections, or Victimology as a General Elective.
11. Students who wish to be considered for the Criminology Honors Program are advised not to take CRIM 100 or CRIM 170 prior to application to
the Honors Program, as there are honors versions of these courses. For further information, please see
http://www.fresnostate.edu/socialsciences/criminology/degrees-programs/.