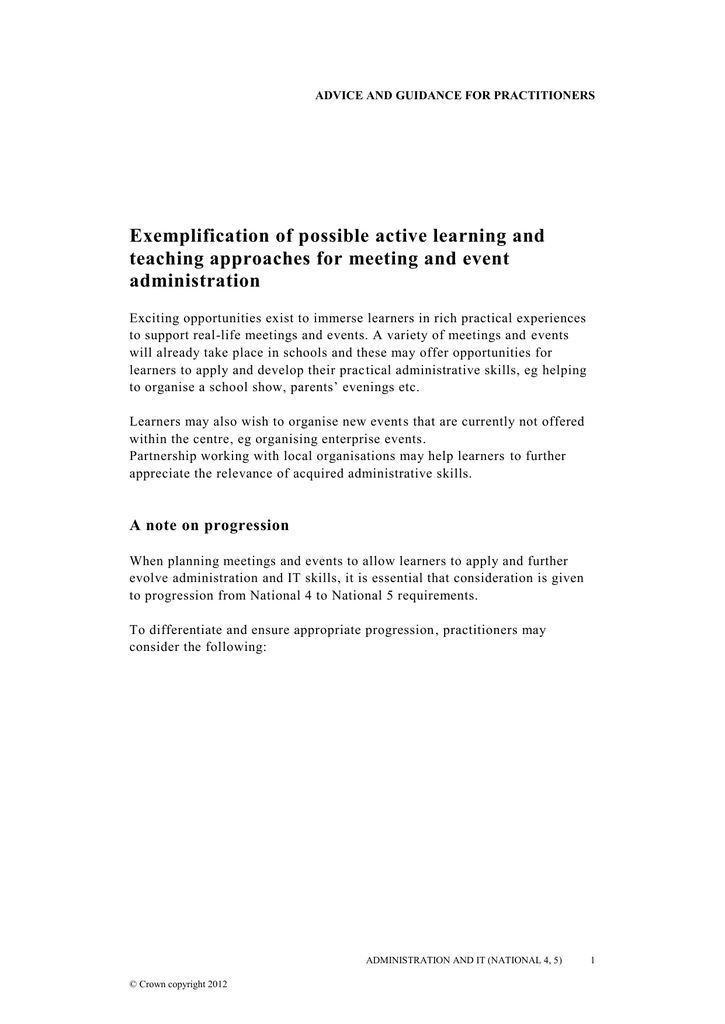 ADVICE AND GUIDANCE FOR PRACTITIONERS
Exemplification of possible active learning and
teaching approaches for meeting and event
administration
Exciting opportunities exist to immerse learners in rich practical experiences
to support real-life meetings and events. A variety of meetings and events
will already take place in schools and these may offer opportunities for
learners to apply and develop their practical administrative skills, eg helping
to organise a school show, parents' evenings etc.
Learners may also wish to organise new event s that are currently not offered
within the centre, eg organising enterprise events.
Partnership working with local organisations may help learners to further
appreciate the relevance of acquired administrative skills.
A note on progression
When planning meetings and events to allow learners to apply and further
evolve administration and IT skills, it is essential that consideration is given
to progression from National 4 to National 5 requirements.
To differentiate and ensure appropriate progression , practitioners may
consider the following:
ADMINISTRATION AND IT (NATIONAL 4, 5)
© Crown copyright 2012
1
ADVICE AND GUIDANCE FOR PRACTITIONERS
National 4
vs
National 5
Possible approaches guide to meeting and event administration
The following guide may be used to assist the planning of a real -life event or
meeting scenario for learners to provide administrative support.
2
ADMINISTRATION AND IT (NATIONAL 4, 5)
© Crown copyright 2012
ADVICE AND GUIDANCE FOR PRACTITIONERS
1.
Meeting/event idea generation
Practitioners could involve learners in the process of identifying and
selecting real-life event or meeting contexts to provide administrative
support.
Learners will see the relevance of the administration and IT sk ills they have
acquired and how practical skills are transferable from context to context. It
will also deepen learners' appreciation of the variety of meetings/events
administrators may be asked to support within the contemporary workplace.
Involving learners in this process will also have a strong motivational effect.
Learners should enjoy the opportunity to apply skills in meaningful meeting
and event contexts.
To assist with this first stage, a meeting/event idea generation sheet can be
used to help stimulate discussion in a whole-class or smaller group setting
(Appendix 1).
Practitioners and learners may consider offering support to meetings and
events that already take place within the centre , offering the administration
services of the learners to support future occurrences of these
meetings/events. Opportunities also exist for new events/meeting s to be held
within the centre, which may be of benefit to the centre as well as providing a
meaningful learning experience.
Practitioners may utilise existing relationships with the local community to
identify possible external meetings/events. Learners could provide
administrative support to these within a real-life context.
2.
Meeting/event ideas: screening and selection
Having generated a range of possible meeting and event administration
contexts, practitioners could then screen ideas to help identify the most
meaningful and appropriate experiences for learners.
When screening ideas, practitioners could consider issues including time
constraints, materials required, capability of learners, health and safety , and
risk of failure.
Practitioners should also examine the National 4 and National 5
Administration and IT course support notes to help identify which ideas
would provide the most useful learning experience to apply the skills
identified.
ADMINISTRATION AND IT (NATIONAL 4, 5)
© Crown copyright 2012
3
ADVICE AND GUIDANCE FOR PRACTITIONERS
To help categorise ideas generated and select an event context, practitioners
may use simple SWOT analysis (Appendix 2) and RAG (red, amber, green)
templates (Appendix 3).
3.
Meeting/event planning: tools and resources
Once the context has been selected, practitioners could consider how they
might maximise the experience for learners and ensure it fits with the
requirements of the course.
If supporting a meeting/event for colleagues or external partners, it is perhaps
beneficial to request more detail on the meeting/event.
A meeting/event briefing template may be used to help gather essential
information on the details and requirements of the meeting/event to be
supported. An example of a briefing template can be found in Appendix 4. A
meeting to discuss the content of the brief would also be beneficial.
Practitioners could then consider the administration and IT activities and
skills required of learners to support the meeting/event. To help c larify these,
a meeting/event planning template can be used (Appendix 5).
Practitioners could make use of existing materials to help learners familiarise
themselves with the content and layout of the documents they will be tasked
to produce as part of the meeting/event and to develop skills in the use of
appropriate software applications.
The software to be used and the documents to be produced will depend on the
meeting/event being supported.
A schedule could be used to highlight tasks to be completed and timescales .
Schedules are a possible tool for meeting and event administrators. Simple
schedules can be created using familiar software applications , including word
processing and spreadsheets. Online schedules and timelines could also be
used for this purpose.
The creation of a schedule may also allow learners to reflect on specific tasks
that have to be completed and to organise time and materials to ensure each
of these tasks is completed successfully.
4
ADMINISTRATION AND IT (NATIONAL 4, 5)
© Crown copyright 2012
ADVICE AND GUIDANCE FOR PRACTITIONERS
Gantt charts are often used for meeting/event schedule layout. A Gantt chart
offers a quick graphic representation of the order and duration of
meeting/event tasks to be completed.
4.
Meeting/event implementation and support
Practitioners may choose to allocate specific tasks to individual learners or
groups of learners, or may choose to have all learners working on the same
tasks.
The actual tasks required will depend on the meeting/event being supported,
but practitioners may look to instigate discussion on important issues ,
including housekeeping, materials used and allocation, health and safety, and
anticipating and dealing with potential problems when the meeting or event is
actually running.
A site visit and walk-through of the meeting/event before its actual
implementation, highlighting tasks that have to be carried out immediately
before and during the meeting/event, could provide a meaningful discussion
forum for learners.
Learners could be given the opportunity to take the lead in terms of making
decisions and resolving problems. Practitioners could adopt an advisory role,
offering guidance where appropriate. Practitioners could also encourage
learners to measure their progress with agreed schedules.
Practitioners may consider filming the actual meeting/event to record skills
and the impact these skills have. The recording can be viewed by
practitioners and learners to help analyse the learning experience.
5.
Meeting/event review
Once the meeting/event has been undertaken and learners have completed
required post-event wrap-up tasks, time could be allocated to reflect on the
learning experience and processes.
Information and discussion on what went well and what could be done
differently next time would be of value to learners.
If the meeting/event was administered on behalf of colleagues or exte rnal
partners, feedback could be sought relating to the contribution learners made
to it.
ADMINISTRATION AND IT (NATIONAL 4, 5)
© Crown copyright 2012
5
ADVICE AND GUIDANCE FOR PRACTITIONERS
Feedback from meeting/event attendees may also be of value to help identify
positives and areas for development. Online questionnaire/poll -creation tools
may assist with this.
Learners could be encouraged to reflect personally on the skills they used as
part of the experience and highlight skills that require further reinforcement.
Sharing practice and professional support
Practitioners could benefit from sharing their practice and experiences with
colleagues relating to the use of this meeting and event administration
guidance.
Existing professional networks and forums could be utilised for this purpose ,
including the use of GLOW, local subject group meetings a nd CPD sessions.
Engagement and analysis with fellow professionals may help practitioners
reflect on learning and teaching activities and help to ensure that successful
learning experiences and processes are reinforced and further developed.
6
ADMINISTRATION AND IT (NATIONAL 4, 5)
© Crown copyright 2012
ADVICE AND GUIDANCE FOR PRACTITIONERS
Appendix 1: Meeting/event administration ideas generation sheet
ADMINISTRATION AND IT (NATIONAL 4, 5)
© Crown copyright 2012
7
ADVICE AND GUIDANCE FOR PRACTITIONERS
Appendix 2: Example of a meeting/event SWOT analysis template
8
ADMINISTRATION AND IT (NATIONAL 4, 5)
© Crown copyright 2012
ADVICE AND GUIDANCE FOR PRACTITIONERS
Appendix 3: Example of a meeting idea RAG template
ADMINISTRATION AND IT (NATIONAL 4, 5)
© Crown copyright 2012
9
ADVICE AND GUIDANCE FOR PRACTITIONERS
Appendix 4: Example of a meeting/event briefing template
Meeting/event title
Planned date of meeting/event
Sent by (please include name, telephone number and email address)
What is the meeting/event?
Why is it happening?
Who will attend? (Give as much contact detail as possible.)
Where will it be held? (If no specific location, please list general
requirements.)
10
ADMINISTRATION AND IT (NATIONAL 4, 5)
© Crown copyright 2012
ADVICE AND GUIDANCE FOR PRACTITIONERS
Budget (Please specify for venue, catering, transport, reprographics, use
of ICT etc where applicable.)
What ICT resources are required at the meeting/event?
Other information (What other support is required before, during and
after the meeting/event?)
Signature _____________________________________________
Date __________________________
ADMINISTRATION AND IT (NATIONAL 4, 5)
© Crown copyright 2012
11
ADVICE AND GUIDANCE FOR PRACTITIONERS
Appendix 5: Example of a meeting/event administration planning template
Meeting/event title_________________________________________________
Date of meeting/event______________
What tasks/activities have to be
completed before the
meeting/event?
Before the event
During the event
After the event
12
ADMINISTRATION & IT (NATIONAL 4, 5)
© Crown copyright 2012
What skills – including ICT –
are required to complete these
tasks?
What documents/resources will
be created or used?