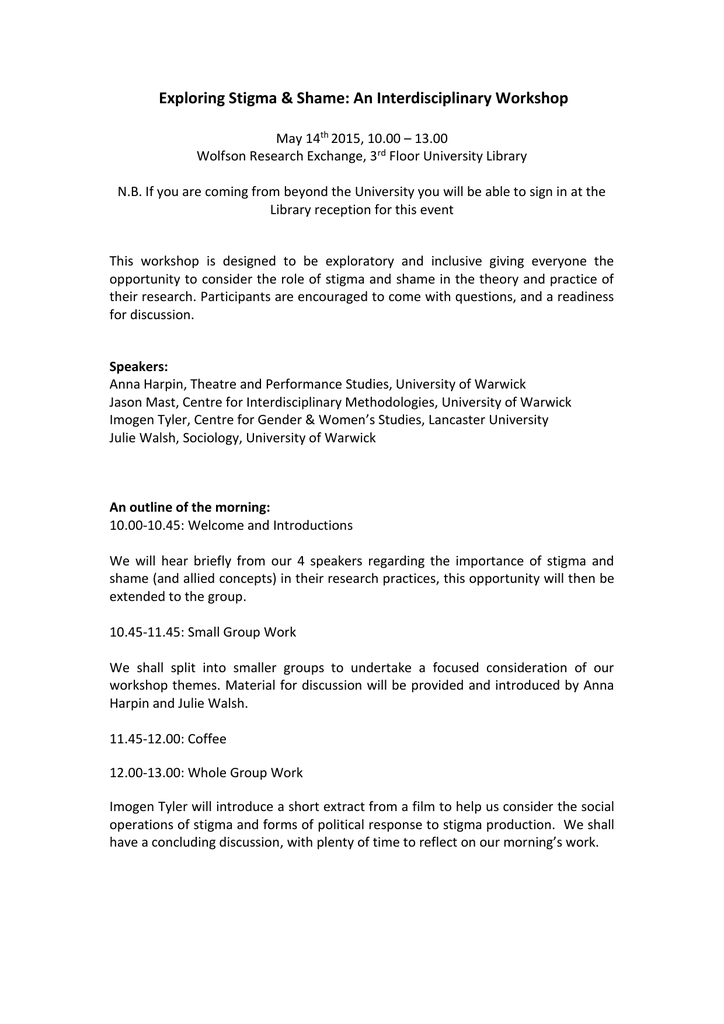 Exploring Stigma & Shame: An Interdisciplinary Workshop
May 14th 2015, 10.00 – 13.00
Wolfson Research Exchange, 3rd Floor University Library
N.B. If you are coming from beyond the University you will be able to sign in at the
Library reception for this event
This workshop is designed to be exploratory and inclusive giving everyone the
opportunity to consider the role of stigma and shame in the theory and practice of
their research. Participants are encouraged to come with questions, and a readiness
for discussion.
Speakers:
Anna Harpin, Theatre and Performance Studies, University of Warwick
Jason Mast, Centre for Interdisciplinary Methodologies, University of Warwick
Imogen Tyler, Centre for Gender & Women's Studies, Lancaster University
Julie Walsh, Sociology, University of Warwick
An outline of the morning:
10.00-10.45: Welcome and Introductions
We will hear briefly from our 4 speakers regarding the importance of stigma and
shame (and allied concepts) in their research practices, this opportunity will then be
extended to the group.
10.45-11.45: Small Group Work
We shall split into smaller groups to undertake a focused consideration of our
workshop themes. Material for discussion will be provided and introduced by Anna
Harpin and Julie Walsh.
11.45-12.00: Coffee
12.00-13.00: Whole Group Work
Imogen Tyler will introduce a short extract from a film to help us consider the social
operations of stigma and forms of political response to stigma production. We shall
have a concluding discussion, with plenty of time to reflect on our morning's work.