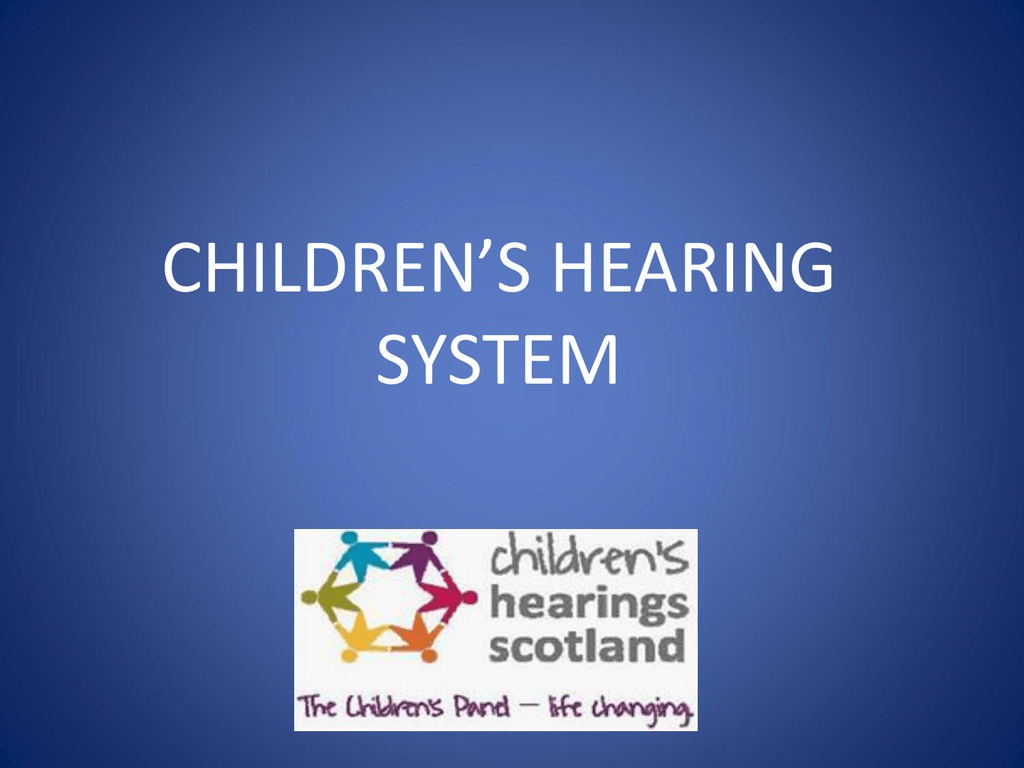 CHILDREN'S HEARING
SYSTEM
CHILDREN'S HEARINGS
Need to know:
•
•
•
•
•
Why a child may appear before a hearing
How the hearings system works
Actions that can be taken
Strengths and criticisms of hearings
Why young people offend
- Youth Hearings
- Young Offenders Institutions
• How to keep young people out of trouble
Unique
Scotland has a unique Children's Hearing
System which is different from juvenile justice
systems elsewhere in the UK and the world.
In Scotland, children (those under the age of
16) are only considered for prosecution in
court for serious offences such as murder,
assault which puts a life in danger or serious
road traffic offences which can lead to
disqualification from driving.
Think
WHY MAY A
CHILD BE
REFERRED?
WHY A CHILD MAY BE REFERRED
•
•
•
•
•
•
•
Beyond the control of their parent/guardian
Exposed to 'moral danger'
Victim of an offence e.g. abuse
Neglect from parents
Involved in drug or alcohol abuse
Has committed an offence/broken the law
Failure to attend school
HOW CHILDRENS HEARING SYSTEM WORKS
STEP 1
Referral to the 'Children's Reporter'
STEP 2
Initial investigation is carried out
- 3 possible outcomes
STEP 3
Referred to a hearing in front of the 'Children's Panel'
- One of 3 decisions will then be made
Who attends the Hearing?
• Use the handout to write a short summary of
the key people at a children's hearing.
– The Children's Reporter
– The Children's Panel Member
– A social worker
– The Education Staff
– Safeguarder
– Representative
– Sheriff
At the Hearing...
The purpose of the
hearing is to decide
on the measures of
care which are in the
best interests of the
child.
• The people who sit on Children's Hearings are known as
the Children's Panel. They are volunteers and come from
a wide range of occupations and backgrounds. All have
experience of and an interest in children. Members are
trained for their work with the Children's Panel, and over
the whole country there are around 2000 panel
members.
STRENGTHS OF THE SYSTEM
• The focus is on helping the child by providing
care, protection and rehabilitation , rather than
on the law and punishing them.
• Can prevent the child from becoming criminal in
later life.
• Provides safety and supervision where it is
needed for the child.
CRITICISMS OF THE SYSTEM
• 60% of cases are to do with the welfare and care
of children which are better dealt with else
where.
• Some see this as a 'soft' way of dealing with
criminal behaviour and it does not prevent crime
in later life.
• There are a lot of changes in staff on the
Children's Panel and some children feel
intimidated by having to appear in front of one.
Children's Hearings Scotland Recent Changes
June 2013
• To try and combat some of the criticisms the
role of National Convener was created. They
will act as a figurehead for Scotland's 2,700
volunteer panel members.
• A national body was created, Children's
Hearings Scotland, to support the National
Convener with the recruitment, selection,
appointment, training, retention and support of
panel members.
RECAP
Discuss the answers to the following questions
with your partner – get ready for questions!
1. Why may a child be referred to a hearing?
2. How does the hearings system work?
3. What are the strengths & criticisms of hearings?
Case Study
1. Read the Children's Hearings papers that you have been
given.
2. Decide who you think will attend the Children's Hearing. Each
person in the group should then choose a role. (Remember
that the group of three panel members has to be made up of
both sexes.)
3. In the role that you have chosen, prepare for the Children's
Hearing:
the child/young person and family should think about what they
want to tell the panel members
the panel members should think about the issues that they would
like to discuss and the questions they would like to ask
any professionals should think about what they want to tell the
panel members.
4. Hold your Hearing in class. At the end, the panel members
must decide which decision
they will make.
Think
• Why do young people offend?
Youth Offenders
• In 2012, 74% of the referrals for boys were for
alleged offences.
• The remainder of the referrals to SCRA are for
reasons other than committing an offence.
• Boys feel obliged to live up to their reputation for
aggression and to show that they can 'stick up for
themselves'.
• In cases of family breakup there is evidence to
suggest that boys react with aggression,
delinquency and crime, whereas girls are likely to
react quietly.
PROPOSALS FOR CHANGE
The Scottish Prisons Commission has recommended
YOUTH HEARINGS for 16 and 17 year olds.
• These would deal exclusively with criminal cases
• 16 and 17 year olds are old enough to account for
their actions
• Focus on giving the appropriate punishment
• There would also be support to tackle the causes of
crime and prevent youngsters from reoffending.
Questions
• Give two reasons to explain why some people
have criticised the Children's Hearing System
in Scotland.
• Describe in detail ways in which the Children's
panel deals with some of the problems faced
by young people.
Punishment
• Polmont is Scotland's national holding facility for Young
Offenders aged between 16 - 21 years of age.
• The prison functions as a national resource,
accommodating sentenced prisoners from all over the
country.
• The contracted numbers are 760, with a maximum
space for 830, making Polmont arguably the biggest
Young Offenders Institution in Britain.
• Sentences range from 6 months to Life. The average
sentence length is between 2 - 4 years.