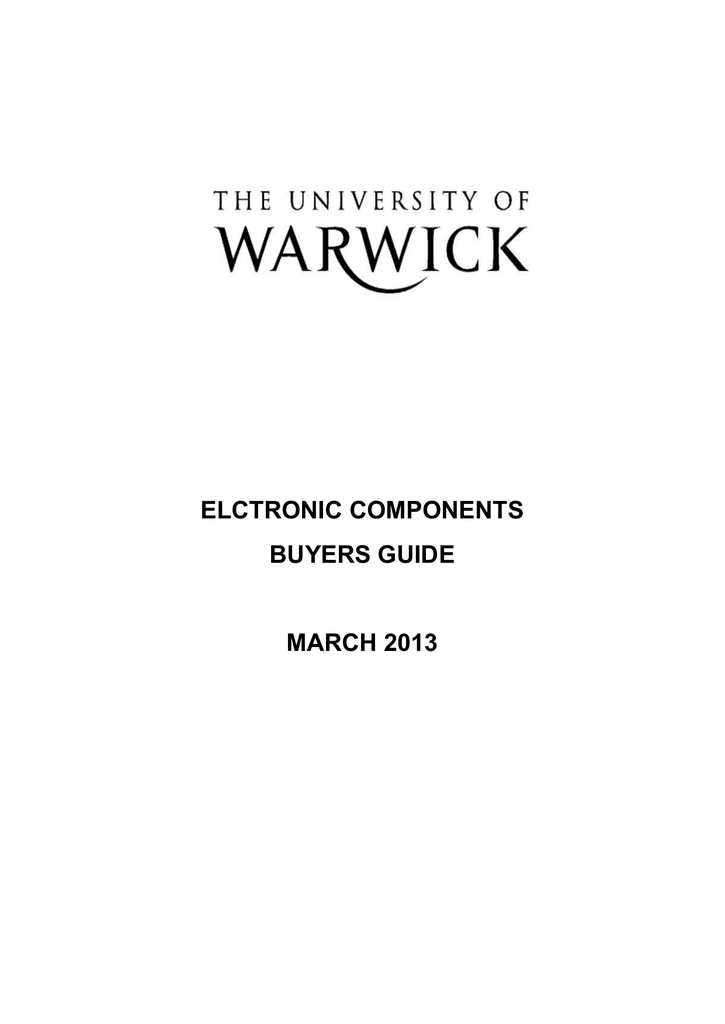 ELCTRONIC COMPONENTS
BUYERS GUIDE
MARCH 2013
Framework Agreement
Ref: NUWPEC/01/2012 NUWPC Framework for the Supply of Electronic
Components and service Aids (Lot 1)
Valid from 18th February 2013 to 18th February 2015
Onecall
Lot Awarded
Key Points
Contact Details
Lot 1 – Electronic Components and Service Aids



Free delivery for all products
No minimum order quantity
18% Discount
Local Account Manager – Carlos Gonzalez
Tel: 08447 111 414, Mobile: 07889 829511
E mail: [email protected]
Framework Manager - Howard Peart
Mobile: 07710 673995
Email: [email protected]
Order Process
Departments at the University of Warwick who use OPeRA for their ordering
(Chemistry, Physics, Life Sciences, Engineering and Warwick Manufacturing Group)
may place orders direct to Onecall.
Departments not on OPeRA should follow the process below:

Register on the Onecall website and make a note of your username and
password




Call 08447 11 11 55 and speak to the Onecall inbound team, they will ask you
for your name, department address, telephone number and email address.
If your contact details are already set up on our back office system they will let
you have your account number and Customer ID number (CID) for adding to
your profile on the website, when you next log in.
If you are not already set up, they will set you up on the account with a new
Customer ID number over the phone. You will be asked you for your website
username, which they will forward to our technical support team and they will
set you up with remote pricing.
Once enabled they will email you confirmation and after receiving the
confirmation, the next time you log in you will see the list price and your
contract pricing side by side.
Alternative Suppliers
Onecall are the University's approved supplier for electronic components and should
be used for all requirements in this area. If however Onecall cannot fulfil an
electronic component requirement an alternative supplier may be used.