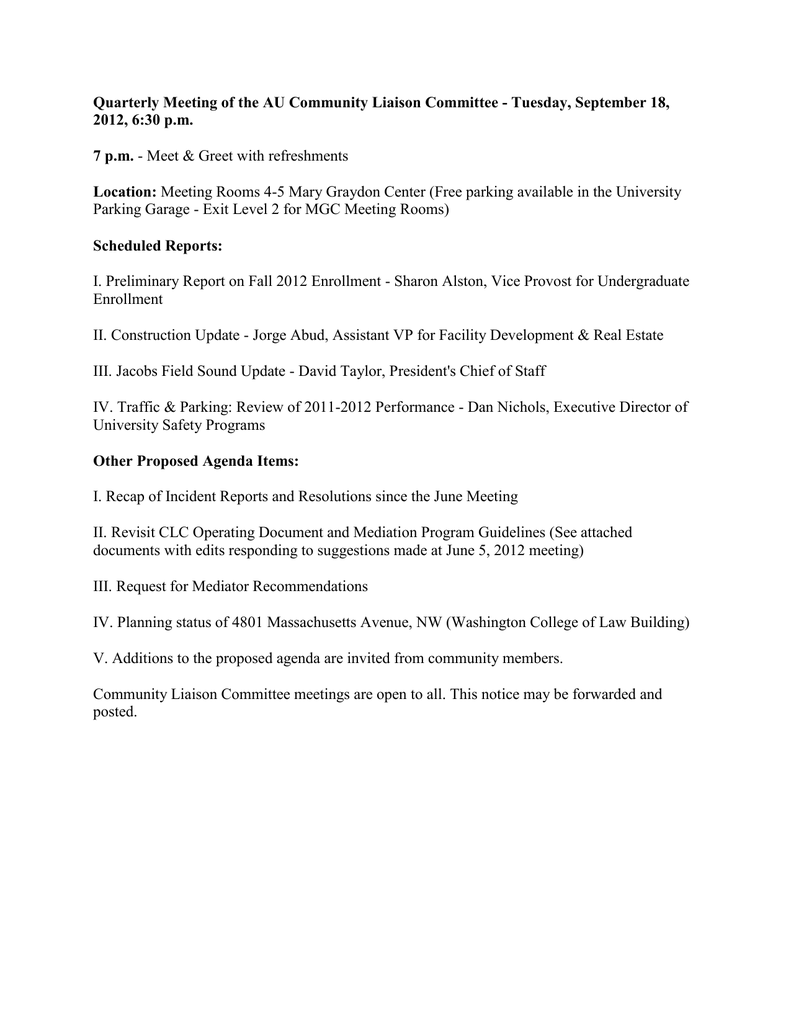 Quarterly Meeting of the AU Community Liaison Committee - Tuesday, September 18,
2012, 6:30 p.m.
7 p.m. - Meet & Greet with refreshments
Location: Meeting Rooms 4-5 Mary Graydon Center (Free parking available in the University
Parking Garage - Exit Level 2 for MGC Meeting Rooms)
Scheduled Reports:
I. Preliminary Report on Fall 2012 Enrollment - Sharon Alston, Vice Provost for Undergraduate
Enrollment
II. Construction Update - Jorge Abud, Assistant VP for Facility Development & Real Estate
III. Jacobs Field Sound Update - David Taylor, President's Chief of Staff
IV. Traffic & Parking: Review of 2011-2012 Performance - Dan Nichols, Executive Director of
University Safety Programs
Other Proposed Agenda Items:
I. Recap of Incident Reports and Resolutions since the June Meeting
II. Revisit CLC Operating Document and Mediation Program Guidelines (See attached
documents with edits responding to suggestions made at June 5, 2012 meeting)
III. Request for Mediator Recommendations
IV. Planning status of 4801 Massachusetts Avenue, NW (Washington College of Law Building)
V. Additions to the proposed agenda are invited from community members.
Community Liaison Committee meetings are open to all. This notice may be forwarded and
posted.