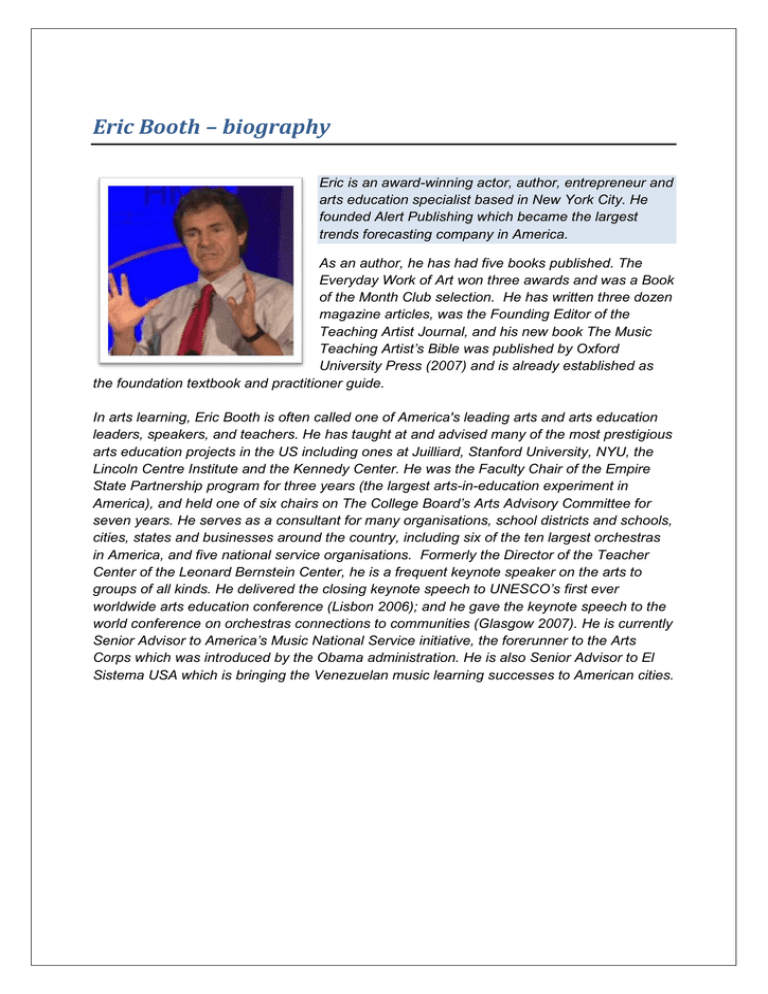 Eric Booth – biography
Eric is an award-winning actor, author, entrepreneur and
arts education specialist based in New York City. He
founded Alert Publishing which became the largest
trends forecasting company in America.
As an author, he has had five books published. The
Everyday Work of Art won three awards and was a Book
of the Month Club selection. He has written three dozen
magazine articles, was the Founding Editor of the
Teaching Artist Journal, and his new book The Music
Teaching Artist's Bible was published by Oxford
University Press (2007) and is already established as
the foundation textbook and practitioner guide.
In arts learning, Eric Booth is often called one of America's leading arts and arts education
leaders, speakers, and teachers. He has taught at and advised many of the most prestigious
arts education projects in the US including ones at Juilliard, Stanford University, NYU, the
Lincoln Centre Institute and the Kennedy Center. He was the Faculty Chair of the Empire
State Partnership program for three years (the largest arts-in-education experiment in
America), and held one of six chairs on The College Board's Arts Advisory Committee for
seven years. He serves as a consultant for many organisations, school districts and schools,
cities, states and businesses around the country, including six of the ten largest orchestras
in America, and five national service organisations. Formerly the Director of the Teacher
Center of the Leonard Bernstein Center, he is a frequent keynote speaker on the arts to
groups of all kinds. He delivered the closing keynote speech to UNESCO's first ever
worldwide arts education conference (Lisbon 2006); and he gave the keynote speech to the
world conference on orchestras connections to communities (Glasgow 2007). He is currently
Senior Advisor to America's Music National Service initiative, the forerunner to the Arts
Corps which was introduced by the Obama administration. He is also Senior Advisor to El
Sistema USA which is bringing the Venezuelan music learning successes to American cities.