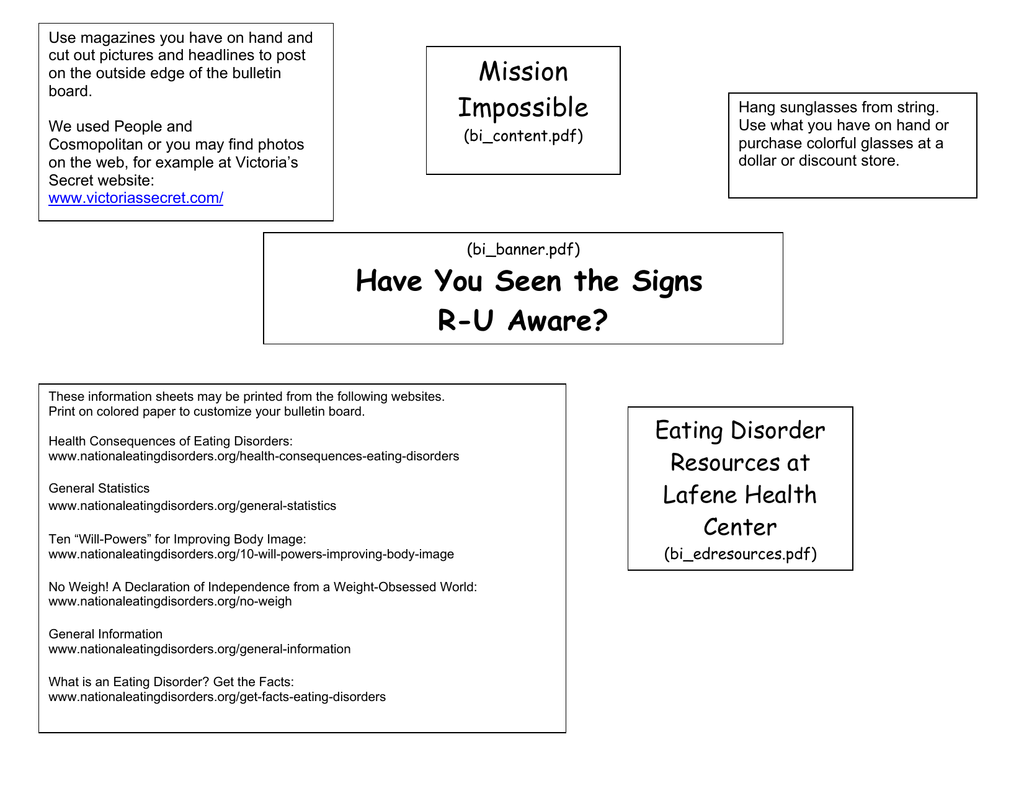 Use magazines you have on hand and
cut out pictures and headlines to post
on the outside edge of the bulletin
board.
Mission
Impossible
We used People and
Cosmopolitan or you may find photos
on the web, for example at Victoria's
Secret website:
www.victoriassecret.com/
Hang sunglasses from string.
Use what you have on hand or
purchase colorful glasses at a
dollar or discount store.
(bi_content.pdf)
(bi_banner.pdf)
Have You Seen the Signs
R-U Aware?
These information sheets may be printed from the following websites.
Print on colored paper to customize your bulletin board.
Health Consequences of Eating Disorders:
www.nationaleatingdisorders.org/health-consequences-eating-disorders
General Statistics
www.nationaleatingdisorders.org/general-statistics
Ten "Will-Powers" for Improving Body Image:
www.nationaleatingdisorders.org/10-will-powers-improving-body-image
No Weigh! A Declaration of Independence from a Weight-Obsessed World:
www.nationaleatingdisorders.org/no-weigh
General Information
www.nationaleatingdisorders.org/general-information
What is an Eating Disorder? Get the Facts:
www.nationaleatingdisorders.org/get-facts-eating-disorders
Eating Disorder
Resources at
Lafene Health
Center
(bi_edresources.pdf)
MISSION IMPOSSIBLE
Female Body Image
WHAT BODY IMAGE DO YOU MOST DESIRE?
KATE MOSS
OR
CALISTA FLOCKHART
LESLIE HORNBY (TWIGGY)
KATE WINSLET
DREW BARRYMORE
MARILYN MONROE
Kate Moss 5'7", 107lbs.-BMI of 16.8
Calista Flockhart 5'6", 102lbs.-BMI of 16.5
Twiggy 5'4", 90lbs.—
BMI of 15.5
Kate Winslet 5'8", 130lbs.-BMI of 19.8
Drew Barrymore 5'4", 120lbs.-BMI of 20.7
Marilyn Monroe 5'5½", 132lbs.
BMI of 21.7
**All of these women exist at
"third world starvation BMI
criteria"
**All of these women have
BMI's at the lower end of
the healthy range, yet all
have been called
overweight by society's
standards.
APPROXIMATELY THREE-QUARTERS OF ALL MODELS ARE
UNDERWEIGHT AND OR MEET THE WEIGHT
REQUIREMENT FOR ANOREXIA NERVOSA.
What do you think of a woman that is 5'4" and weights 140lbs.?
**This is the weight of the average North American woman;
the BMI is 24.2, which is within the healthy range.
Eating Disorder Resources
at Lafene Health Center
 Individualized Nutrition Counseling
One-on-one nutrition counseling with a registered dietitian. Call 785-532-6544 for an
appointment.
 Counseling Services
Located on the 2nd floor of the English/Counseling Services Building, Counseling
Services offers individual counseling as well as periodic support group activities. Call
785-532-6927 for additional information
 Medical Assessment
Lafene physicians are available to assess and monitor physical effects of disordered
eating. For an appointment, call 785-532-6544.
 Health Promotion
Available to provide group presentations regarding body image and eating disorders. A
selection of videos on body image and eating issues may be viewed individually, if
desired. Call 785-532-6595 for additional information.
 Sensible Nutrition And body image Choices – S.N.A.C.
Student peer educators focused on educating the University community about healthy
eating strategies and body image. Available for free presentations to any campus or
non-campus group. Call 532-6595 for additional information or check the website at
www.k-state.edu/lafene/SNAC.