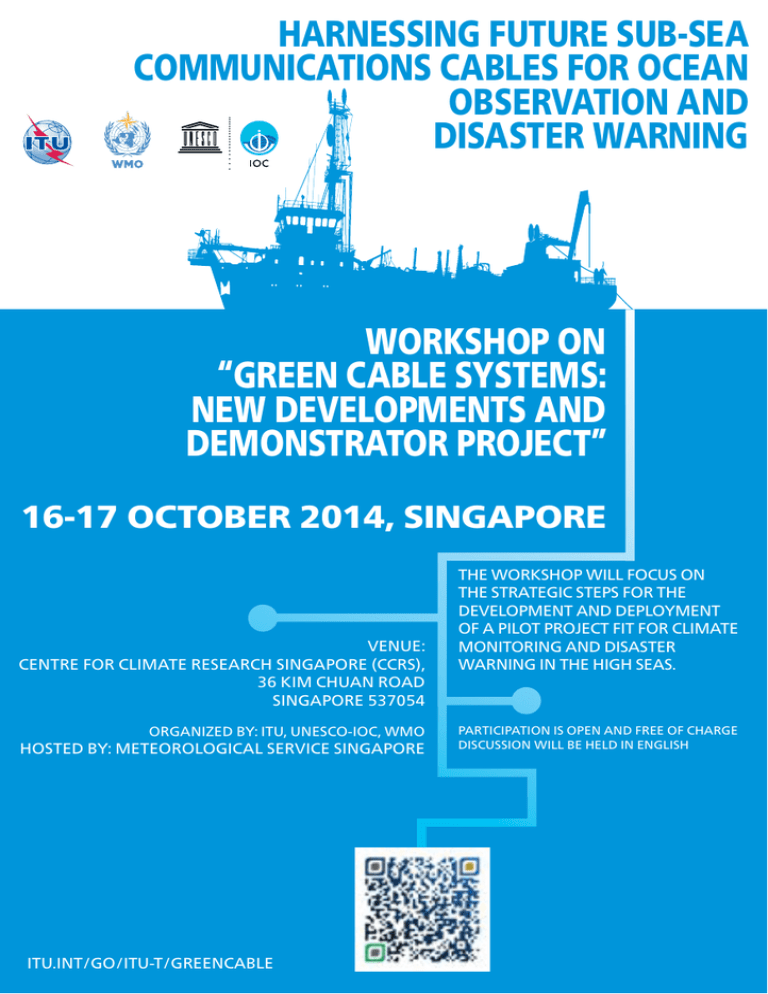 Harnessing future sub-sea
communications cables for ocean
observation and
disaster warning
Workshop on
"Green cable systems:
new developments and
demonstrator project"
16-17 October 2014, Singapore
Venue:
Centre for Climate Research Singapore (CCRS),
36 Kim Chuan Road
Singapore 537054
Organized by: ITU, UNESCO-IOC, WMO
Hosted by: Meteorological Service Singapore
itu.int/go/ITU-T/greencable
The workshop will focus on
the strategic steps for the
development and deployment
of a pilot project fit for climate
monitoring and disaster
warning in the high seas.
Participation is open and free of charge
Discussion will be held in English
The workshop on "Green cable systems: new developments and
demonstrator project" will bring together leading specialists in the field,
from scientists to engineers, cable owners and operators, legal experts,
government officials, regulators, standards experts and others to raise
awareness on the opportunities of equipping submarine telecommunications cables with climate and hazard monitoring sensors to create a global
real-time ocean observation network.
Programme overview:
•
Industry perspective
•
Science, engineering and societal benefits
•
Data, ownership and legal issues
•
Funding and business plan
•
Wet demonstrator project
About the ITU/UNESCO-IOC/WMO Joint Task Force on Green Cables:
The JTF was established in 2012 and is composed of more than ninety
experts from the science, engineering, business and law communities.
Through its five committees and meetings, the JTF is leading studies to
facilitate the deployment of dual-purpose submarine telecommunication
cables in high seas, exploring the scientific and societal needs, new
engineering technology requirements for sensor standards and testing
protocols, as well as the business opportunities, and legal implications to
promote the development of a submarine telecommunication cable project
fit for climate monitoring and disaster warning.
GET INVOLVED!
Interested experts can request to become members of the JTF,
by contacting Erica Campilongo and Hiroshi Ota at:
greenstandard@itu.int.