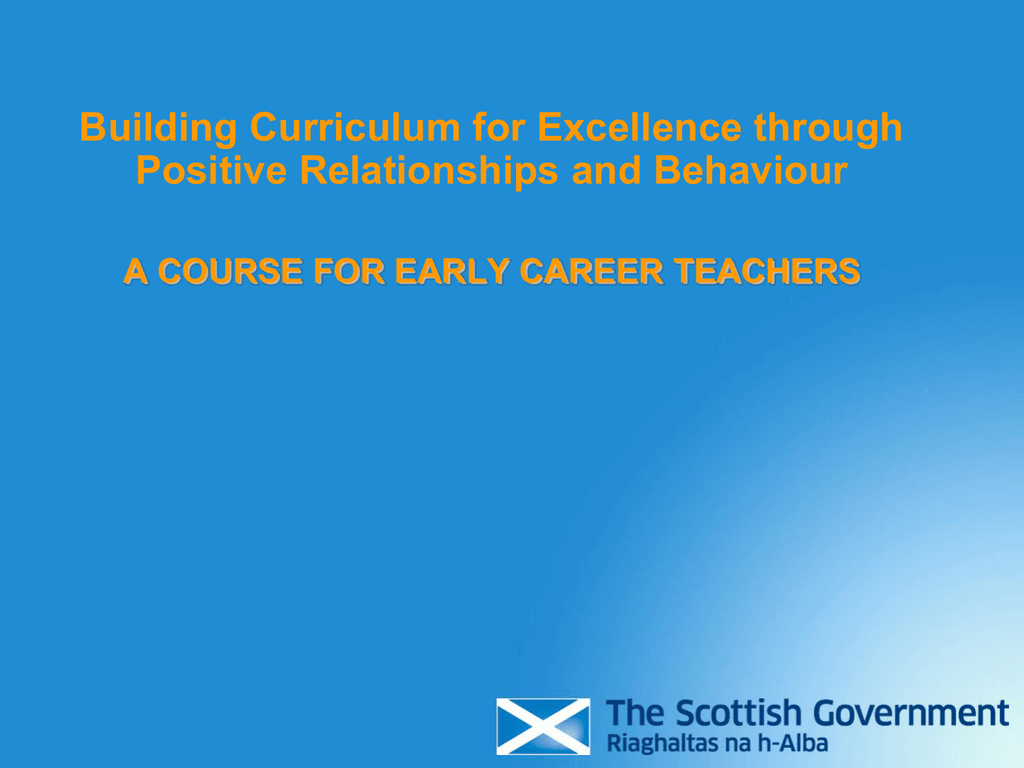 Building Curriculum for Excellence through
Positive Relationships and Behaviour
A COURSE FOR EARLY CAREER TEACHERS
The Overview
1 Aims and Outlines of all 8 Modules
2 The Context of Behaviour Management
- since 2001
- within CfE and Health and Wellbeing
3 Current evidence based approaches
AIMS
• To describe the attitudes, values, ethos and
skills needed to 'get it right for every child'
• To provide an up-to-date context for the use of
a range of approaches (known to make a
difference)
• To provide a forum to share experiences and
practice with colleagues
• To look at strategies/techniques to manage
behaviour
THE 8 MODULES
1 Overview
2 The Human Condition
Why we behave the way we do
3 Getting it right with Relationships(1)
4 Getting it right with Relationships(2)
5 Getting it right with Relationships(3)
6 Getting it right with Relationships(4)
Modules 7 and 8 - When relationships break down
Practical modules which develop the strategies
for managing confrontation, crisis, relationship
breakdown (and your own health and wellbeing)
covered in the course, using…..
your own scenarios/video material-discussion and
skill building sessions
Where are we now?
•
•
•
•
•
2001 BBBL Behaviour IS an additional need
2004 ASL restates and confirms above
2006 National Behaviour Research-low level
disruption the main problem
2007 Evidence based approaches identified
and backed by DSG
2008 " Improving Relationships and Promoting
Positive Behaviour" launched with full
stakeholder backing
2009 National Behaviour Research
•
•
•
•
•
Over 90% saw most pupils as well behaved
Low-level negative remains main problem
Physical violence/aggression (to staff) rare <1%
Pupil-Pupil violence/aggression more frequent
Small but significant positive change in
teachers perception of behaviour since 2006
• Behaviour Management best handled using
multi-pronged approach based on shared
values and a positive school ethos
BUILDING CURRICULUM FOR
EXCELLENCE THROUGH POSITIVE
RELATIONSHIPS AND BEHAVIOUR
•
launched in June 2010 as a response to
2009 survey and with full support from
SAGBiS
• www.scotland.gov.uk/Publications/2010/0
6/25112828/1
• A new BBBL framework is due out in 2011
THE LINK TO CfE / HEALTH and
WELLBEING and GIRFEC
•
•
•
•
Successful learners
Confident individuals
Effective contributors
Responsible citizens
• How central is learning to develop and
manage relationships when considering
the 4 capacities?
APPROACHES THAT WORK?
•
•
•
•
•
•
•
•
Restorative Approaches
The Motivated School and SELF
Solution Oriented Approaches
Staged Intervention/FFI
Being Cool in School
Nurture groups
Emotional Health and Well Being
Confident Staff, Confident Children
These approaches are not about
being 'soft'
• THEY ARE ABOUT…………….
• Addressing conflicts and harmful situations
in a way that, at the very least, does not
harm relationships, and at best repairs and
builds them
THEY ARE ABOUT…….
• Holding people accountable for their
actions-making them accept responsibilitybut supporting them in learning what they
have done to others.
• Helping them to find a way forward and to
behave differently next time.