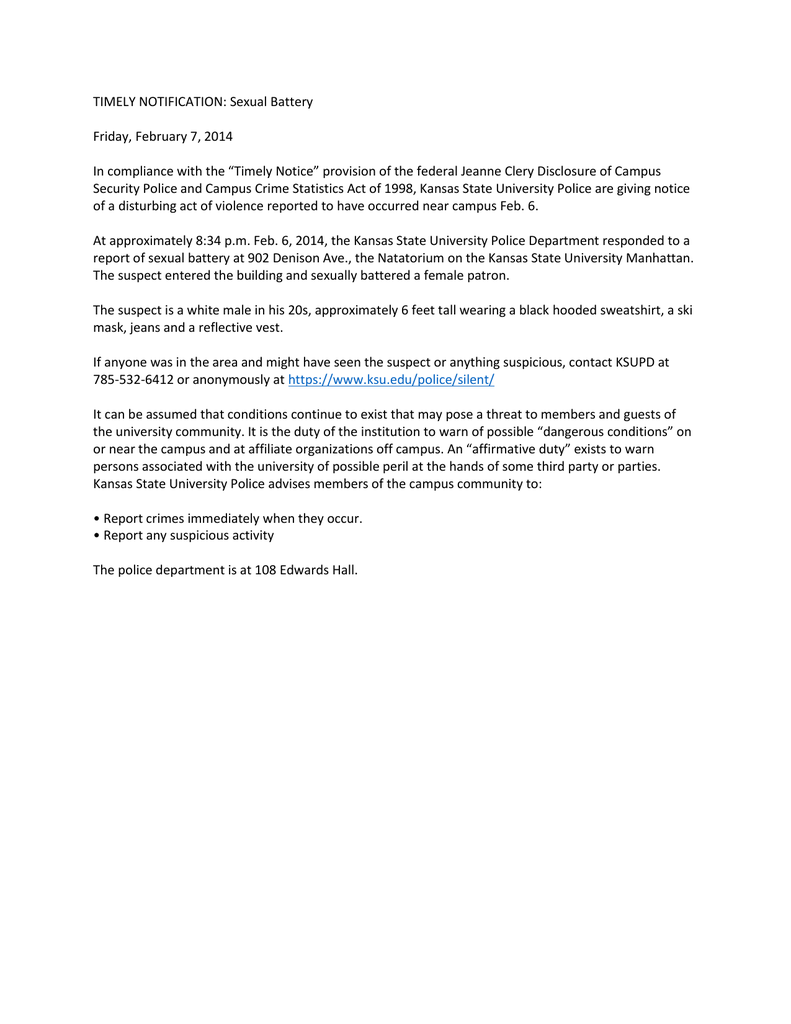 TIMELY NOTIFICATION: Sexual Battery
Friday, February 7, 2014
In compliance with the "Timely Notice" provision of the federal Jeanne Clery Disclosure of Campus
Security Police and Campus Crime Statistics Act of 1998, Kansas State University Police are giving notice
of a disturbing act of violence reported to have occurred near campus Feb. 6.
At approximately 8:34 p.m. Feb. 6, 2014, the Kansas State University Police Department responded to a
report of sexual battery at 902 Denison Ave., the Natatorium on the Kansas State University Manhattan.
The suspect entered the building and sexually battered a female patron.
The suspect is a white male in his 20s, approximately 6 feet tall wearing a black hooded sweatshirt, a ski
mask, jeans and a reflective vest.
If anyone was in the area and might have seen the suspect or anything suspicious, contact KSUPD at
785-532-6412 or anonymously at https://www.ksu.edu/police/silent/
It can be assumed that conditions continue to exist that may pose a threat to members and guests of
the university community. It is the duty of the institution to warn of possible "dangerous conditions" on
or near the campus and at affiliate organizations off campus. An "affirmative duty" exists to warn
persons associated with the university of possible peril at the hands of some third party or parties.
Kansas State University Police advises members of the campus community to:
• Report crimes immediately when they occur.
• Report any suspicious activity
The police department is at 108 Edwards Hall.