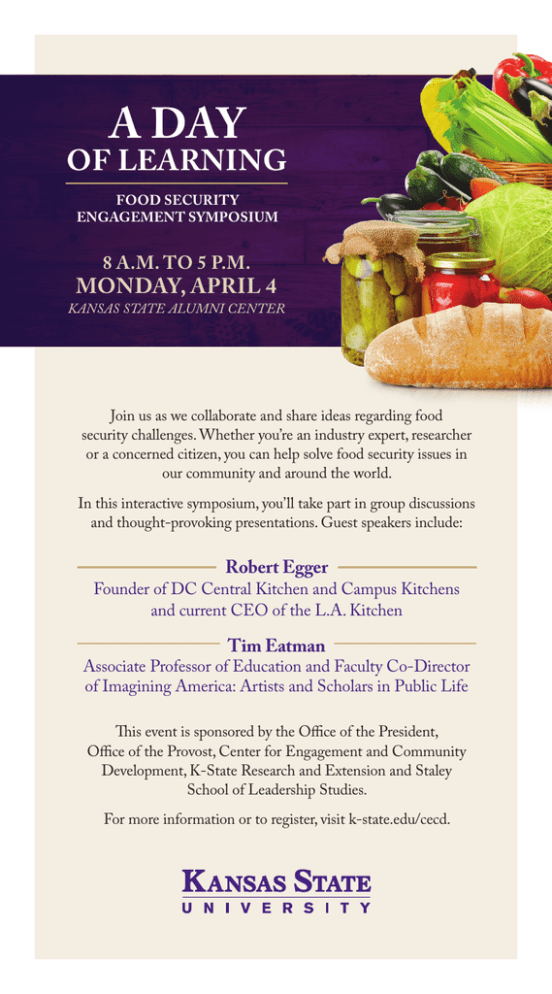 A DAY
OF LEARNING
FOOD SECURITY
ENGAGEMENT SYMPOSIUM
8 A.M. TO 5 P.M.
MONDAY, APRIL 4
KANSAS STATE ALUMNI CENTER
Join us as we collaborate and share ideas regarding food
security challenges. Whether you're an industry expert, researcher
or a concerned citizen, you can help solve food security issues in
our community and around the world.
In this interactive symposium, you'll take part in group discussions
and thought-provoking presentations. Guest speakers include:
Robert Egger
Founder of DC Central Kitchen and Campus Kitchens
and current CEO of the L.A. Kitchen
Tim Eatman
Associate Professor of Education and Faculty Co-Director
of Imagining America: Artists and Scholars in Public Life
This event is sponsored by the Office of the President,
Office of the Provost, Center for Engagement and Community
Development, K-State Research and Extension and Staley
School of Leadership Studies.
For more information or to register, visit k-state.edu/cecd.