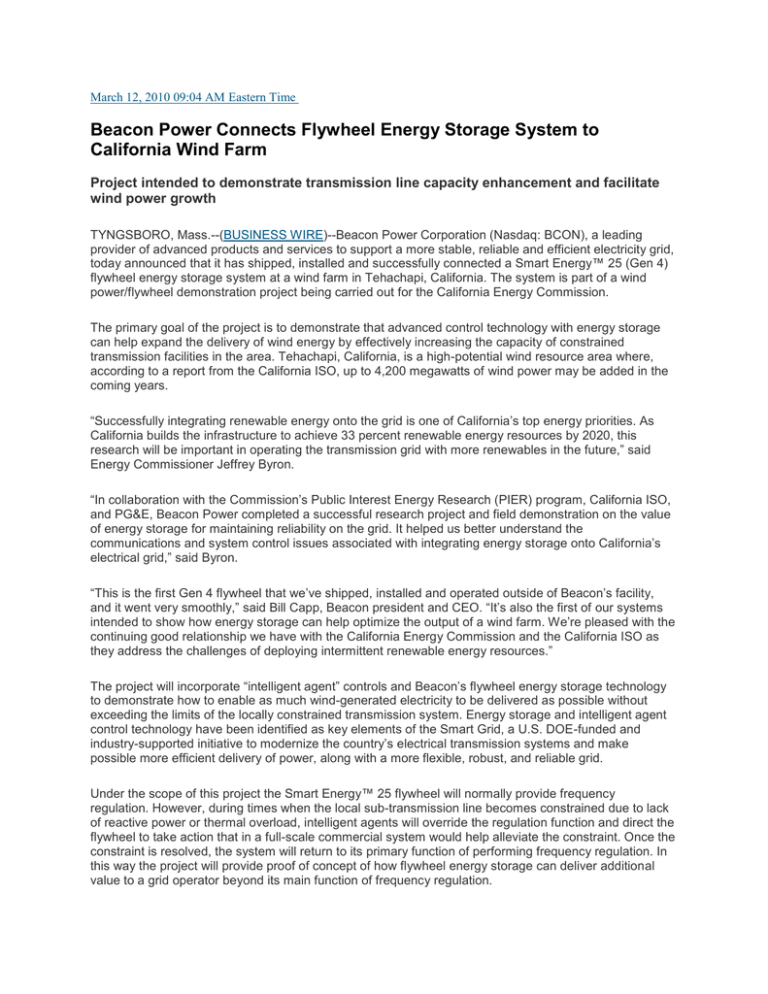 March 12, 2010 09:04 AM Eastern Time
Beacon Power Connects Flywheel Energy Storage System to
California Wind Farm
Project intended to demonstrate transmission line capacity enhancement and facilitate
wind power growth
TYNGSBORO, Mass.--(BUSINESS WIRE)--Beacon Power Corporation (Nasdaq: BCON), a leading
provider of advanced products and services to support a more stable, reliable and efficient electricity grid,
today announced that it has shipped, installed and successfully connected a Smart Energy™ 25 (Gen 4)
flywheel energy storage system at a wind farm in Tehachapi, California. The system is part of a wind
power/flywheel demonstration project being carried out for the California Energy Commission.
The primary goal of the project is to demonstrate that advanced control technology with energy storage
can help expand the delivery of wind energy by effectively increasing the capacity of constrained
transmission facilities in the area. Tehachapi, California, is a high-potential wind resource area where,
according to a report from the California ISO, up to 4,200 megawatts of wind power may be added in the
coming years.
"Successfully integrating renewable energy onto the grid is one of California's top energy priorities. As
California builds the infrastructure to achieve 33 percent renewable energy resources by 2020, this
research will be important in operating the transmission grid with more renewables in the future," said
Energy Commissioner Jeffrey Byron.
"In collaboration with the Commission's Public Interest Energy Research (PIER) program, California ISO,
and PG&E, Beacon Power completed a successful research project and field demonstration on the value
of energy storage for maintaining reliability on the grid. It helped us better understand the
communications and system control issues associated with integrating energy storage onto California's
electrical grid," said Byron.
"This is the first Gen 4 flywheel that we've shipped, installed and operated outside of Beacon's facility,
and it went very smoothly," said Bill Capp, Beacon president and CEO. "It's also the first of our systems
intended to show how energy storage can help optimize the output of a wind farm. We're pleased with the
continuing good relationship we have with the California Energy Commission and the California ISO as
they address the challenges of deploying intermittent renewable energy resources."
The project will incorporate "intelligent agent" controls and Beacon's flywheel energy storage technology
to demonstrate how to enable as much wind-generated electricity to be delivered as possible without
exceeding the limits of the locally constrained transmission system. Energy storage and intelligent agent
control technology have been identified as key elements of the Smart Grid, a U.S. DOE-funded and
industry-supported initiative to modernize the country's electrical transmission systems and make
possible more efficient delivery of power, along with a more flexible, robust, and reliable grid.
Under the scope of this project the Smart Energy™ 25 flywheel will normally provide frequency
regulation. However, during times when the local sub-transmission line becomes constrained due to lack
of reactive power or thermal overload, intelligent agents will override the regulation function and direct the
flywheel to take action that in a full-scale commercial system would help alleviate the constraint. Once the
constraint is resolved, the system will return to its primary function of performing frequency regulation. In
this way the project will provide proof of concept of how flywheel energy storage can deliver additional
value to a grid operator beyond its main function of frequency regulation.
In addition to the California Energy Commission, which is funding the project, and Alternative Energy
Systems Consulting (AESC), the prime contractor, other leading stakeholders include the California
Independent System Operator (ISO) and Southern California Edison.
About Beacon Power Corporation
Beacon Power Corporation designs, develops and is commercializing advanced products and services to
support stable, reliable and efficient electricity grid operation. Beacon's Smart Energy Matrix™, now in
production, is a non-polluting, megawatt-scale, utility-grade, flywheel-based solution designed to
provide less expensive, and more sustainable and effective frequency regulation services to the nation's
power grid. The Company's business strategy is both to supply frequency regulation services from its own
plants and to sell systems directly to utilities or grid operators in parts of North America and selected
international markets. Beacon is a publicly traded company with its research, development and
manufacturing facility in the U.S. For more information, visit www.beaconpower.com.
About Alternative Energy Systems Consulting
Alternative Energy Systems Consulting, Inc. (AESC) provides high quality energy engineering and
management consulting services to enable rapid deployment of efficient, cost-effective, reliable, and
environmentally friendly energy systems. AESC's customized technical solutions and services are
provided to utilities, government agencies, and corporations that seek to improve energy production,
delivery, and end use. The company's development efforts include intelligent software agent technology,
customized Visual Basic (VB), Excel, Access and SQL Server interface applications, as well as custom
Java-based applications for interactive data display. AESC is a privately held company with four
California offices located in San Diego, Carlsbad, Concord and Pasadena. For more information, visit
www.aesc-inc.com.
Safe Harbor Statements under the Private Securities Litigation Reform Act of 1995: The Material
contained in this press release may include statements that are not historical facts and are considered
"forward-looking" statements within the meaning of the Private Securities Litigation Reform Act of 1995.
These forward-looking statements reflect Beacon Power Corporation's current views about future events,
financial performances, and project development. These "forward-looking" statements are identified by
the use of terms and phrases such as "will," "believe," "expect," "plan," "anticipate," and similar
expressions identifying forward-looking statements. Investors should not rely on forward-looking
statements because they are subject to a variety of risks, uncertainties, and other factors that could cause
actual results to differ materially from Beacon's expectation. These factors include: a short operating
history; a history of losses and anticipated continued losses from operations; the complexity and other
challenges of arranging project financing and resources for one or more frequency regulation power
plants, including uncertainty about whether we will be successful in finalizing the DOE loan guarantee
support for our Stephentown, New York, facility, or complying with the conditions or ongoing covenants of
that support; our need to comply with any disbursement or other conditions under the DOE grant
program; a need to raise additional equity to fund Beacon's projects and its other operations in uncertain
financial markets; conditions in target markets, including the fact that it has taken longer than anticipated
for some ISOs to comply with FERC's requirement to update market rules to include new technology such
as the Company's; our ability to obtain site interconnection approvals, landlord approvals, or other zoning
and construction approvals in a timely manner; limited experience manufacturing commercial products or
supplying frequency regulation services on a commercial basis, including not providing reactive power
before on a commercial basis; limited commercial contracts for revenues to date; the dependence of
revenues on the achievement of product optimization, manufacturing and commercialization milestones;
dependence on third-party suppliers; intense competition from companies with greater financial
resources, especially from companies that are already in the frequency regulation market; possible
government regulation that would impede the ability to market products or services or affect market size;
possible product liability claims and the negative publicity which could result; any failure to protect
intellectual property; retaining key executives and the possible need in the future to hire and retain key
executives; the historical volatility of our stock price, as well as the volatility of the stock price of other
companies in the energy sector, especially in view of the current situation in the financial markets
generally. These factors are elaborated upon and other factors may be disclosed from time to time in
Beacon Power filings with the Securities and Exchange Commission. Beacon Power expressly does not
undertake any duty to update forward-looking statements.