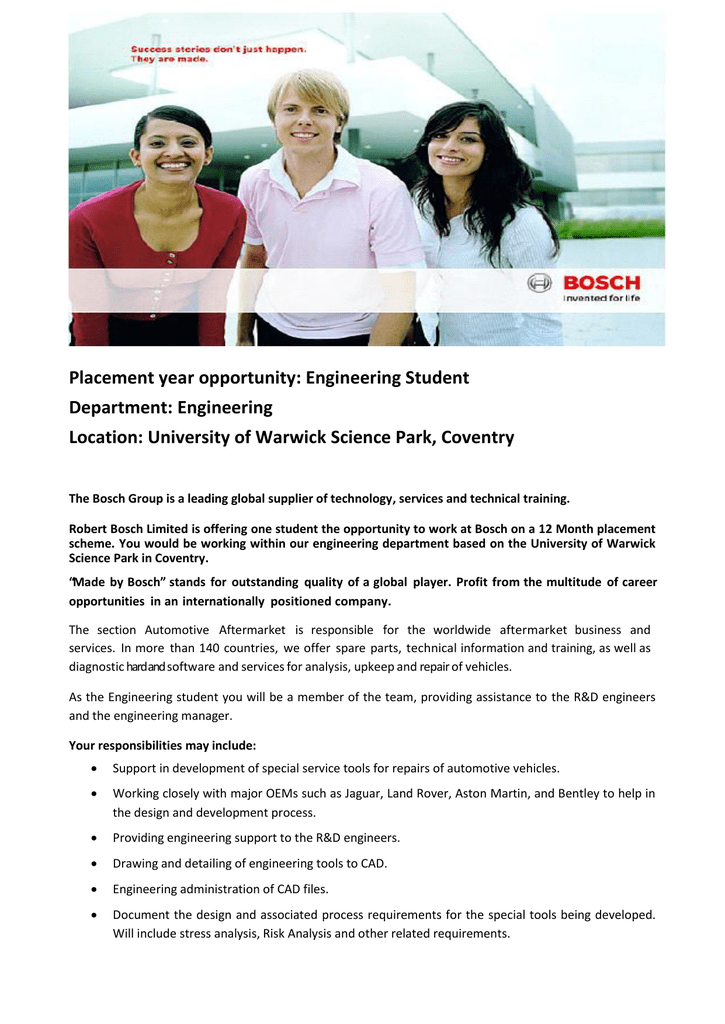 Placement year opportunity: Engineering Student
Department: Engineering
Location: University of Warwick Science Park, Coventry
The Bosch Group is a leading global supplier of technology, services and technical training.
Robert Bosch Limited is offering one student the opportunity to work at Bosch on a 12 Month placement
scheme. You would be working within our engineering department based on the University of Warwick
Science Park in Coventry.
"Made by Bosch" stands for outstanding quality of a global player. Profit from the multitude of career
opportunities in an internationally positioned company.
The section Automotive Aftermarket is responsible for the worldwide aftermarket business and
services. In more than 140 countries, we offer spare parts, technical information and training, as well as
diagnostic hardand software and services for analysis, upkeep and repair of vehicles.
As the Engineering student you will be a member of the team, providing assistance to the R&D engineers
and the engineering manager.
Your responsibilities may include:

Support in development of special service tools for repairs of automotive vehicles.

Working closely with major OEMs such as Jaguar, Land Rover, Aston Martin, and Bentley to help in
the design and development process.

Providing engineering support to the R&D engineers.

Drawing and detailing of engineering tools to CAD.

Engineering administration of CAD files.

Document the design and associated process requirements for the special tools being developed.
Will include stress analysis, Risk Analysis and other related requirements.
Your profile:

You will currently be studying for a degree level qualification in one of these areas: Engineering,
Automotive Engineering or a related field.

Ability to demonstrate excellent communication skills both verbal and written

Ability to communicate concerns and identify resolutions in a clear, concise manner

Knowledge of automotive vehicles

Be proficient in CAD, preferably SolidWorks, on the job training will be given to individuals
demonstrating proficient skills in use of other CAD programs.
We would like you to start as soon as possible for a 12 month placement.
Before applying for this vacancy, you must inform your Faculty/School Placement Officer. If your
Faculty/School does not have a Placement Officer, you must inform your Course Tutor. This is important
because there may be the need for the employer to be verified by the University to ensure that, where
applicable, the position can be credited to your degree.
Please send your CV and Cover Letter to HR Recruitment, Alexandra Pasenau,
[email protected]
Visit www.bosch.co.uk for more information.