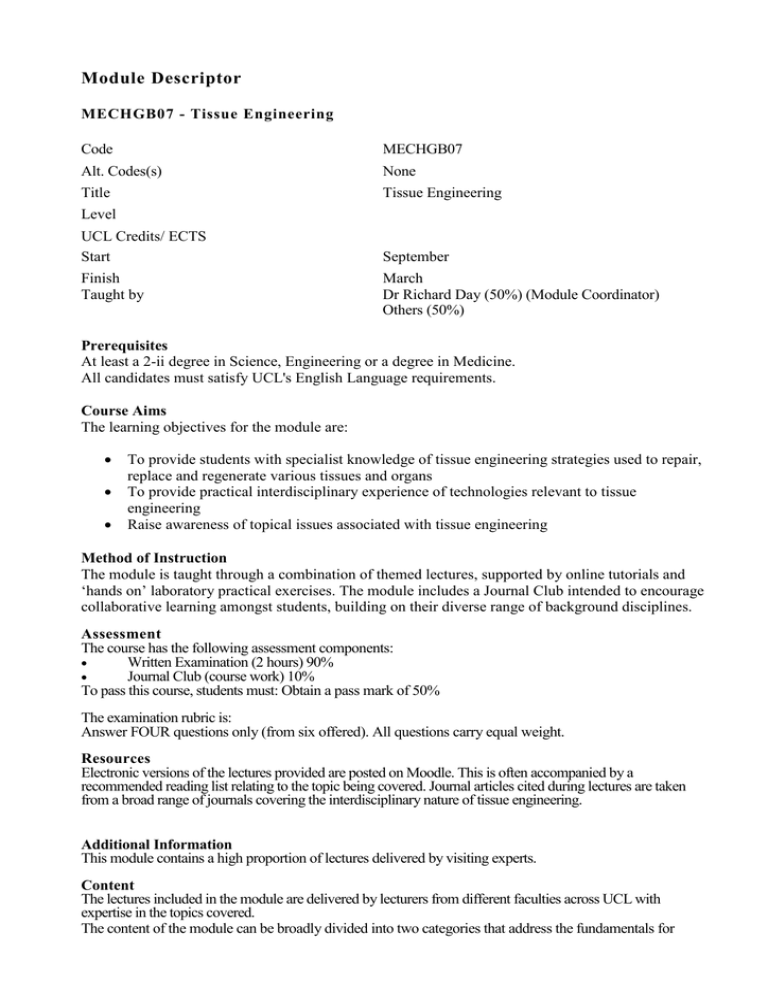 Module Descriptor
MECHGB07 - Tissue Engineering
Code
MECHGB07
Alt. Codes(s)
None
Title
Tissue Engineering
Level
UCL Credits/ ECTS
Start
Finish
Taught by
September
March
Dr Richard Day (50%) (Module Coordinator)
Others (50%)
Prerequisites
At least a 2-ii degree in Science, Engineering or a degree in Medicine.
All candidates must satisfy UCL's English Language requirements.
Course Aims
The learning objectives for the module are:



To provide students with specialist knowledge of tissue engineering strategies used to repair,
replace and regenerate various tissues and organs
To provide practical interdisciplinary experience of technologies relevant to tissue
engineering
Raise awareness of topical issues associated with tissue engineering
Method of Instruction
The module is taught through a combination of themed lectures, supported by online tutorials and
'hands on' laboratory practical exercises. The module includes a Journal Club intended to encourage
collaborative learning amongst students, building on their diverse range of background disciplines.
Assessment
The course has the following assessment components:

Written Examination (2 hours) 90%

Journal Club (course work) 10%
To pass this course, students must: Obtain a pass mark of 50%
The examination rubric is:
Answer FOUR questions only (from six offered). All questions carry equal weight.
Resources
Electronic versions of the lectures provided are posted on Moodle. This is often accompanied by a
recommended reading list relating to the topic being covered. Journal articles cited during lectures are taken
from a broad range of journals covering the interdisciplinary nature of tissue engineering.
Additional Information
This module contains a high proportion of lectures delivered by visiting experts.
Content
The lectures included in the module are delivered by lecturers from different faculties across UCL with
expertise in the topics covered.
The content of the module can be broadly divided into two categories that address the fundamentals for
tissue engineering (vascularization of tissue constructs, the role of the immune response, bioprocessing
techniques, and scaffolding technology) and applications of tissue engineering to different organs
throughout the body (the cornea, retina, lung, airway, gut, nervous system, musculoskeletal system).
Learning Outcomes for MECHGB07 Tissue Engineering
General Learning Outcomes
Ability to develop, monitor & update a plan, to reflect a changing operating
environment N/A
Ability to monitor and adjust a personal program of work on an on-going basis, and
to learn independently
A significant amount of self-learning is expected, the student is guided in this activity.
The ability to exercise initiative and personal responsibility, which may be as a team
member or leader
N/A
The ability to learn new theories, concepts and methods etc and apply these in
unfamiliar situations
The lectures are given by individuals whose research specialities are in this subject area, so ability to
learn new theories, concepts and methods and how to apply them is provided.
Specific Learning Outcomes
Underpinning science & Mathematics
A comprehensive understanding of the relevant scientific principles of the specialisation
The students have degree level physical and/or life sciences knowledge, and at the
start of the module some bridging lectures are provided.
A critical awareness of current problems and/or new insights much of which are at, or
informed by, the forefront of the specialisation.
Each component in the module is illustrated by case studies and in some instances by
relevant practical demonstrations.
An understanding of concepts relevant to the discipline, some from outside engineering,
and the ability to critically evaluate and apply them effectively.
Much of the module relates to concepts relevant to biology, medicine and clinical practice.
Engineering Analysis
Ability to use fundamental knowledge to investigate new and emerging technologies
Tissue Engineering is an evolving subject, the students receive details of this scenario via lectures
and laboratory practicals in disciplines relevant to this technology. New concepts/approaches are
studied and evaluated in each sub-section of the module.
Ability to apply appropriate models for solving problems in engineering and the ability to
assess the limitations of particular cases;
The module includes 'hands on' laboratory practicals intended to provide the students with
experience of handling cells and aseptic technique, as well as experience of techniques
commonly used to evaluate the biocompatibility of materials. The online 'Virtual
Laboratory' includes further information and examples of laboratory techniques and data
analysis simulation exercises.
The ability to collect and analyse research data and use appropriate engineering tools to
tackle unfamiliar problems, such as those with uncertain or incomplete data or
specifications, by the appropriate innovation, use or adaptation of engineering
analytical methods.
N/A
Design
N/A
The ability to apply original thought to the development of practical solutions for
products, systems, components or processes
N/A
Economic, Social and Environmental Context
Knowledge and understanding of management and business practices, and their
limitations, and how these may be applied appropriately, in the context of the
particular specialisation N/A
The ability to make general evaluations of risks through some understanding of the basis
of such risks
The ethical aspects of tissue engineering in medical practice are covered wherever
necessary.
Engineering Practice
A thorough understanding of current practice and its limitations, and some appreciation
of likely new developments
This is delivered in the lecture components.
Advanced level knowledge and understanding of a wide range of engineering
materials and components
This is delivered in the lecture components.
The ability to apply engineering techniques taking account of a range of commercial and
industrial constraints
This is delivered in the lecture components.