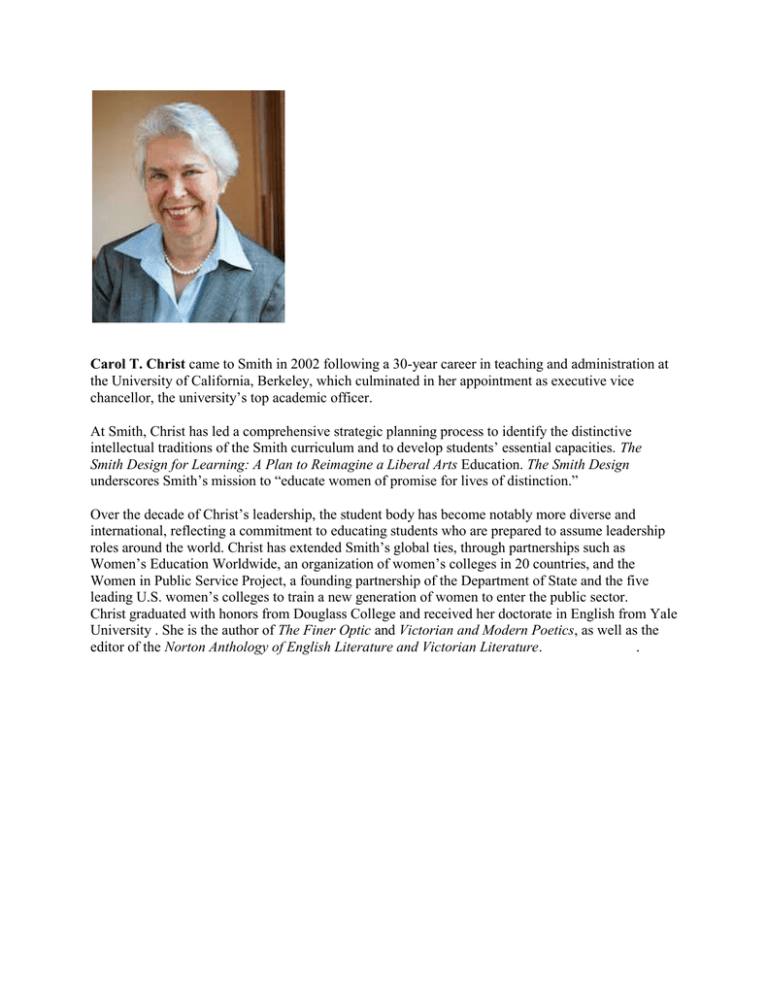 Carol T. Christ came to Smith in 2002 following a 30-year career in teaching and administration at
the University of California, Berkeley, which culminated in her appointment as executive vice
chancellor, the university's top academic officer.
At Smith, Christ has led a comprehensive strategic planning process to identify the distinctive
intellectual traditions of the Smith curriculum and to develop students' essential capacities. The
Smith Design for Learning: A Plan to Reimagine a Liberal Arts Education. The Smith Design
underscores Smith's mission to "educate women of promise for lives of distinction."
Over the decade of Christ's leadership, the student body has become notably more diverse and
international, reflecting a commitment to educating students who are prepared to assume leadership
roles around the world. Christ has extended Smith's global ties, through partnerships such as
Women's Education Worldwide, an organization of women's colleges in 20 countries, and the
Women in Public Service Project, a founding partnership of the Department of State and the five
leading U.S. women's colleges to train a new generation of women to enter the public sector.
Christ graduated with honors from Douglass College and received her doctorate in English from Yale
University . She is the author of The Finer Optic and Victorian and Modern Poetics, as well as the
editor of the Norton Anthology of English Literature and Victorian Literature.
.