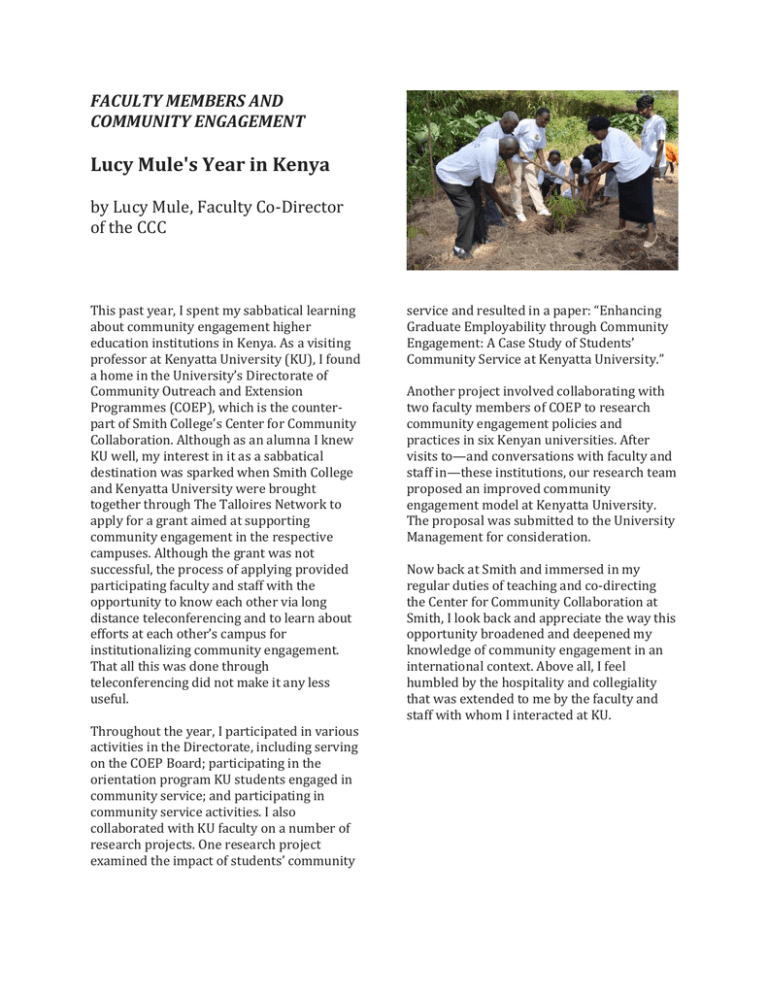 FACULTY MEMBERS AND
COMMUNITY ENGAGEMENT
Lucy Mule's Year in Kenya
by Lucy Mule, Faculty Co-Director
of the CCC
This past year, I spent my sabbatical learning
about community engagement higher
education institutions in Kenya. As a visiting
professor at Kenyatta University (KU), I found
a home in the University's Directorate of
Community Outreach and Extension
Programmes (COEP), which is the counterpart of Smith College's Center for Community
Collaboration. Although as an alumna I knew
KU well, my interest in it as a sabbatical
destination was sparked when Smith College
and Kenyatta University were brought
together through The Talloires Network to
apply for a grant aimed at supporting
community engagement in the respective
campuses. Although the grant was not
successful, the process of applying provided
participating faculty and staff with the
opportunity to know each other via long
distance teleconferencing and to learn about
efforts at each other's campus for
institutionalizing community engagement.
That all this was done through
teleconferencing did not make it any less
useful.
Throughout the year, I participated in various
activities in the Directorate, including serving
on the COEP Board; participating in the
orientation program KU students engaged in
community service; and participating in
community service activities. I also
collaborated with KU faculty on a number of
research projects. One research project
examined the impact of students' community
service and resulted in a paper: "Enhancing
Graduate Employability through Community
Engagement: A Case Study of Students'
Community Service at Kenyatta University."
Another project involved collaborating with
two faculty members of COEP to research
community engagement policies and
practices in six Kenyan universities. After
visits to—and conversations with faculty and
staff in—these institutions, our research team
proposed an improved community
engagement model at Kenyatta University.
The proposal was submitted to the University
Management for consideration.
Now back at Smith and immersed in my
regular duties of teaching and co-directing
the Center for Community Collaboration at
Smith, I look back and appreciate the way this
opportunity broadened and deepened my
knowledge of community engagement in an
international context. Above all, I feel
humbled by the hospitality and collegiality
that was extended to me by the faculty and
staff with whom I interacted at KU.