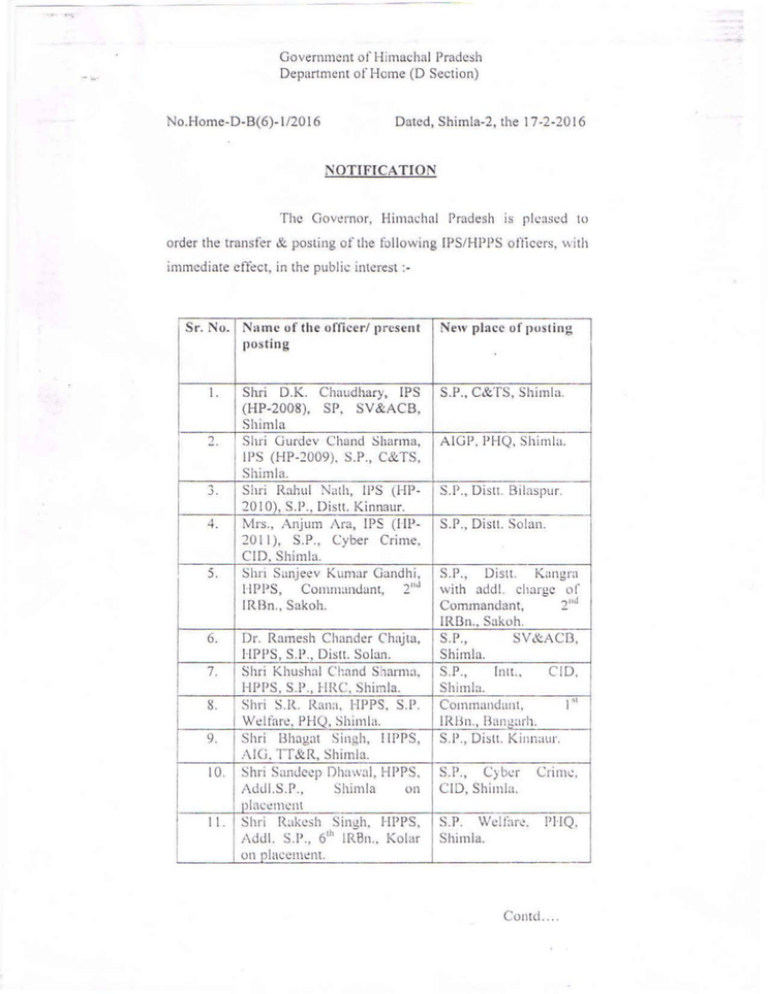 Government or Himacha l Pradesh
Department of Home (D Section)
-.
No.Home.D·B(6).1I2016
Daled, Shimla·2, Ihe 17·2·2016
NOTIFICATIO N
The Gowrnor, Himachal Pradesh is pleased
\0
order the transfer & posting of the following fPS/HPl'S otlicers, \\ ilh
immediate effect, in the publil: interest :-
S r. No. Name of the ofn cc rl p res ent
p os ting
I.
2.
J.
4.
Shri D.K. Chaudhary. IPS
(HP·2008), SP. SV&ACB,
Shimln
Shri Gllrdev Chand Sharma.
II'S (HI'·2009). S.P., C&TS,
Shimia.
Shri Rnlllzl N.tth, IPS (i-IP·
2010), S,P., DisH. Kinnaur.
Mrs .. Anjum 1\ra, IPS (111'·
2011), S.P., Cybcr Crime,
New pl ace of puslin b!,
5.1' .. C&TS, Shimla.
AlG!'. PHQ, Shimla.
S.P., Disl\. Bil nspur.
S.P., DisH. Solan.
CID. Shimla.
;.
Shri Sanjeev Kllmar Gandhi,
lIPPS, COlnrll.IIHlant, 21\J
IRiln., S.koh.
6.
Dr. Rnmesh Chancier C'hujta,
111'1'5,5. 1' ., DislI. Solan.
Shri Khuslul! Chtllld Sharma.
HI'I'S , 5.1'., fmC, Shimla.
Shri S.l(. R~H1:I, I·IPPS. S.I'.
Wt.!lfrln:. PHQ. Shilllla.
Shri IJhagnt Singh, liPPS,
AIG. IT&R, Shiml • .
Shri Sill1d('t.!p Dhaw:li, \-IPPS,
Shimla
on
Add!.S.P.,
7.
S.
9.
10.
S.P., Dislt. Kan~ra
with add!. ch~lrgc 01'
t '~
Commamlant,
IROn., Sakllh.
SV&AC13,
S.P.,
Shim!a.
5 .1'.,
C ID,
Inn ..
Shiml:!.
I"
COllll11andullt,
IRUIl., n<lngarh .
S.P., DiSH. Kinnaur.
S.P.,
C) bcr
elD, Shi!l1la.
Crim.:,
pIUL"t.!I1K'J\t
11.
Shri
R~lki,! s h
Singh, tiPPS,
Add!. S. P., 61h IRSn .. Kolar
S.P. WeI [':trl!.
Shimla.
I'HO.
on plaL"c!1l~nt .
COJltd . . . .
2.
Th~
Govr.;rnor, Hilllm:hni Pradesh is fl.1rtht'1"
pl~nsC'd
to
order that the ,uJdition::d c1wrge of the post ofS.P" IIRC, Shil11la \\ill
be held by \1s . Ranjana Chauhan, IPS, S.P., LokaYllktll, Shilllin.
l3y Onkr
:\ddl. ChiefSt:cft:tary(l-iullll.!) to the
Government o r i-!illladwi Pracksh.
Ends1. No. :- As abov\!,
Dated, Shim! .. -2 , Iht~ 17·:!·J.U 16
Cnpy for information :lIld no,.'ccssury action is forwarded to
I.
o
3.
.L
5.
6.
7.
:-;.
9.
J O.
Ih: Pro I)ri\'(\tc Secr~l:lry to Ilon'bl\! Chief Ministl'r. 11.1',
The Add!. ChiL'rSc~rct.lfY to Hon'bk Chid'l\iinislcr. !-I II
Tht: PrivatI! Sc..:rctnry to tbe Chief SI!.:rcwry to Ihe GlW\ 0 1 I [ P
The Din.:ctor General uJ' p\)licc, IlimOlcha l Pradesh. Shim!;}·::!.
The Addl. Din!CIUf Gl'nernl or Police. AP&T, Law & Or,lI.:r,
SV&ACI3, C!D. H.P., Shim[".
The SllpdlS. of Polil'e or Dis1IS. 8:. Commandunts llf IRblls. in 11.[1.
The Sr. Dy. ,\CCOUl1!<lnl Gl.!lll.:ral (A&E), H.P.. Shillilil-3 .
The Controller (Fill ilm'c & Accuunls). H.P. St'crt'tarial, Shil11b-2.
The ol!iccrs COllCt'rllI.!U tor compliance.
Guard lilt:! spar~ cupics.
4
',..<--'
D~puIY
'J-/~-
Sl'crl.'lary (Holl1":)10 Ihe
(juVt'rnmCtll
i,)j'
11 im.\\,:h:ll I'r;ld..:",h.