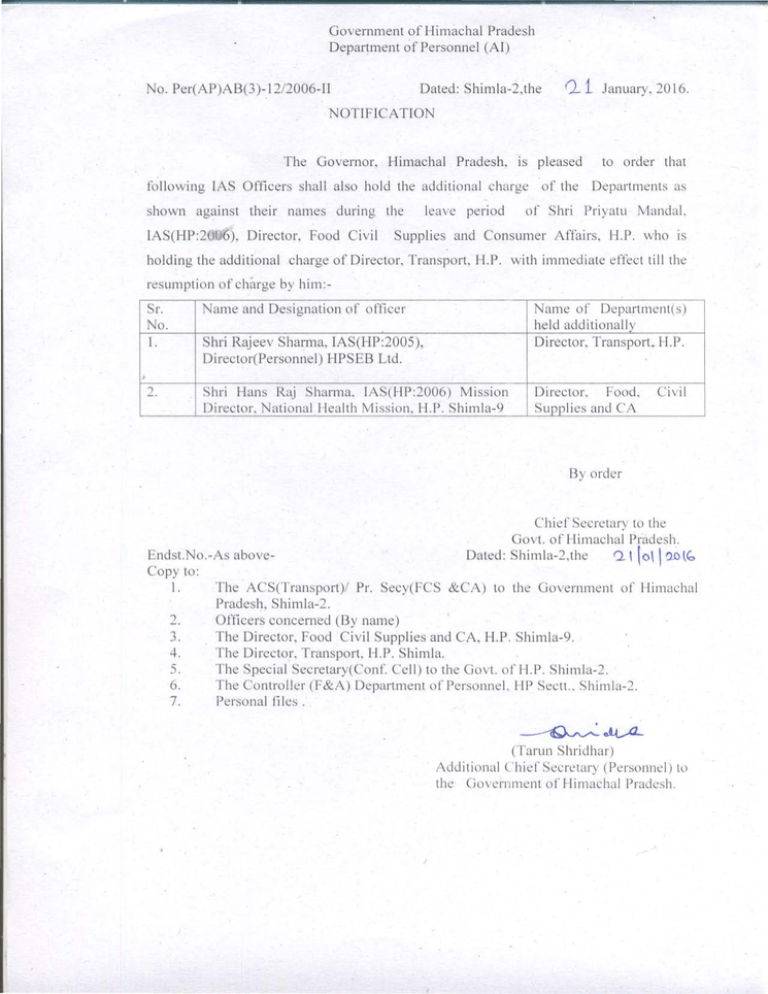 Government of Himachal Pradesh
Department of Personnel (AI)
No. Per(AP)AB(3)-12/2006-II
Dated: Shimla-2,the
Q1
January, 2016.
NOTIFICATION
The Governor, Himachal Pradesh,
IS
pleased
following lAS Officers shall also hold the additional charge of the
shown against their names during the
IAS(HP:20 6), Director, Food Civil
leave period
to order that
Departments as
of Shri Priyatu MandaI.
Supplies and Consumer Affairs, H.P. who is
holding the additional charge of Director, Transport, H.P. with immediate effect till the
resumption of charge by him:Name of Departmen t(s)
held additionally
Director, Transport y H.P.
Sr.
No.
Name and Designation of officer
l.
Shri Rajeev Sharma, IAS(HP:2005),
Director(Personnel) HPSEB Ltd .
2.
Shri Hans Raj Sharma, IAS(HP:2006) Mission
Director, National Health Mission, H.P. Shimla-9
•
Director, Food,
Supplies and CA
Civil
By order
Chief Secretary to the
Govt. of Himachal Pradesh.
Dated: Shimla-2,the
Q \
\2.() tb
10\
Endst.No.-As aboveCopy to:
1.
The ACS(Transport)/ Pro Secy(FCS &CA) to the Government of Himachal
Pradesq, Shimla-2.
Officers concerned (By name)
2.
3.
The Director, Food Civil Supplies and CA, H.P. Shimla-9.
4.
The Director, Transport, H.P. Shimla.
5.
The Special Secretary(Conf. Cell) to the Govt. of H.P . Shimla-2.
6.
The Controller (F&A) Department of Personnel. HP Sectt., Shimla-2.
7.
Personal files.
~elt.A(Tarun Shridhar)
Additional Chief Secretary (Personnel ) to
the Govei'nment of Himachal Pradesh.