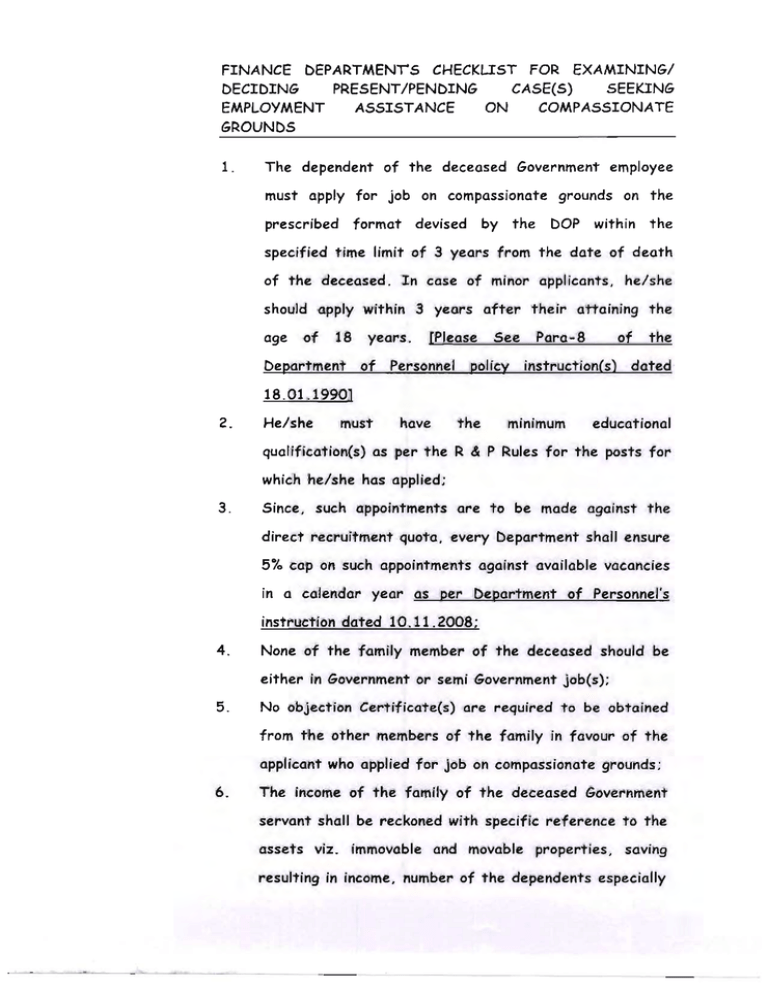 FINANCE DEPARTMENT'S CHECKLIST FOR EXAMINING/
DECIDING
PRESENT/PENDING
CASE(S)
SEEKING
EMPLOYMENT
ASSISTANCE
ON
COMPASSIONATE
GROUNDS
1.
The dependent of the deceased Government employee
must apply for job on compassionate grounds on the
prescribed format devised by the DOP within the
specified time limit of 3 years from the date of death
of the deceased . In case of minor applicants , he/she
should apply within 3 years after their attaining the
age of
18 years .
[Please
See
Para - 8
of
the
Department of Personnel policy instruction(s) dated
18.01.19901
2.
He/she
must
have
the
minimum
educational
qualification(s) as per the R & P Rules for the posts for
which he/she has applied;
3.
Since, such appointments are to be made against the
direct recruitment quota, every Department shall ensure
5"0 cap on such appointments against available vacancies
in a calendar year as per Department of Personnel's
instruction dated 10.11.2008;
4.
None of the family member of the deceased should be
either in Government or semi Government job(s);
5.
No objection Certificate(s) are required to be obtained
from the other members of the family in favour of the
applicant who applied for job on compassionate grounds;
6.
The income of the family of the deceased Government
servant shall be reckoned with specific reference to the
assets viz . immovable and movable properties, saving
resulting in income, number of the dependents especially
unmarried daughters, aged parents etc. as per the
enclosed format(s) I, II, III, IV, V & VI derived from
the Lokayukta Act. [Please see Department of Personnel
policy instruction's) dated 24.08.2002. It may however,
be noted that the information on these 06 formats is
to be supplied/declared by the applicant concerned, only
accurate information be given. In case of any fake
information detected later on, a case under Criminal
Act would be registered against him by the Government]
7.
If a Government servant seeks retirement on medical
grounds on or before attaining the age of 45 years
only, only wife or husband of the retiree would be
considered for compassionate employment, be also kept
in view.
8.
Besides,
a
certificate,
legal
death
heirs certificate,
certificate
of
non-employment
the
deceased,
character certificate in respect of the applicant,
bonafide Himachali certificate are also needed.
9.
A certificate to the effect that he/she would owe the
entire liability of his/her deceased parent is also
required.
10.
The employment assistance on compassionate grounds
being provided as usual for the present shall continue to
be given as under:(a) For Class-III post(s) - On Contract basis
(b) For Class-IV post(s) - On Daily Waged basis
(c) In case of a deceased daily waged worker,
the employment assistance shall be given on
daily wage basis only .
.,
FORM NO: I
STATEMENT OF THE IMMOVABLE PROPERTY AS ON 31-12-20_
(i.e. LANDS, HOUSE, SHOPS, and OTHER BUILDING ETC.)
Sr.
No
Description
property
1
2
Precise location
(Name of District,
Division, Tehsil
and Village in
which the property
is situated and also
its distinctive
number etc.
Area of
land (in
case of land
& Building)
Nature of land (in
case of landed
property)
3
4
5
Extent of
interest
6
If not own
name state in
whose name
held & hislher
relationship if
any, with the
Govl Servant
7
Date of
Acquisition
8
How acquired (whether by
purchase, mortgage, lease
inheritance gift or otherwise)
& name with details of
person(s) from whom
acquired (address and
connection of the Govl
Servant if any, with the
person/persons concerned
please see note 1 below)
9
Value of
property
(See note 2
below)
Particulars
of
sanctions
of
prescribed
authority,
if any
Total
annual
income
from the
property
10
11
12
Signature: _ _ _ _ _ _ _ _ _ __
Name
Date:Note:-l.
For purpose of column 9 of the term (Lease would on a lease of immovable property from year to year or for any term exceeding one year or reserving a yearly renl. Where. however, the lease of immovable property is
obtained from a person having official dealings with the GoV!. servant, such a lease shou ld be shown in this in respect of the telm of the lease whether it is short term or long tenn and periodically of the payment of the
re nt.
2.
In Col. No. 10 should be shown (a) where the property has been acquired by purchase, mortgage or lease. the price or premium paid for such acquisition (b) where it has been acquired by lease the total annual rent there of
also.
Form No.-II
STATEMENT OF LIQUID ASSESTS ON 31-12-20_
i.) Cash and Bank Balance
securities and debentures etc.)
Sr.
No.
1
Description
Name and addresses
of company, Bank
etc.
Amount
2
3
4
ii.) Deposits, loans advances and investments. (Such as shares,
If not in own name and address of
persons in whose name held and
hislher relationship with the Govt.
Servant
5
Annual Income
derived
6
Remarks
7
Signature: ___________
Name
Date:Note:-I . In column 7, particulars regarding sanctions obtained or report made in respect of the various transactions may be given.
2. The term "emoluments' means the pay and allowances received by the Govt. servant.
FORM NO-III
STATEMENT OF MOVABLE PROPERTY AS ON 31-12-20_
Sr.
No.
Description of
item
1
2
Price of value at the time of acquisition
and lor the total payment made upto
the date of return, as the case may be,
in the case of articles purchased on hire
a purchase of installment basis.
3
If not in own name, name
and address of the persons
in whose name and his/her
relationship with Govt
employee
4
How acquired with
approximate date of
acquisition
5
Remarks
6
Signature: _ _ _ _ _ _ __
Name
Date:-
Note:I.
In this fonn/information may be given regarding items like (a) jewelry owned by him (total value) (b) Silver and other precious metals and precious stones owned by him not forming part of jewelry (total value), (c) (i)
2.
3.
property individually worth less than Rs. 1000/- other than atticles of daily use such as clothes, utcn~ils, books, ~rockery etc. added together as lump sum.
In column 5 may be indicated whether the property was acquired by purchase, inheritance gift or otherwise.
In column 6 particulars regarding sanctions obtained or report made in respect of various transactions may be given.
Motor Cars (ii) ScootersIMotor Cycles (iii) RefrigerdtorslAir-Conditions (iv) RadiosIRadiogramsffelevision sets and any other articles, the value of which individually exceeds Rs. 1000/- (d) Value of items of movable
FORM NO-IV
STATEMENT OF PROVIDENT FUND AND LIFE INSURANCE POLICY (As on 31st December 20_)
Sr.
No.
1
Date:
Insurance
policy No.
and date
of policy
2
Name &
insurance
Company
Sum
Insured!
date of
maturity
Amount
of Annual
premium
3
4
5
Type of
provident
funds!
GPF/CPF
Account No.
6
PROVIDENT FUND
Closing
Contribution
balance as
made
last reported subsequently
by the Audit
IA. 0 along
with date of
such balance
7
8
Total
9
Remarks (If there is
dispute regarding
closing balance the
figure according to the
Govt. employee should
be mentioned in this
column
10
Signature:_ _ _ _ _ _ _ _ _ __
Name
FORMNO-V
STATEMENT OF DEBTS AND OTHER LIABILITIES (As on 31-12-20~
i
I•
Sr.
No.
1
Date:-
Amount
Name and address of creditor
2
3
Date of incurring liability
Detail of transaction
Remarks
4
5
6
Signature: _ _ _ _ _ _ _ _ _ __
Name
Note:1.
2.
3.
4.
Individual items of loans not exceeding three months emoluments of Rs. 1000/- whichever is less need be included.
In column 6, infonnation regardi ng permission, if any, obtained from or report made to the competent authority may also be given.
The teml "emoluments" means pay and allowances received by the Gov!. employee.
The statement should also include various loans and advances available to Gov!. employees like advance for purchase of conveyances, house-building advance etc. (other than advances of pay and traveling allowance) advances
from the G. P. Fund and loans on Life Insurance policies and fixed deposit.
FORM NO. VI
STATEMENT OF INCOME FROM ALL SOURCE(S)
OTHER THAN FAMILY PENSION AND RETIRAL
BENEFITS IN RESPECT OF THE FAMILY OF THE
DECEASED EMPLOYEE(S) ON THE DATE OF
SUBMISSION
OF
APPLICATION
FOR
COMPASSIONATE EMPLOYMENT.
SR.
SOURCE(S)
REMARK(S)
OF ANNUAL
NO.
INCOME
INCOME
IF ANY
1
2
01.
Agricuture
02.
Rent
03.
Business
04.
Interest
05.
Other Sources
Date ................... .
Place .................. .
3
4
Signature ........................
Name ..............................