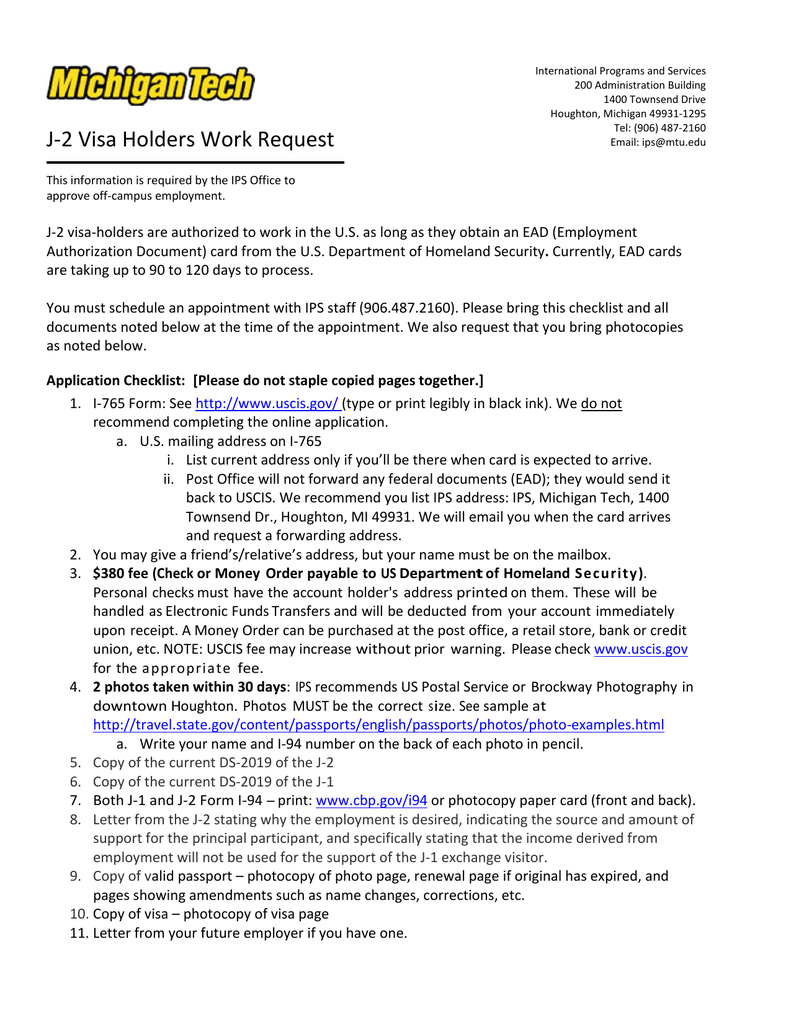 J‐2 Visa Holders Work Request International Programs and Services
200 Administration Building
1400 Townsend Drive
Houghton, Michigan 49931‐1295
Tel: (906) 487‐2160
Email: [email protected]
This information is required by the IPS Office to approve off‐campus employment. J‐2 visa‐holders are authorized to work in the U.S. as long as they obtain an EAD (Employment Authorization Document) card from the U.S. Department of Homeland Security. Currently, EAD cards are taking up to 90 to 120 days to process. You must schedule an appointment with IPS staff (906.487.2160). Please bring this checklist and all documents noted below at the time of the appointment. We also request that you bring photocopies as noted below. Application Checklist: [Please do not staple copied pages together.] 1. I‐765 Form: See http://www.uscis.gov/ (type or print legibly in black ink). We do not recommend completing the online application. a. U.S. mailing address on I‐765 i. List current address only if you'll be there when card is expected to arrive. ii. Post Office will not forward any federal documents (EAD); they would send it back to USCIS. We recommend you list IPS address: IPS, Michigan Tech, 1400 Townsend Dr., Houghton, MI 49931. We will email you when the card arrives and request a forwarding address. 2. You may give a friend's/relative's address, but your name must be on the mailbox. 3. $380 fee (Check or Money Order payable to US Department of Homeland Security). Personal checks must have the account holder's address printed on them. These will be handled as Electronic Funds Transfers and will be deducted from your account immediately upon receipt. A Money Order can be purchased at the post office, a retail store, bank or credit union, etc. NOTE: USCIS fee may increase without prior warning. Please check www.uscis.gov for the appropriate fee. 4. 2 photos taken within 30 days: IPS recommends US Postal Service or Brockway Photography in downtown Houghton. Photos MUST be the correct size. See sample at http://travel.state.gov/content/passports/english/passports/photos/photo‐examples.html a. Write your name and I‐94 number on the back of each photo in pencil. 5. Copy of the current DS‐2019 of the J‐2 6. Copy of the current DS‐2019 of the J‐1 7. Both J‐1 and J‐2 Form I‐94 ‐ print: www.cbp.gov/i94 or photocopy paper card (front and back). 8. Letter from the J‐2 stating why the employment is desired, indicating the source and amount of support for the principal participant, and specifically stating that the income derived from employment will not be used for the support of the J‐1 exchange visitor. 9. Copy of valid passport – photocopy of photo page, renewal page if original has expired, and pages showing amendments such as name changes, corrections, etc. 10. Copy of visa – photocopy of visa page 11. Letter from your future employer if you have one. 12. Any correspondence with the USCIS (if applicable) – photocopy all correspondence, envelopes, receipts, notifications, etc. as may be appropriate for the situation 13. Previous Employment Authorization Document (EAD cards, if applicable) – and photocopy of card Additional Information 1. You may neither be on payroll nor obtain a Social Security Card until the EAD arrives 2. Extensions of work authorization a. You must file a new Form I‐765, all supporting documentation, and filing fee each time you need to extend the EAD. b. If the J‐1's DS‐2019 will be extended, please request the extension before you request the EAD. c. Extensions may be applied for up to 120 days prior to expiration of the current EAD. 3. J‐2 persons must pay Social Security taxes, federal income taxes, and, where applicable, state income taxes.