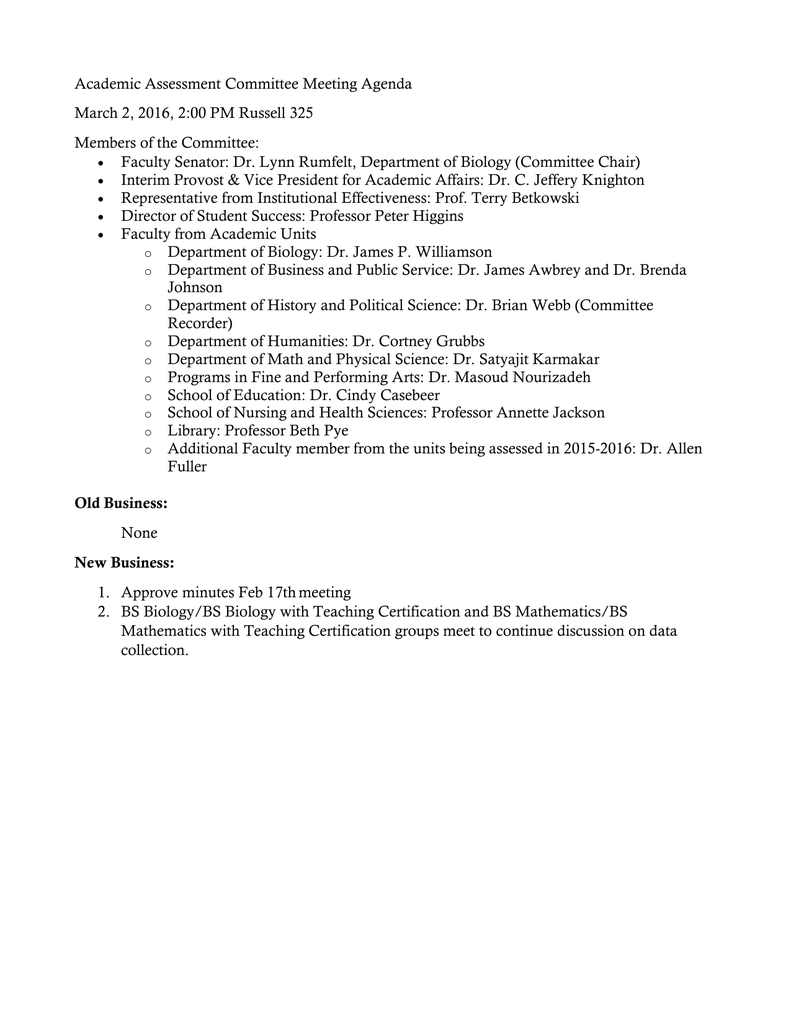 Academic Assessment Committee Meeting Agenda
March 2, 2016, 2:00 PM Russell 325
Members of the Committee:
 Faculty Senator: Dr. Lynn Rumfelt, Department of Biology (Committee Chair)
 Interim Provost & Vice President for Academic Affairs: Dr. C. Jeffery Knighton
 Representative from Institutional Effectiveness: Prof. Terry Betkowski
 Director of Student Success: Professor Peter Higgins
 Faculty from Academic Units
o Department of Biology: Dr. James P. Williamson
o Department of Business and Public Service: Dr. James Awbrey and Dr. Brenda
Johnson
o Department of History and Political Science: Dr. Brian Webb (Committee
Recorder)
o Department of Humanities: Dr. Cortney Grubbs
o Department of Math and Physical Science: Dr. Satyajit Karmakar
o Programs in Fine and Performing Arts: Dr. Masoud Nourizadeh
o School of Education: Dr. Cindy Casebeer
o School of Nursing and Health Sciences: Professor Annette Jackson
o Library: Professor Beth Pye
o Additional Faculty member from the units being assessed in 2015-2016: Dr. Allen
Fuller
Old Business:
None
New Business:
1. Approve minutes Feb 17th meeting
2. BS Biology/BS Biology with Teaching Certification and BS Mathematics/BS
Mathematics with Teaching Certification groups meet to continue discussion on data
collection.