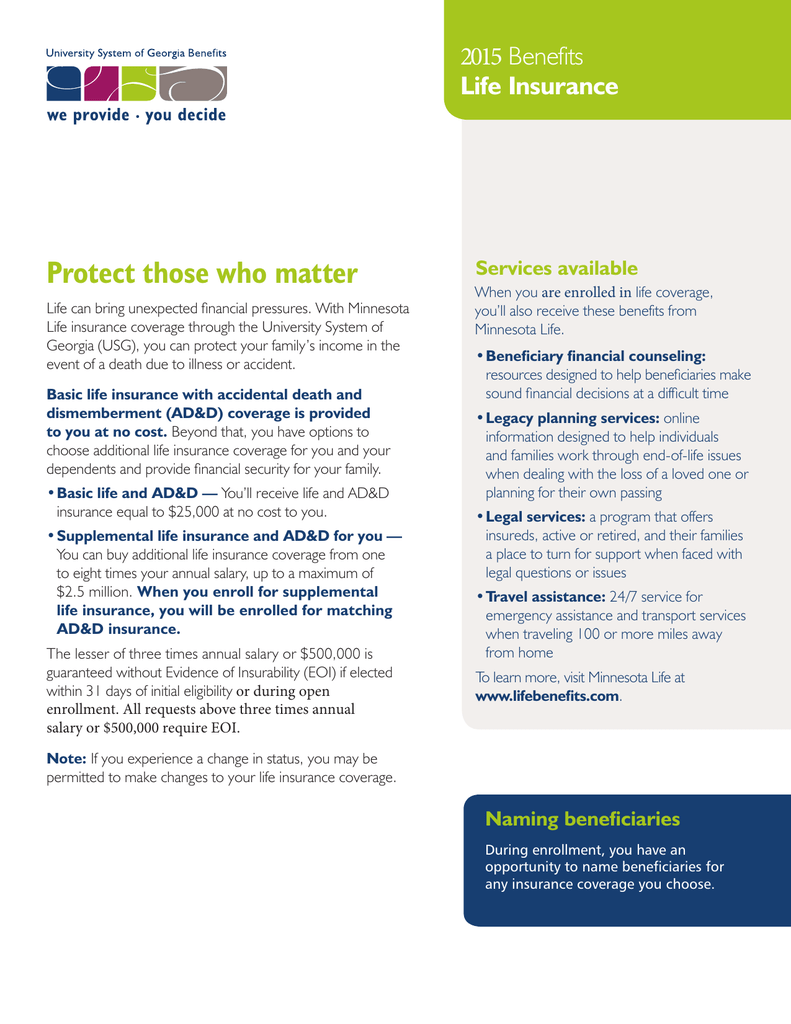 2015 Benefits
Life Insurance
Protect those who matter
Life can bring unexpected financial pressures. With Minnesota
Life insurance coverage through the University System of
Georgia (USG), you can protect your family's income in the
event of a death due to illness or accident.
Basic life insurance with accidental death and
dismemberment (AD&D) coverage is provided
to you at no cost. Beyond that, you have options to
choose additional life insurance coverage for you and your
dependents and provide financial security for your family.
•Basic life and AD&D — You'll receive life and AD&D
insurance equal to $25,000 at no cost to you.
•Supplemental life insurance and AD&D for you —
You can buy additional life insurance coverage from one
to eight times your annual salary, up to a maximum of
$2.5 million. When you enroll for supplemental
life insurance, you will be enrolled for matching
AD&D insurance.
The lesser of three times annual salary or $500,000 is
guaranteed without Evidence of Insurability (EOI) if elected
within 31 days of initial eligibility or during open
enrollment. All requests above three times annual
salary or $500,000 require EOI.
Services available
When you are enrolled in life coverage,
you'll also receive these benefits from
Minnesota Life.
•Beneficiary financial counseling:
resources designed to help beneficiaries make
sound financial decisions at a difficult time
•Legacy planning services: online
information designed to help individuals
and families work through end-of-life issues
when dealing with the loss of a loved one or
planning for their own passing
•Legal services: a program that offers
insureds, active or retired, and their families
a place to turn for support when faced with
legal questions or issues
•Travel assistance: 24/7 service for
emergency assistance and transport services
when traveling 100 or more miles away
from home
To learn more, visit Minnesota Life at
www.lifebenefits.com.
Note: If you experience a change in status, you may be
permitted to make changes to your life insurance coverage.
Naming beneficiaries
During enrollment, you have an
opportunity to name beneficiaries for
any insurance coverage you choose.
2015 Benefits
Life Insurance
Dependent coverage
You can buy life insurance coverage for your dependents,
too. You can choose to cover your spouse, your children,
or both.
• Spouse coverage: You may elect or increase in
amounts from $10,000 to $500,000. Your spouse must
provide EOI for elections or increases in coverage. If
you are a newly eligible employee, you may elect up
to $50,000 without EOI within 31 days of your initial
eligibility. During open enrollment, all elections or
increases in spouse life require an EOI. If you and
your spouse are USG employees, you may not have
spouse life coverage.
•Child(ren) coverage: You may elect $5,000,
$10,000, or $15,000 for each of your eligible children.
Dependent children from age 19 to 26 do not have
to show evidence of full-time student status. If you and
your spouse are eligible USG employees, only one of
you may cover your dependent child(ren). No EOI is
required for child(ren) coverage.
If you want to choose
life insurance for your
dependents …
Keep in mind that your dependents must
meet eligibility requirements. Dependents
include:
•Your legal spouse
• Your natural, adopted, or stepchild(ren)
who live with you, up to age 26 without
proof of full-time student status
•Your disabled child(ren), with proof of
disability
You may be required to show
documentation of your relationship
or your child's age. Examples include
a marriage certificate, birth certificate,
adoption certificate, or income tax returns.
Voluntary AD&D insurance
You can buy additional voluntary AD&D insurance in
amounts of $10,000 to $500,000. Coverage is available
for you alone, or you and your family.
Basic life insurance (with AD&D
coverage) equal to $25,000 is
provided by USG at no cost to you!
2015 Benefits
Life Insurance
Rate information
All rates are per $1,000 per month, except when stated as a flat monthly rate.
Supplemental life insurance
Active Employees
Spouses
Rate / $1,000
(includes
AD&D)
Rate / $1,000
(no AD&D)
Age
<20
1
Age
Rate / $1,000
(grandfathered with
AD&D) Insured
prior to 11/1/801
$0.043
<20
$0.050
$0.068
20–24
0.057
20–24
0.043
20–24
0.050
0.068
25–29
0.066
25–29
0.052
25–29
0.060
0.078
30–34
0.083
30–34
0.070
30–34
0.080
0.098
35–39
0.091
35–39
0.079
35–39
0.090
0.108
40-44
0.109
40-44
0.087
40-44
0.110
0.128
45-49
0.143
45-49
0.133
45-49
0.150
0.168
50-54
0.212
50-54
0.205
50-54
0.270
0.288
55-59
0.384
55-59
0.385
55-59
0.510
0.528
60-64
0.590
60-64
0.592
60-64
0.780
0.798
65-69
1.175
65-69
1.140
65-69
1.550
1.568
70-74
2.026
70-74
1.850
1
70-74
2.600
2.600
75-79
2.026
75-79
3.001
75-791
3.500
3.500
80+
2.026
80+
3.001
80+
3.500
3.500
1
Grandfathered retiree coverage (insured prior to 11/1/80) loses matching AD&D at age 70.
$0.10
Up to a maximum of $15,000.
$2.35/month for $5,000 coverage
Retiree Spouse Life
$.50/month for $5,000 coverage
Retiree Child Life2
Grandfathered Dependent Life
3
3
Rate / $1,000
(no AD&D) Insured
on or after 11/1/80
Age
<20
$0.057
Child Insurance2
2
Retirees
$.47 per $1,000 of coverage
No longer available for new retirees after 1/1/14.
Voluntary AD&D coverage
Employee Only
$0.016
Family
$0.028
Questions?
For more information, contact Minnesota Life at 1-866-293-6047 or www.lifebenefits.com.