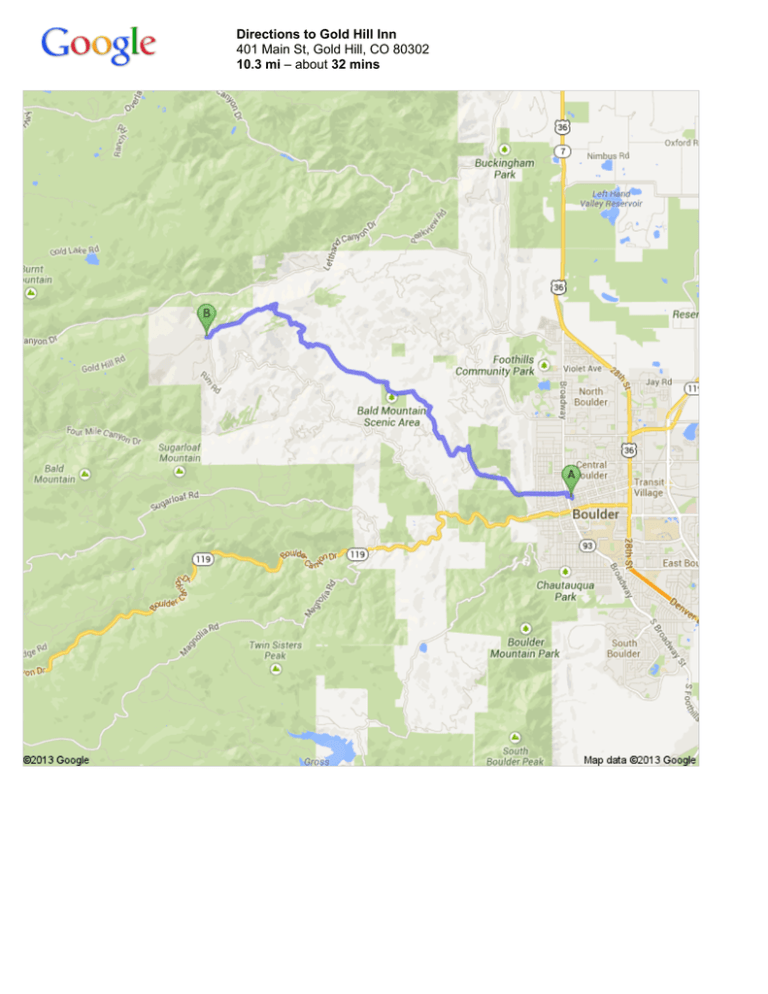 Directions to Gold Hill Inn
401 Main St, Gold Hill, CO 80302!
10.3 mi – about 32 mins
Hotel Boulderado
2115 13th St, Boulder, CO 80302!
1. Head north on 13th St toward Pine St
go 266 ft
total 266 ft
2. Take the 1st left onto Pine St
go 384 ft
total 0.1 mi
3. Take the 1st right onto Broadway
go 381 ft
total 0.2 mi
4. Take the 1st left onto Mapleton Ave
About 3 mins
go 0.6 mi
total 0.8 mi
5. Continue onto Sunshine Canyon Dr
About 26 mins
go 9.3 mi
total 10.1 mi
6. Continue onto Horsfall St
go 0.2 mi
total 10.2 mi
7. Continue onto Main St
Destination will be on the left
go 374 ft
total 10.3 mi
Gold Hill Inn
401 Main St, Gold Hill, CO 80302!
These directions are for planning purposes only. You may find that construction projects, traffic, weather, or other events may cause conditions to
differ from the map results, and you should plan your route accordingly. You must obey all signs or notices regarding your route.
Map data ©2013 Google
Directions weren't right? Please find your route on maps.google.com and click "Report a problem" at the bottom left.