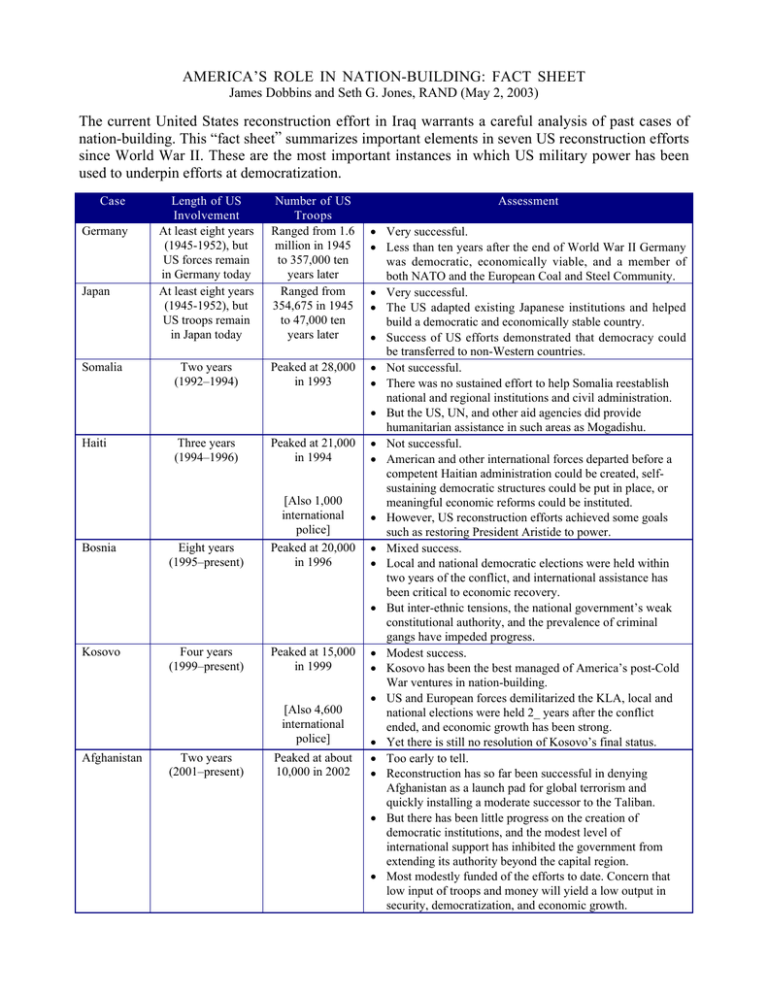 AMERICA'S ROLE IN NATION-BUILDING: FACT SHEET
James Dobbins and Seth G. Jones, RAND (May 2, 2003)
The current United States reconstruction effort in Iraq warrants a careful analysis of past cases of
nation-building. This "fact sheet" summarizes important elements in seven US reconstruction efforts
since World War II. These are the most important instances in which US military power has been
used to underpin efforts at democratization.
Case
Length of US
Involvement
At least eight years
(1945-1952), but
US forces remain
in Germany today
At least eight years
(1945-1952), but
US troops remain
in Japan today
Number of US
Troops
Ranged from 1.6
million in 1945
to 357,000 ten
years later
Ranged from
354,675 in 1945
to 47,000 ten
years later
Somalia
Two years
(1992–1994)
Peaked at 28,000
in 1993
Haiti
Three years
(1994–1996)
Peaked at 21,000
in 1994
Bosnia
Eight years
(1995–present)
[Also 1,000
international
police]
Peaked at 20,000
in 1996
Kosovo
Four years
(1999–present)
Peaked at 15,000
in 1999
Germany
Japan
[Also 4,600
international
police]
Afghanistan
Two years
(2001–present)
Peaked at about
10,000 in 2002
Assessment
• Very successful.
• Less than ten years after the end of World War II Germany
was democratic, economically viable, and a member of
both NATO and the European Coal and Steel Community.
• Very successful.
• The US adapted existing Japanese institutions and helped
build a democratic and economically stable country.
• Success of US efforts demonstrated that democracy could
be transferred to non-Western countries.
• Not successful.
• There was no sustained effort to help Somalia reestablish
national and regional institutions and civil administration.
• But the US, UN, and other aid agencies did provide
humanitarian assistance in such areas as Mogadishu.
• Not successful.
• American and other international forces departed before a
competent Haitian administration could be created, selfsustaining democratic structures could be put in place, or
meaningful economic reforms could be instituted.
• However, US reconstruction efforts achieved some goals
such as restoring President Aristide to power.
• Mixed success.
• Local and national democratic elections were held within
two years of the conflict, and international assistance has
been critical to economic recovery.
• But inter-ethnic tensions, the national government's weak
constitutional authority, and the prevalence of criminal
gangs have impeded progress.
• Modest success.
• Kosovo has been the best managed of America's post-Cold
War ventures in nation-building.
• US and European forces demilitarized the KLA, local and
national elections were held 2_ years after the conflict
ended, and economic growth has been strong.
• Yet there is still no resolution of Kosovo's final status.
• Too early to tell.
• Reconstruction has so far been successful in denying
Afghanistan as a launch pad for global terrorism and
quickly installing a moderate successor to the Taliban.
• But there has been little progress on the creation of
democratic institutions, and the modest level of
international support has inhibited the government from
extending its authority beyond the capital region.
• Most modestly funded of the efforts to date. Concern that
low input of troops and money will yield a low output in
security, democratization, and economic growth.